Much like a motorcycle or bike helmet, a horseback riding helmet is absolutely necessary.  One of the greatest dangers for horseback riding is falling off the horse and receiving serious injuries to the head. 
This is why a helmet is so important to have.  Without the proper helmet, you are handicapping yourself. 
Not only are you setting yourself up for danger, but you are also making yourself lose confidence as well because you are always going to be thinking about not having a helmet while you are riding. 
---
Horseback Riding Helmet Buying Guide
In any case, almost all competitions require riders to wear helmets, so it's a good idea to just go ahead and buy one! 
In this buying guide, we're going to go over the various components of a riding helmet in order to help you make a good purchase decision.  After that, we are going to take a look at and review the top ten riding helmets for this year.
Certifications
One of the first things you should look at on a riding helmet is the certifications that it has.  If a helmet has none, then it is not properly meant to be used in conjunction with riding horses. 
So, you will not see any bicycle helmets or anything like that that are approved for use with horse riding.  The two groups that certify riding helmets are the SEI (Safety Equipment Institute) and the ASTM (American Safety for Testing and Materials). 
These two groups regulate what is a good riding helmet and what is not.  The difference between a riding helmet and helmets for other uses is that a riding helmet covers the entire head. 
A bicycle helmet, or worse a baseball helmet, usually does not cover all of the head, so it would not give you full protection in a fall. 
Helmets aren't just there to protect you from falls, however.  They also have to make it through the elements, whether it be hot or cold, rainy or windy. 
The ASTM is the big certification that you will need if you want to compete in events organized by the FEI (International Federation for Equestrian Sports).
If you ever see helmets that have the marking "for dress only" or "apparel only," then these are not meant for use in riding. 
These are simply just made for style, and you should not buy these if you are serious about your safety or the safety of others. 
It is very important to look for this because most of these helmets will be sold in the same place, on the same rack, as the approved helmets will be placed. 
They may also look exactly the same and cost the exact same, which is somewhat frustrating.  This mistake has been made before, and it's led to some very serious injuries, so please take this warning. 
Certifications matter little in many sports, but this is simply not the case with horseback riding!
What Are Riding Helmets Made Out Of?
The elements used to make riding helmets are fairly simple.  This still does not mean that they should be overlooked, however.  All riding helmets have these four components:
A plastic or fiberglass-type outer shell
Foam padding
Fabric lining on the inside
Polystyrene (a synthetic similar to Styrofoam) liner
All of these elements combined to create a safety mechanism that should protect you quite well if you are wearing your helmet correctly.  We'll quickly go over what each part of the process does to protect you.
The outer shell has two jobs.  First, it has to make sure that no sharp objects are able to penetrate the helmet.  So, sticks and rocks aren't just able to damage your skull with ease. 
Its other job is to take energy from a direct blow and disperse it throughout the helmet so that it isn't concentrated on just one area of the head.
Foam padding is used to help you be more comfortable.  That's really the sole purpose of it.  In older riding helmets, this was not present.  That made them very hard to wear and they were not desirable at all.
The internal fabric lining is really just to make sure that the inside of the helmet is neat and pieces together.  It's what holds it all together, and it determines whether or not you might need a new helmet.
Lastly, the polystyrene liner absorbs energy from the impact by having its beads crush together.  This is done in an attempt to protect your brain from bruising, which is what we know of as a concussion. 
So just think of it as the liner getting crushed instead of your brain if you happen to have an unfortunate spill!
Replacing Old Helmets
A couple of important rules of thumb need to be stated.  First of all, a riding helmet should have a lifespan of about five years at most.  Something that has this much importance to you should not have its life overextended.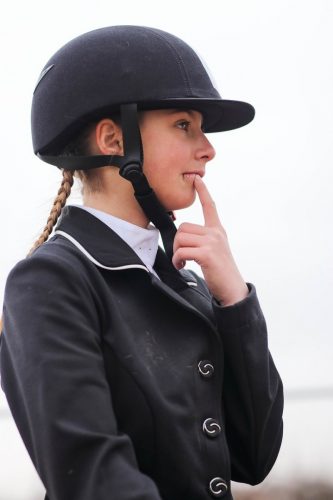 Just don't take the chance of literally your lifetime by doing so.  The second rule is to never buy an old or used helmet.  This is dangerous because you're probably not going to be able to tell how old the helmet is. 
You also will have no way of knowing if it has sustained severe damage in a fall, either.  New helmets are not too great of a cost for you to take a risk like this!
It should go without saying that you need to replace your helmet if you have taken a hard fall.  The polystyrene liner likely broke, so you will not want to take the chance of having another fall without it the next time.  So please be aware that it doesn't just regenerate or magically continue to work over and over again.
Price
The pricing of helmets is much more about style, color, and brand names than it is about actual safety.  This is a great thing because it means that you don't have to skimp out on safety in order to safe a little bit of money. 
So, as long as a riding helmet is approved by one of the two certifiers that we talked about earlier, then you are safe and good to go.  A helmet that costs $150 is not going to protect you any better than one that costs only $50. 
It is the brand that will make the ultimate difference in this case.  So, please do not worry about price and its relation to your safety!
Sizing
A very crucial part of riding helmets is making sure that they fit correctly.  With a riding helmet that is approved by the groups listed above, you can still be injured if your helmet does not fit correctly. 
This is something that is very dangerous to you if you are doing this.  You are negating the point of a helmet- which is to protect your head and your brain.  Unlike clothes, this is not a subjective exercise. 
You don't want to be "squeezing" into a helmet or having to "grow" into one.  So, you must take some measuring tape and measure the size of your cranium.  This means you wrap the tape around your slightly above your ears and eyebrows. 
This will give you the size of your head, and you will need this information to find the right fit for you.  It is still encouraged that you try the helmet on, though, after you've gotten the size.  This way you know for sure that it fits well and feels good on you. 
You may find that one style or brand feels better or protects better.  No matter the case, this is the reason why it is highly encouraged that you go somewhere and be fitted prior to trying to buy online. 
There are other things that you can get away with buying online with little research, but this is not something that is encouraged.  Here is a quick chart, taken from Ebay, to show you proper sizes.
| | | | | | |
| --- | --- | --- | --- | --- | --- |
| Head Size (inches) | 20 | 20 ½ | 21 | 22 | 22 ½ |
| Head Size (cm) | 51 | 52 | 53.5 | 56 | 57 |
| Helmet Size | 6 ½ | 6 ? | 6 ¾ | 7 | 7 ? |
As you try the helmet on, there are a few 'tests' that you can do to ensure that it fits you properly.  First, without using the harness, you need to move your head all around.  Roll your head as if you are stretching.  If you feel the helmet sliding or moving about, then it is not going to be good for use. 
The reason is that if you are to take a blow, your head will have a lot of room to move into.  This can easily cause a concussion on the easiest of falls, and it could lead to very serious injury or death in the worst of cases.
Also, you will want to make sure that the helmet feels good with the harness on as well.  Some people will find that the harness will make them feel a little cramped. 
If this is the case, you may need to go to a slightly smaller size or look at another brand of helmet.  If you have to go with a bit of an un-perfect fit, then it'd be wise to lean to the slightly smaller helmet as you don't want to have your head moving around in there.
One last thing to know is that the lining of the helmet will compress more and more over time.  This is the inside of the helmet that is basically holding it all together. 
The linings compressing will mean that you are going to have a little bit of a tighter fit over time.  This is normal, but it can start to get uncomfortable. 
Once it begins to be too much, you should consider purchasing a new one!
Types of Helmets
Certain types of helmets are required for certain events.  It is always important to take a look at the rule book for your competition first.  For example, in dressage events, it is a requirement to wear a certain type of helmet.  This type of helmet is velvet or "velveteen," and looks like traditional riding helmets from days gone by in England.  This type of helmet has a visor on the front that is bendable and flexible.
Racehorse jockeys wear helmets or "hats" that do not have brims on them.  Instead, they just have the helmet and the harness to hold you in.  There is a brim on them, but it is just fake and mostly for style to match the color for the horse's owners.
There some caps that look like cowboy hats as they have a tan color.  This is not something that is very popular in the US, though, despite the popularity of rodeos.
There are a few other types of helmets that you can see, but we will move on now.  We'll mention them in our reviews if they come up!
---
Best Riding Helmet Reviews
---
If you're looking for something affordable, great-looking, and that gets the job done then look no further.  The Troxel Rebel helmet is great for almost any purpose besides dressage events. 
It is mainly in black but has other colors that you can purchase with its very sleek design.  It has mesh-covered vents to allow you to air out on warm days, has both ASTM and SEI certifications, and a "sure fit" system.
Pros
Good price
Very cool, different look
Has mesh for breathability
Cons
Does fit a little small
Lots of padding inside might distract some users
---
If you've never heard of One K, let me be the first to introduce you to one of the world's premium helmet brands. 
Everything about this cap is a little more "high-end" than most others, and for the low, low price of around $250 (5 times the price of some other options on our list that have the same certification designation), you can have your own! 
Hey, if I had the cash, I'd go for a One K for sure!  With its impressive feature list, I can understand a higher price tag.  One K is worn by competitors of many English disciplines like hunters, equitation, eventing, jumping, and dressage.
It features an advanced ABS composite outer shell injection-molded shell design, a washable quick-dry moisture-wicking, anti-microbial liner, a stainless steel mesh vent on the sides and a comfort padded harness. 
It comes in lots of finishes including gloss and matt black (combo in one helmet), black gloss, navy matte, black matte and brown matte.
Overall, this is the best helmet if you have the money, and it's only because of the price that it didn't make it to number 1.
Pros
Arguably the best name in the business
Feature-filled
Gorgeous aesthetics
Cons
---
With all necessary certifications, the Troxel Spirit helmet is perfect for almost anything but shows that won't allow its hard top!  This is a great-looking, clean hardtop helmet that looks very similar to a bicycle helmet. 
It has a nice horse design on it, however, to make sure and indicate that it is not!  Depending on the size and color, it can range in price but still hovers in the mid-range tier.
Pros
Can be great for learners or older riders with its horse or no horse design
Great for many purposes
Good price
Cons
---

The Troxel Spirit "Schooling" helmet looks very similar to #3, but this helmet features a flexible brim that would make it a little more like what you'd see in more formal shows. 
It'd probably still be a good thing to have something more formal, but this is a great helmet for learning.  It has a hard shell look and has ventilation units installed along the middle of the head all the way back. 
It comes in a number of colors, and it is at a very good price as well.
Pros
Very good price
More formal than the traditional Spirit
Lots of ventilation
Cons
No extra padding on the inside
Not great for show use
---
The Ovation Schooler helmet comes in EIGHT colors, a mid-range price point, and a great adjustment system that will give the proper fit even if you have grown a little.
This helmet also has a great, clean look to it with a leather cover over the hard shell and the brim that looks flexible and rigid at the same time.  It also has vents to keep air flowing through to you while riding on warmer days. 
This is geared more toward younger riders and adults with smaller heads, however.
Pros
Good price
Nice leather look
Air Vents
Cons
More for youngsters
Runs a little small, which is to be imagined
---
Unlike the Schooler helmet from Ovation, the Protege has a much more hardtop look to it.  This helmet claims to have leather, but it's hard to see where. 
This helmet is all about ventilation as it has large vents all over the top of the helmet.  It comes in black as well as an eye-catching blue and pink color.  It's also meant to be for anyone that can fit into it and is at a decent price that anyone can afford.
Pros
Very affordable
Lots of ventilation
Nice colors
Cons
Not great for people with sensitive skin
Seems to run a little large
---

if a variety of style and color is what you are looking for, this is your helmet!  The Tipperary helmet also has safety features like a reflective strip, a flexible visor, and a hardtop with lots of holes for ventilation. 
It's made from carbon fiber to be lightweight and protective at the same time, and it has mesh enclosures to help you breathe. Depending on size and color, it can get to be a little costly.
Pros
Tons of ventilation
Lightweight
Lots of color choices
Cons
Can be a little costly
Not made for those with an ovular-shaped head
---
The Intrepid is a low profile helmet that has little design (only one color has a design).  It's a little different because its headliner is able to be removed to be washed or to increase your comfort level if you so desire. 
It has some small ventage made with mesh, but it doesn't have as big of an area as some that we have seen.  It can range from a very reasonable price to a little costly depending on size and color.
Pros
Removable headliner
Nice design with little frills to it
Scratching doesn't show much
Cons
Price is determined by size and color
Doesn't have the same great adjustment capabilities as some of its brethren
---
This helmet, made by Ultra-Lite, is a no-frills, streamlined helmet that will meet your needs at a very low price no matter the size or color.  This helmet has little to it in the looks department, but it gets the job done just fine for the price. 
It has a three-point harness as well as some ventilation in the front of the helmet, and you can turn a dial to give you an instant custom fit.  It also has quite a few colors to pick from, including a glamorous looking gold!
Pros
A generous offering of colors
Very low price
Custom-fit
Cons
Very plain look
Not great for ovular heads
---
This is Troxel's attempt at the no-frills riding helmet. Like the Ultra-Lite, it is a very reasonable price and offers little in the way of looks.  It actually sticks out a little because of the grey foam used at the bottom of the back part of where your head would go. 
It has seven cooling vents, however, which is much more than the #9 offering. Only comes in two colors, and it appears to have a removable visor.
Pros
Lightweight
Very affordable
Lots more cooling vents than most cheaper units
Cons
Weird look with the grey foam
Only two color choices
---
Conclusion & Recommendations
---
If you are the type of person that has been told that you must have a helmet but you don't really don't like them or particularly want one, then a no-frills option will be best for you. 
Numbers nine and ten represent low-price options that will do the job for you.  If you are looking for something for shows, make sure that you pick something that looks a little more classical and English-style.  Those choices are available in our list. 
The most important thing is to know that none of these items are going to break the bank, and they all will protect you very well as long as you ride correctly and wear them in the correct manner!
---