When it comes to tents, there's no shortage of variety and quantity from which to choose.  There's a dizzying array of pop-ups online for beach shelters, 1 or 2 person wilderness canoe excursions or family camping at a park. 
If you're not totally familiar with what a pop-up tent is, I'd be thrilled to fill you in.  Essentially, it is a tent that can be put up in (ready for it?) less than 2 seconds.  Actually, I'm sure my tent goes up in 1 second, but it's tough to tell! 
Oh well, who's keeping time anyway right?!
I should mention that there are a couple of different categories of "pop-up" tents.  I should probably call them "instant" tents.  Overall, there are your conventional tents which take 5-10 minutes to set up. 
Then there is an "instant" pitch tent which usually takes about 1 minute to set up, and finally, the "pop-up" tent which takes about 1 second. 
Please note, that when we refer to the "1-second" assembly time, that refers to the main structure being open and ready to crawl into.  However, that 1 second does not include the additional 60 seconds you'll probably need to install the pegs around the exterior perimeter.
How Do They Work?
A pop-up tent is made with reinforcement rods that form the structure of the tent, and they get twisted and folded into a circular shape which is then put into a zipped round bag which acts as a backpack for easy carrying. 
To open the tent, you merely throw it into the air (yes, it's literally that simple) and the reinforcement rods which have a tension (ie. spring-loaded) are released to take the shape of the tent. 
It's a very cool concept and a real-time/effort saving invention to be sure.  However, they are not without their limitations.
Pros
There's no question that the extreme convenience of a pop-up tent is very tantalizing, and many campers fall prey to that allure each year!  (well that sounded bad – like we don't like them, but we do!). 
The price point is also another consideration.  Prices range from bargain-basement prices (ie. can't get a lower price in any tent) to the very high end (like $500 for a 2-person model). 
Often they fall right in between the super-cheap tents and the higher-end mountaineering shelters.
Cons
As you may have guessed, for every good thing, there has to be something negative to balance the issue.  Well, you'd be right!  Some of the overall negative issues surrounding pop-up tents are;
1 – Their storage shape and size are usually bigger overall and less compact than a non-pop-up model.
2 – Their rain fly is short and does not cover the entire tent, so it would not be suitable or useful for very heavy or prolonged rainfall.  I haven't seen any options for a rain fly that does cover the entire tent on all sides right to the ground. 
That's the big negative, and it's the only reason I don't use my pop-up on long, multi-day wilderness canoe outings.
With all this said, let's look at some of the top options you can find online today – for a DECENT price!
What to Look For
It's worth mentioning that most tents will have a UV coating on the fabric (which is typically polyester or nylon.  All the tents we reviewed have some form of waterproof coating and most have a UV coating. 
There are lots of details beyond our reviews that you can find on Amazon, so feel free to follow our links to continue your research!  Look for features like portability, durability, weather-resistance, storage, price, and warranties.
---
Top 5 Pop-Up Tent Reviews
---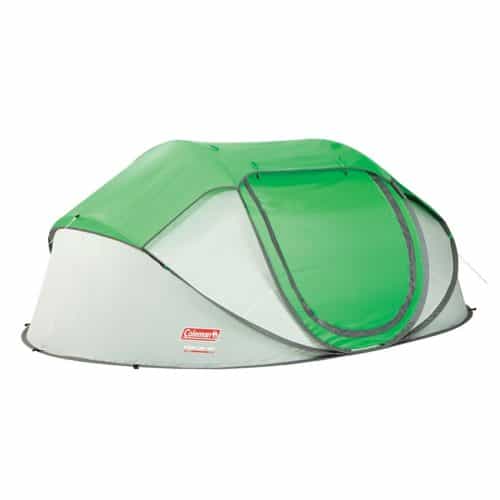 Coleman is, of course, an iconic and classic name in outdoor gear so it would be hard for us to leave it out of our favorites. 
We like the 4-person model since most 2-person models of the 1-second pop-up variety are notoriously small for 2 actual people with normal sleeping bags and some gear. 
Let's take a look at some specs for this tent.  It features taped floor seams for maximum protection from water, two storage pockets for gear and a multi-position rainfly.  The 4-person model is 9′ 2″ long, 6′ 6″ wide and 3′ 4″ tall in the center. 
It's made with inverted seams, which means the actual sewn seam is located INSIDE the tent to prevent water from sneaking into the need holes of the stitching.  It also has a zipper cuff made of weather-resistant fabric to add to the rain-resistant qualities. 
Overall, buyers of this tent were quite happy, other than a few who came to realize that sizing was a bit tight for the advertised number of people!
Pros
Excellent Price
Performs well in the rain
Superfast setup
Great Brand
Cons
A tad bit small for the number of people listed (a 2-person tent is more suitable for 1 person)
No rainfly that extends to the ground on all sides
Does not fold into a compact shape like a small fire log – instead, it folds to a 2-1/2 foot circular disc which can be awkward for some
---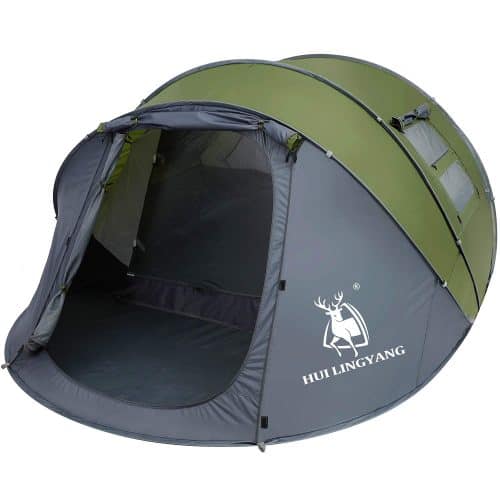 There's no hiding the fact that this tent is made in China, but really, which ones are not?!  Even some of the higher end tents that appear to have no connection to China and are not even available on Amazon are made in China! 
We care more about how well the tent is constructed and how long it will last.
We like the 1-second setup scenario as usual, and we also appreciated that there is some flexibility (and honesty) in the allowance for "4 to 6 adults" … or 3-5 with lots of luggage.  I guess it depends how big your "people" are! 
This tent has more ventilation than most (windows or screens on all 4 sides).    Once again we see a decent quality tent with waterproof, taped seams and durable zippers. 
It has an integrated Oxford groundsheet (which is really a floor) but it's made with 4000MM fabric and the 3000MM waterproof fabric roof.  The manufacturing process did not include any toxic chemicals which means there is NO SMELL! 
That's kind of different I'd say!
New for 2020 is the electrical cord (charging cord?) access point int the side of the tent.  A sign of the times I guess 🙂
Overall, this is a decent choice for the price.  Remember, we're not giving you ABSOLUTE "best" options here.  We ARE giving you the best options for the price (ie. "VALUE"). 
If you want the absolute best, you can snag a tent for $500 or more that has better features …. which you may not even need!  Maybe! 🙂
Pros
Great Price
Good looks
Good construction and weather "resistance"
Cons
Not for extreme weather
Made in China (we thought we'd throw that in just to make our Pros/Cons list look more balanced – in fact most tents of any brand are made in China)
---
Can you say "umbrella on steroids"?  We had to throw this in (even though it's not an actual camping tent) because it serves a similar purpose to a tent and we know some of you will be interested. 
It's a personal weather shelter pod!  Cool huh?  It receives very high accolades and rankings on Amazon and it delivers as promised. 
It's meant for day excursions where you might get caught in bad weather, but you're not a big fan of wetness from your butt down (as you will be if you use an umbrella). 
Wind and rain is no problem – plus you can sit down and eat a sandwich in perfect dry-ness!
It pops up in about 2 seconds and it weighs about 7 lbs (which is not super light, but it can be carried backpack-style).  It features a seamless, waterproof floor with clear front and sides for viewing. 
It gives you UPF 50 sun protection and it's 58″ tall.  Oh, and did we mention it can get up to 30% warmer inside than those schmucks outside with a wimpy umbrella?  They can also be attached one to another. 
We give this a thumbs up if you can see yourself at a sporting event or waiting outdoors for any reason.
Just beware that you may get some weird looks and probably some great comments too!
Pros
Innovative idea
Convenient and very portable
Fast setup
Weatherproof/waterproof/windproof
Cons
Is only suitable for short periods of waiting outdoors and can't be used to sleep (unless you sleep standing up)
Not very private, so only use it where you might use an umbrella but want infinitely better protection
---
The Desert & Fox is another pretty looking tent (in my opinion) with a great set of specs.  It's actually VERY similar to our #4 offering (probably made in the same factory) but this one is slightly different.
Like others on our list, it has a 190T Polyester PU coated fabric which is high-density for maximum waterproof resistance.  It has lots of ventilation and it's the design we're very familiar with since it's the 1-second opening model. 
The dimensions are 110 x 76 x 46 inches and the fabric (3000MM Oxford cloth on the bottom and 2000MM Polyester on top) is certainly adequate for protection from the elements in all but the harshest environments. 
It even fits a queen-sized air mattress.  The weight is 9 pounds.
The one thing we really liked about this tent is that it has something the others (lower on our list) did not have and we REALLY like this.  It comes with a front porch option! 
You read that correctly!  It has integrated awnings that really make the tent feel substantial and offers you a whole new dimension in weather protection.  This is one feature I miss on my own pop-up tent and that's why we ranked the Desert & Fox pretty high!
I do have to say one thing here.  The ranking may change once we gain more experience with the tent, or we receive more feedback, but right now the jury is out on the rain-resistance level of the tent. 
This tent does NOT come with a separate rainfly since the manufacturer claims its "high-density Waterproof Oxford fabric" will keep you dry in even the rainiest weather. 
I'm not totally sure that's accurate, but I can't say for sure.  I'll keep this file open for now and revisit once I have more info.
Pros
Great looks
Front porch option
Very sturdy
Lots of Excellent reviews from satisfied owners
Cons
One user complained that it was not rainproof and should have a rainfly
---
We LOVE this tent not only because of its looks but because the parent company has had years of experience building some of the best ice-fishing shelters on the planet. 
This model is a 90-second setup version which is totally unique to all the designs in our review. 
It is in my opinion, the most reliable of all the options we've outlined, and you can get a "4-8 person" size which includes a separate room that can be used to sleep people, or as a kitchen. 
There's also an 8-person model available.   It measures 168 x 94 x 78 inches and weighs 56 pounds. 
It's definitely not a hiker's tent or even a canoe/kayak trip tent, but it's one of the very best options on the market for a family camping tent in a state/national park or campground where your vehicle is nearby.  
The uniquely-designed rainfly extends past the roof edges for good protection, however, because of the design, wind can catch under the edges making it flap.  It also has a removable floor, though some have complained about its design specifics.
Pros
Easy to set up
Sturdy
Really Weather Resistant
Very well constructed with high-quality materials
Cons
Big and heavy (storage, transportation and handling may be an issue)
Hard to take down and re-pack well
Rainfly flaps around
Expensive compared to the others
---
How to Buy the Best Pop-Up Tent for YOU!
As you can see, there is no such thing as the "PERFECT" tent.  All of our options are quite good, but you'll have to balance the various qualities against various price points. 
Please let me know if you agree/disagree with my assessments and if you have had experiences with these tents.  I'd like my reviews to be as accurate as possible so the more input I have, the better!
---