Sitting on the water and hearing the sounds of gentle water lapping against the side of a Kayak can be one of the most serene experiences you will ever have.
Kayaking is a sport that allows you to have intense moments of exercise and extreme moments of relaxation.
This is one of the best parts about kayaking because in our modern world we are always in such a rush that we rarely take the time to enjoy the world around us.
Being able to combine your sports activities with your relaxation is the ultimate enjoyment. The wonderful part about a kayak is you can get into places on the water that no other boat will allow you to go.
Kayaks are designed to get into narrow waterways, shallow pools and areas with water hazards that would normally destroy another boat.
This opportunity lets you see some of nature's most astounding sights up close and personal.
---
Kayak Buying Guide
The other elements of kayaking is an extreme upper body workout and core workout.
New kayakers often find that they are sorer than they've expected to be because of the enjoyment of being on the water that outweighs all of the work that they're doing paddling their kayaks.
Kayaking is a great way to burn calories without feeling like you are trying to work out.
If you've decided to take the leap and buy your own Kayak so that you can enjoy this outdoor sport on a more regular basis, you may be wondering how to choose the best kayak for you.
There are a couple of things that you need to know before you spend your money on your first yak.
Know Before You Buy
So you've decided to buy your kayak, and that's fantastic. But what are the things that you need to look for when purchasing a kayak?
When renting a kayak, you don't really have to pay attention to the construction, material, or features of a kayak because it's a rental and you don't get any choice.
Now that you're going to buy, here are some important things that you're going to need to consider before purchasing your first Kayak.
Types of Kayaks
There are two types of Kayaks that you can consider for purchase;  a sit on top (SOT) or a sit-inside (SIS). Each of these kayaks has its own advantages and disadvantages, and your preference may highly depend on what you will be using your Kayak for.
Let's take a look at the advantages of each as well as the disadvantages for the SOT and SIS kayaks.
Sit On Top
A SOT Kayak is going to offer you an amazing ability to get in and out of the water. It's easy to slip off your Kayak and go for a swim and then hop right back on. With a sit on top Kayak, you don't have to worry about your hull filling up with water because you don't have one.
Generally, sit on top kayaks don't have any dry storage space. They may have one small dry storage hatch for keys or a cell phone, but usually, the only storage they have is netting to hold backpacks in place.
If you need something to keep your goods dry on a long kayaking trip is that on top Kayak is not going to have anything you're looking for. These are the two main areas that you're going to see where sit on top kayaks differ from the sit inside Kayak.
There are some other functionality features where sit on top is different from a sit inside. The way you sit on top of a kayak is a little bit different than the way you sit when you sit inside a kayak.
Also, safety considerations are a little different on a SOT Kayak because you do not have to worry about bailing out your Kayak full of water if you tip.
Reentry onto your Kayak is easier on a SOT then a SIS, and that may make this Kayak a better choice for new kayakers.
Sit Inside
SIS kayaks have their own set of benefits, the primary one being the ability to stay dry. If you Kayak in colder water, it is imperative that you're not getting a lot of splashes back from your paddle so that you can enjoy your kayaking trip.
SIS kayaks also have bibs that can zip up all around you so that you don't get any water on you at all. They also have more dry storage and will generally have a watertight storage compartment.
Unfortunately, SIS kayaks can be problematic when it comes to reentry. This is especially true if you have tipped your Kayak. Learning how to empty the water out of your Kayak while swimming takes practice and skill.
If you don't have the required skill or strength to be able to do this, then you may want to consider getting a SOT Kayak instead.
Purpose of Your Kayak
As with any other purchase of sporting good equipment, you really want to consider what you'll be using the kayak for. If you plan on whitewater kayaking, then a fishing kayak probably isn't going to be your best purchase.
There are four main types of kayaking that people do:
·      Recreation
·      Fishing
·      Whitewater
·      Wilderness Lake Tripping
Consider the purpose of your kayaking trip before you purchase your Kayak, it will greatly enhance your enjoyment of your Kayak in the future.
Material
The next thing that you should consider when purchasing a kayak is the material that you want your kayak to be made from. There are many kayaks that are made from flexible materials and are designed to be inflatable.
While others are made from rigid plastics and metals and designed to withstand even the worst water hazards.
Your level of comfort in the water along with the type of water you will be kayaking in may be the deciding factor in what material you choose for your Kayak.
If you know, you will be taking your Kayak in an area that frequently has a lot of sharp rock or stick water hazards, an inflatable kayak may not be your best choice. Considering your material and your destination should be done in tandem.
Weight Capacity
All kayaks have a maximum weight capacity. Many new kayakers do not pay attention to this very valuable number.
It's important to check out the maximum weight capacity for your Kayak because you do not want to risk sinking or damaging your Kayak while out in the middle of a lake or while doing some whitewater kayaking.
Remember, your weight capacity is not just how much you weigh, but also includes any gear that you may be bringing with you.
If you plan to use your Kayak to get to a remote camping area, you are going to require a lot more storage and weight capacity than if you just plan on kayaking around your local river for fun.
No matter what you're going to do in your Kayak; the weight capacity is an important consideration that you need to make before purchasing.
---
Best Kayak Reviews
If you're not sure where to start when looking for a kayak that's okay! We've got a list of this year's 10 best kayaks. Whether you're looking for a tandem kayak, inflatable kayak, or fishing Kayak we've got something that's going to work for you.
Let's check out what this year has to offer the kayaking community.
---
This is a very well constructed fishing kayak. The best part about this fishing kayak is that the weight capacity is 550 pounds.  That is a HUGE weight capacity given that many TANDEM kayaks have a weight capacity of 450 pounds.
You can tell that this kayak was designed to be very stable and even has a very walkable deck.  Many times other fishing kayaks simply don't have the weight capacity to offer a very sturdy feel, but this one does, making it a diamond in the rough.
The seat comes with a padded backrest and each seat features dry storage for the paddler there is one front rod holder and to aft Rod holders. It's compatible with the Helix md motor drive as well.
You can easily add and remove accessories with the SlideTrax found in the front, rear and mid-section of boat.  The kayak is 14'1″ long and weighs 95 lbs.
This fishing kayak features plenty of storage which is a big plus. Making sure that you have all of your gear is very important when spending the day fishing. This Kayak ensures you can do that.
Altogether, this is a wonderful fishing kayak, designed with a high weight capacity, and good for full-grown adults.
Pros
550 Pound Weight Capacity
Tandem Kayak
Plenty of Storage
Cons
Rod Holders Can Get in the Way
Sacrifices Speed for Stability
---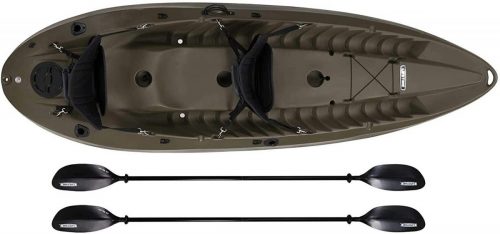 The Lifetime 10-foot Sport Fisher kayak is designed to seat two people or can be used as a single person kayak. Setting up this tandem kayak for single use is ideal for the extra tall kayakers who need added space.
Keep in mind that when using this tandem kayak as a single person kayak some of the handling is compromised.
Since this Kayak is designed to be an efficient kayak it favors stability over maneuverability and depending on your preference, this is good or bad. If you plan on using the standing platforms while fishing, the stability is perfect.
However, if you are trying to keep up with canoes and other kayakers on the water you will find that you are lagging behind.
The seats that come with the lifetime fishing kayak is a very poor quality seat so you may find yourself investing in an additional seat before the end of your first season with this Kayak.
If you favor comfort than a new seat is going to be a definite purchase for you. The standing platform can also be a little bit uncomfortable if you're not used to it.
Overall this Kayak functions very well as a beginning fishing kayak.
Pros
Tandem Kayak
Can Be Used for One Large Paddler
Very Stable
Cons
Standing Platform Can Be Uncomfortable
Very Slow
Poor Quality Seat
---
The Pescador Pro 12 is one serious fishing machine!  At 12 feet long and 32.5 inches wide this 57 lb. boat will fit nearly any condition in which you'll fish! 
Featuring two integrated rod holders and a removable pro seat, this kayak is sprinkled with an array of details and excellent features.  It features an easily replaceable skid plate and a fish finder console. 
We love the removable and adjustable camp chair and it really is the most comfortable chair in any kayak we've reviewed. The seat slides back and forth for greater comfort and efficiency.
Perception is proud of how stable this craft is, even while standing!  It's rare to have an efficient hull (moves through water with minimal propulsion effort) but this kayak is about as close as it gets.
Pros
Maximum Weight Capacity Is 375 Pounds
Lightweight
Lots of storage and a nice set of frills
Built-in buoyancy and stability
Comfortable for a big man
Cons
---
The riot kayaks Escape is an all-around high-performance kayak designed for very efficient flatwater lake touring.  It's equipped with some serious features for hardcore anglers!  Stability and performance along with a high load capacity are the hallmarks of this boat!
It measures 12 feet by 30 inches and it weighs 72 pounds.
A pilot rudder system and adjustable sliding foot braces are a couple of other enviable features.  It offers lots of rod holders as well with 1 adjustable holder and 2 rear flush mount rod holders and 2 front rod holders. 
Made from glass-reinforced plastic, you'll get the best combination of strength and economy.
We appreciate the rubberized, vibration-dampening V-block and the oval pulley's that make the Pilot rudder system one of the best for smoothness of action.  We could go on forever with lots more features, but you can read them all for yourself on Amazon.
One last thing; as if this doesn't have enough great features, it also gives you an integrated console with a molded cup-holder. 
Pros
dual dry storage compartments
Pilot Rudder System
comfort fit seating
Very stable
Cons
---
The lifetime Tamarack is another Kayak designed for fishing. This sit on top Kayak features both forward and aft storage, multiple rod holders, and two dry storage compartments.
This volume of storage makes it ideal for any fisherman looking to be able to take out multiple rods as well as plenty of tackle. The front rod holder on the lifetime Tamarack can potentially get in the way of paddling which makes it a little cumbersome.
The back Rod holders face inward a little bit so be prepared to cast out from your kayak.  
The hard plastic composition of this Kayak can stand river and easy lake conditions since it is high-density polyethylene and has a five-year warranty which is pretty darn good since most kayaks don't feature such a long warranty on their construction.
One of the downsides to this Kayak is that it has a 275-pound weight capacity, meaning that larger kayakers or those who like to carry a lot of equipment are going to need to look elsewhere for a kayak that meets their needs. 
Another downside to the Lifetime Tamarack is that seat quality is poor and often the rivets rip out of the seat. You may end up purchasing replacement parts or a different seat attachment altogether.
Despite its flaws, this is a good quality fishing kayak that would work well for any casual angler or water enthusiast.
Pros
Plenty of Storage Space
Rod Holder
Two Dry Storage Compartments Will
Cons
Poor Quality Seat
Front Rod Holder Can Interfere with Paddling
---
This Sevylor is made from tough and durable 18-gauge PVC and it's made for rugged lake use.  The 1000D tarpaulin bottom and 840D nylon cover is just the ticket for protection from punctures and scrapes. 
Multiple air chambers add another layer of protection in case one chamber is breached.
Sevylor offers an "airtight system" which they promise is guaranteed not to leak!  That means you can call them to task if it does!  The Berkley Quick Set rod holders are adjustable so you can have a custom fit for nearly any rod. 
The Sevylor trolling motor fittings offer you a really unique opportunity to expand your angling options and capabilities!
This kayak even comes with paddle holders that keep them out of your way when they are not needed.  It also offers adjustable seats, lots of mesh pockets and storage anchor points.  
Overall, we like this option for inflatables because of its looks and what it offers for the price.  We trust you will too!
Pros
Easy to Pack into Remote Kayak Situations
Tarpaulin and Polyester Cover Prevent Punctures
Multiple Air Chambers
Trolling motor compatible
Cons
Difficult Directions and Set up
Hard Tracking
Slow
---
The Lifetime Hydros Angler 85 is another great option for a single angler in quiet waters of lakes, rivers and calm coastal waters. 
This sit-on-top fishing kayak offers a molded carry handle, 2 flush-mounted rod holders along with a third adjustable rod holder and a paddle.
Owners of this kayak report that it is quite stable, and it's made of blow-molded high-density polyethylene (HDPE).  It weighs only 38 pounds and offers 2 carry handles – one front T-handle and also a center carry handle.
The Hydros offers multiple footrest positions and it features a weight limit of 225 lbs.
Pros
Large Open Cockpit
Angled stern to aid in boarding after a spill or while swimming
Low retail price
Cons
Not Designed for taller People
Low Weight Capacity 
Non-upgradable seat
---
Okay folks – THIS IS NEXT LEVEL kayak fishing!  We'd love to put this sleek craft at number one, but the price tag of at least $4,000 forces us to drop it down a bit on our list given the issue of "value". 
In other words, if you have the cash, this is the best option, but it's not necessarily the best deal for your dollar! 
This Old Town Sportsman AutoPilot 136 Motorized Fishing Kayak dream machine is equipped with a saltwater-ready GPS-enabled 12V Minn Kota trolling motor (offering 45 lbs of thrust) that is integrated into the boat itself.  
You can actually propel the boat with a Bluetooth i-Pilot remote.  The other cool thing is that using the trolling motor and the GPS connection, Minn Kota's "Spot-Lock" technology kicks in. 
Spot-Lock technology is a feature that allows your motor to keep you "locked" or anchored in one position in spite of the kayak's tendency to drift out of position.  VERY COOL!  The kayak is steered with a foot-controlled rudder system.
As if that isn't enough, this Old Town kayak offers cushioned floor pads, a custom tackle box and numerous rod-holders.  The dual-layer mesh seat is removable for transport and also offers a level of coolness and ventilation.  Adjustable foot braces are also standard.
The kayak is 13.5 feet long and has a whopping 660-pound payload capacity (usable capacity of 512 pounds for people and gear).  Unlike other kayaks, the overall weight of the boat is significant at 134 pounds.
This kayak will raise your level of fishing satisfaction and pleasure to a new level for sure!  It's frustrating to constantly grab your paddle to stay in a position or move slightly while also trying to aim your cast in the perfect location.  
This kayak makes moving or staying in position very easy so you'll spend way more time fishing and less time fumbling with a paddle which can often fall in the water and disturb the fish and make a wet mess of your gear.
 Pros
Integrated trolling motor (GPS enabled)
Motorized, hands-free fishing
Offers 4 rod holders (2 forward-facing, and 2 rear-facing)
Designed to handle larger waves than a typical sit-on-top fishing kayak
Lots of storage capacity
Customizable accessory tracks
Cons
The motor battery is not included
A paddle is not included – sold separately
Incredibly expensive compared to a non-motorized kayak
---
The Sevylor Quikpak K1 is designed to be an ultra-lightweight kayak that can go in and out of most places other kayaks can't. This Kayak folds up and fits into a backpack where your paddle can fit on either side of the backpack.
It's convenient to use when reaching kayaking spots that you have to hike to.  However, if these kayaking spots feature a lot of water hazards, this Kayak may not be worth the effort to get it down to the water.
The 21gauge PVC construction is designed to resist punctures, but without the additional canvas coating that many other inflatable kayaks feature this inflatable does not resist puncture as well as it could.
Luckily there are multiple air chambers featured on this Kayak so that if one is punctured the others remain afloat.  This is a great "fun" craft, but it's not a serious kayak for any purpose other than pure recreation just off the end of the dock!
Unlike many other inflatable kayaks, this one has a high weight capacity of up to 400 pounds, so if you're a larger person or like to carry a lot of gear with you on the water, this is going to be an ideal inflatable kayak because it's going to be able to support your weight.
It does feature a storage system on the front allows you to store your gear through the bungee system.
Pros
Quick Setup
21Gauge PVC Construction
Tarpaulin Bottom
Multiple Other Chambers
Cons
A Lot of Drag When Paddling
Not Puncture Resistant
Poor Foor Rests
Poor water drag efficiency
---
The Intex Excursion is a 2-person inflatable kayak, but it's not a toy like you might find for $40 at Wal-Mart.   It features really tough laminate PVC with a polyester core. 
It's exceptionally resistant to damage from impact and puncture as well as abrasion, and it's really stable given the high pressure needed to inflate the structure.  
It offers 2 removable skegs for deep or shallow water and 2 floor-mounted footrests.  The bucket seats are adjustable and it even has 2 fishing rod holders. 
There's lots of storage space in the bow and stern and it features steel D-rings for dry-bag and gear tie-down.  With a 400-pound weight capacity, it's quite generous for an inflatable, and of course, you'll get a repair patch in the unlikely event you'll need it!!
The 3-ply ultra-tough construction uses a high molecular PVC that is resistant to any effects from gasoline, saltwater or oil.  Let's not forget the 86 inch aluminum oars and a high output pump to round out the deal. 
This is the best "serious" inflatable kayak we could find anywhere online. Oh, and of course, it's made for 2 people and there are even fewer options available in other brands for a tough, excursion-rated 2-person inflatable kayak!
As always, be sure to wear a lifejacket!
 Pros
Sit inside Inflatable
400 LB Weight Capacity
Fits Back in Case after Deflating
Cons
86-inch oars are too short for some people's preferences
---
Final Thoughts & Recommendations
As we mentioned earlier, your own best kayak is going to be different than the best kayak for someone else simply because you may be using it for a different purpose.
This list is full of great kayaks and none of them are poor quality or poor design other than perhaps some of the inflatable versions which have to compromise a lot of essential features to gain portability.
If you are looking for a great fishing kayak, the best one to get is going to be the Wilderness Systems A.T.A.K. 140 kayak. The weight capacity alone on this Kayak makes it worth the purchase. But that's not the only thing that's great about it. 
It has great storage, comfortable seating, Rod holders, and legroom. What more could you ask for in a fishing kayak?
If you need a recreational kayak that can withstand some bumps and bruises the one I like is the Lifetime Tamarack, though there are others. There is plenty of storage in this Kayak at the high weight capacity to support larger paddlers.
Finally, if you're looking to get into a remote area to hit some water that has not been kayak by man before you're going to want to use one of the backpack kayaks featured in this review.
The Sevylor and Intex both fold up into the backpack that you can bring with you into the most remote locations.
If the water is going to have some sharp rocks or more intense water hazards you'll definitely want to go with the Intex Excursion because it has some additional protection on the bottom to prevent puncture.
No matter which kayak you choose, you're going to have a great time out on the water, but just remember to be very deliberate and discerning when it comes to determining the exact purpose for your kayak. 
One kayak does not fit everyone's needs all the time! Also, remember that kayaking is about exercise and relaxation at the same time.
While you have the privilege of getting up close and personal with some of nature's most beautiful elements, you'll also get a killer workout for your upper body and your core.
Kayaking, if not now, will soon be your favorite water activity if you dare to give it a try!
---