If you're looking for an alternative to biking or if you just want to challenge yourself to try something new, unicycling is quickly becoming a much more popular sport and one that you might want to look into.
Unicycling is a great way to improve coordination, balance, and concentration. Because there are no handles, you use your legs and core muscles in a different way on a unicycle than you do when riding a standard two-wheeler.
Once you get the hang of it, it's a great low-impact workout that's smooth on your joints and a fun way to get your cardio.
If you're interested in unicycling, you might be wondering how to choose the right unicycle for your skill level and needs.
Don't worry – we're here to help! By using the information in our buyer's guide, you'll be able to learn the essentials of unicycles and learn what you need for any skill level.
Then, our list of the best unicycles of this season can help you narrow down your choices even more.
Choosing the right unicycle can make it easier for beginners to learn and keep experienced riders happy and help them continue to push themselves and get even better at their sport. Let's look at the important things to know about buying a unicycle.
---
Unicycle Overview/Guide
---
There are a few important things to look for when buying a unicycle. In this buyer's guide, we'll review a few of the most important things to consider in order to find the best unicycle for you.
But before we get into the nitty-gritty details about unicycles, let's start by examining all the different kinds of unicycles.
Kind of Unicycle
One of the ways in which unicycles are much more complex than you may have realized is how many different kinds of them there are.
Learner
These are the unicycles that are best for people to learn on. They will typically have a comfortable seat and a basic tire and frame that aren't suited for any freestyle tricks.
Freestyle
This is a term used to describe unicycles that are good for competitions, tricks or games. Some competitions involve tricks and skilled riding set to music or there are also games like unicycle basketball.
These unis typically have a 20" wheel and slicker tires to help with gliding and movement when doing tricks or stunts.
Trials
Trail unicycles are used to do different kinds of stunts, like going upstairs or riding along railings. The tires tend to be very wide to help absorb impact upon landing and keep your grip.
Road
Road unicycles are primarily meant for commuting. They tend to have larger tires so you can go farther with less pedaling. You can also fit them with offroad tires if you wanted something a little more versatile.
These aren't a great unicycle to start learning with but are a great choice for an experienced rider who's ready for a different challenge.
Mountain
Also referred to as Munis, mountain unicycles can mean anything from off-roading to actually riding up and on the mountain trails. They're built to be very strong and can take a lot of abuse.
The tires vary from being smaller to handle technical jumping and maneuvering when on the rail to large to help cover longer distances. It really all depends on what you want to use it for.
The Seat/Saddle
There are a lot of important parts of a unicycle, but perhaps none will dictate how well you'll ride more than the seat. It's even more important than a bicycle seat.
When you ride a bicycle, your weight is distributed between the seat and the handlebars but on a unicycle, you only have the seat. It supports all of your weight, all of the time.
If you're just learning, an uncomfortable seat and a sore rear end could be enough to make you give up if you're having a hard time getting the hang of it. If you want to start yourself off on the road to success, get yourself a unicycle with a good seat.
What makes a good unicycle seat? Some things you should look for:
Bumpers are extra protection for your unicycle seat to protect it from being damaged if you fall. If you're just starting out, chances are you're going to fall quite a bit. Truth is there's always a risk for a fall no matter how experienced a unicyclist you are. Bumpers are a good investment.
Some seats will have a nice handle on the front of the seat to hold on to. Not a large protruding handle, more like a small rim to grab onto. This can come in handy for freestyling and you'll need it to grab onto when you're getting off your unicycle.
Make sure your seat has enough foam to keep you comfortable. This might mean buying a new seat altogether or modifying the one that came with your unicycle by adding extra layers of foam. You want it soft but firm and it shouldn't move around too much.
Pedals
Most unicycles come with plastic pedals. These will work just fine but can break pretty easily, especially for riders whose unicycles hit the ground a lot. Pedals are easy to replace and can be found at any bike shop.
What should you look for in a pedal? Good pedals are made of a material like metal that can take a bit of a beating and last a long time. The platform will be wide enough for your foot to sit on comfortably.
Grip is important, too, especially for wet or rainy areas. Your feet should feel like they're solidly in place but still free to move around.
If you do have to use plastic pedals, it's a good idea to get reinforced ones. They won't be as strong as metal, but they will offer you just a little more strength and durability.
Wheel & Seat post
Picking the right wheel size is key to having a good ride. If the wheel is too small, you'll be working really hard without getting very far. Small wheels are slow but good for tricks because they're very agile compared to larger ones.
Too large and you'll lose control. Making sure you get the right wheel size is an important part of getting the perfect unicycle.
The seat post is also important. Obviously, it can't be too long or too short because then you won't be able to pedal effectively. You need to have a comfortable stance on your unicycle and the right seat post is a huge part of that.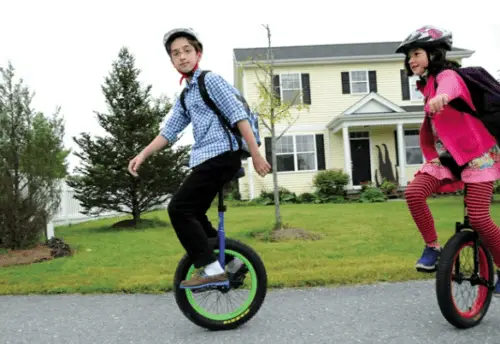 Good, comfortable riding comes when you are at the right height to reach the pedals without stressing your body. You don't want to have to stretch too far and you don't want your knees bent awkwardly, either.
Appropriate wheel size and seat post are determined by the length of your inseam. This is the best way to know the true length of your legs so you can figure out what sizes you need.
Unicycle tires are measured in inches that reflect the diameter of the wheel. Some examples:
16" wheels are some of the smallest. They're typically used by young children or people who can't use larger wheels comfortably.
20 " wheels are a common choice for beginners because they offer balance and control.
24" wheels are great for commuting, basic tricks, and racing because you can travel a farther distance with less pedaling.
As an example, inseams of 23" – 27" should use a 20-inch wheel, greater than 27" should use a 24" wheel.
Frame
Unicycle frames are usually made of aluminum or steel. There are some frames that are made out of more expensive and rarer materials, but aluminum and steel are the most common. Because other materials aren't common, let's take a look at the differences between steel and aluminum:
Steel – Steel frames are the least expensive of the two. Even though steel is heavier than aluminum, it's flexible and can bend a little when force is applied to it.   They can bend with a lot of force by rarely break and can usually be bent right back into position.
Aluminum – Aluminum is very light when compared to steel. It's also significantly more expensive. Aluminum is less likely to bend than steel but, even though it's not as resilient, it's still very unlikely to break.
---
Unicycle Reviews 
---
The Sun Classic Chrome is a great unicycle for beginners but will work well for any riders with any level of experience.
It's available in a wide range of sizes (16, 18, 20, 24, 26, and 28 inches) so anyone will be able to find a good fit with this unicycle. Each size has specific adjustments so that the fit is always perfect.
The saddle is a classic design with built-in scuff guards so it won't get damaged even if you're a beginner who hits the ground a lot while you're learning. For fast and easy seat adjustments, there's a quick-release so you can easily adjust the height.
The steel frame is really durable and lightweight, primarily silver in color with bright blue accents. The plastic pedals aren't ideal but can be replaced by anyone who would prefer metal ones.
One more reason why this unicycle is a great choice for beginners is the price. It's affordable enough to buy to see if you like it without sacrificing quality. Advanced riders will like this one, too, because of its quality build and lightweight frame.
Pros:
Well built
Affordable
Comes in a wide range of sizes
 Cons:
---

The Sun Unicycle Flat Top is similar to the Sun Classic but has its own unique look and feel. While the Classic is aimed more at beginners, the Flat Top is designed to resist flexion during any freestyle maneuvers and provides another foothold for riders.
The frame is a brown-green color with black accents.
The wheels are a lightweight alloy. This unicycle only comes with 20 or 24-inch options. Because there are no models designed for 16 or 18 inches, this one might be too tall for people who are a little on the short side.
A 30-inch inseam is recommended. Similarly, there also aren't any 26 or 28-inch sizes available, so this one isn't a good fit for people who are exceptionally tall, either.
The saddle is a classic unicycle shape with scuff guards on the front and back to protect it from damage in case of a fall. It can be uncomfortable with long rides, so you may want to look into getting a more comfortable one if you plan on riding a lot.
Pros:
Resist flex
Good for freestyle riding
 Cons:
Only available in 20 and 24-inch sizes
Not a good fit for people really short or really tall
---
It's not exactly a household name, but AW offers up a very good deal at a very palatable price!  This 18″ model features a strong manganese steel frame.  The tires feature dual-layer rubber with the inner layer offering leakage protection from punctures.
The seat is adjustable from 30 to 34 inches and the seat itself features a handle to grab for those who are just starting or are in a position to need a bit of help balancing.
A wrench comes standard with this cycle and the quick-release seat post doesn't require any tools at all.  The bearing assembly is extremely quiet so you can "ride in stealth mode" – you know, if that's important to you 🙂
Here are some of the most excellent specifications!
– Tire Dimension: 18″ × 2 1/8″ (45.72 × 5.4 cm)
– Seat to Pedal Distance: 15″ to 30″ (38.1 to 76.2 cm)
– Adjustable Unicycle Height: 30″ to 34″ (76.2 to 86.36 cm)
– Suitable User Height: 53″ to 65″ (134.62 to 165.1 cm)
– Weight Limit: 132 Lbs (59.87 kg)
– Net Weight: 8.6 Lbs (3.9 kg)
– Steel Spokes: 28
Pros:
Increased durability (frame, seat and axle engineering and construction)
Multiple Color Options
 Cons:
Every bike (nearly every product actually) on Amazon has some negative reviews, but the only real negative issues with this bike seem to be with units that were defective and therefore qualify for a refund.  Most users did not experience problems.
---
This Club unicycle isn't a commuter cycle, but it seems to fall just in between a freestyle size (20″ – 24″ wheel) and a commuter cycle (29″ wheel or larger). It's designed to help beginners with freestyling though it may be more suited to larger riders.
The single-walled tire won't stand up to any advanced tricks so this one is not meant for more advanced riders.
The saddle is a standard unicycle design that connects to the post with a quick-release four-hole clamp for easy adjustments. The frame is black steel sturdy and durable and the whole thing is relatively easy to assemble. 
The cycle weighs 13 lbs and the seat has a tough duty plastic on the front and back to help fight wear and tear during falls.  While the seat is not the most comfortable one, it's not really meant for super long commutes, so it should suit just fine. 
However, you could just swap the seat if you use it for longer rides.  
Overall, it has some great feedback from verified buyers and users on Amazon.
One downside to this unicycle is the plastic pedals. They're lightweight and a decent size, but they are more likely to break than metal ones. You can always replace them if you want to, but it would be nice if the included pedals were a little bit higher quality.
Pros:
Good for beginners who want to learn to freestyle
Durable
 Cons:
Not for advanced freestyling
A tiny bit pricey!
---
This is a really basic 16-inch unicycle that's not only affordable but durable, too. The bright blue frame is made of manganese steel and the steel fork is powder-coated to protect it from rust or other damage.
The saddle release is quick and easy for on the fly adjustments and made of a lightweight aluminum alloy. The saddle itself is large and has guard rails to protect it from damage. These are the same bright blue color as the bike frame and are both removable.
The tire is rugged and sturdy with leak protection so you won't have to refill it for at least 3 months.
If you have a child who is interested in learning to ride, this is a great unicycle for them; however, it's not suitable for anyone taller than 5 feet or who weighs more than 110 pounds.
This obviously limits how useful this unicycle is, but it's a great choice for kids to learn on.
Pros: 
Great for kids
Leak protected tire
Cons:
Limited use as the weight limit is 110 pounds
Only meant to be used by rider up to 5 feet tall
---
The Fun Unicycle comes in 16, 20, or 24-inch sizes with a frame that is available in chrome, red, and blue. Quick-release clamps let you adjust the saddle fast and easy. The plastic seat guards are brightly colored and match the frame.
They're really durable and can take a beating without breaking or cracking.
This is a good beginner's unicycle but it isn't made to last a long time or take a lot of beatings doing stunts and freestyling. This is a great choice for someone just learning to ride or for a casual rider.
Anyone who wants something a little durable that will last for a long time will need to upgrade this pretty quickly.
The plastic pedals are one downside. They're not very strong and will break pretty quickly, especially for new riders who are still hitting the ground a lot. It won't be long before they need to be upgraded to metal ones.
Pros:
Great for beginners
Strong plastic seat guards
Cons:
Not designed for advanced riding techniques
Plastic pedals break quickly
---
The Nimbus Nightfox 36″ unicycle stands apart from all our other unicycles on several fronts!  First of all, the wheel size is noticeably larger which offers a completely different feel while riding. 
It also offers a set of handles to grab which will allow for a longer, more comfortable ride.
The seatpost and seat tube were redesigned bringing the saddle down to the curve of the frame. The Nightfox frame incorporates the Shadow Handle into the design as well so you can ride as far as you like.
The taller rider can raise the frame up allowing space between the Nightrider tire and the Nightfox frame to incorporate riding gear in a unique place.
You can find out the details/specifications by clicking the green button below, but we can tell you that everyone who is leaving reviews on Amazon (verified buyers) are incredibly happy with not only the cycle's quality, but how it offers several features that are game-changers.
Because of these factors (feel of a radically larger wheel, frame style, handles, etc.), the price is twice as high as a typical "good quality" unicycle.
Pros:
Designed for trail and road
Larger wheel to navigate obstacles and terrain MUCH more efficiently than a typical 20″ or 24 or 29″ wheel
The Gel seat and massive tire circumference is so different that user feedback has been extremely positive
Cons:
Super EXPENSIVE (over $700)
Because of price, the sales quantity has been lower and so have review numbers on Amazon
---
Once you've mastered a learner unicycle and if you're looking for another way to ride that doesn't involve commuting to work, a muni is a great next step. Mountain unicycling is intense.
You'll climb steep hills and come back down them with control and precision. It has a steel frame for a little bit of flexibility so the bumps along the mountain trails won't be a problem.
This Mountain Unicycle from Nimbus comes with a gel seat for extreme comfort. The seat also has a front lift handle to grab onto. The pedals are reinforced plastic so they'll be able to take the abuse on the trail.
This is a tough unicycle that's meant to take you to new heights and can handle the ups and downs of your next adventure.
Pros:
Made for mountain unicycling
Gel seat
Cons:
---
Final Thoughts & Wrap-Up
The Sun Classic Chrome is an all-around great unicycle. It's a great one to learn on but it's also not so basic that an experienced rider couldn't enjoy it. The steel frame is lightweight and durable and it comes in a wide range of wheel sizes, from 16 – 28 inches.
It's an affordable choice for a first-time buyer.
Another offering from Sun Unicycle is the Flat Top, a great freestyle unicycle that's only available in 20 and 24-inch sizes so it might not work for anyone too short or too tall.
It's great for games and competitions and is recommended for riders with a little bit of experience.
If you're a beginner who wants to get into freestyling, try the Club 24" Unicycle. It has a sturdy black steel frame that won't break but has enough give to stand up to abuse from any falls the rider might take while learning tricks and stunts.
Just keep in mind, it's a learning uni. Not for advanced stunts.
For an exceptionally basic unicycle that performs well and won't break the bank, there's the generic 16-inch Wheel Aluminum Rim Steel Fork Frame Unicycle. The frame is made of bright blue manganese steel and powder coated.
It has a large saddle, reliable tires, and was designed to fit children and smaller adults.
Fun Unicycle offers 16, 20, and 24 inch sized and a variety of colors. With durable seats and color coordinating plastic seat guards, this unicycle is stylish and functional. It's a great learner uni for beginners but won't take the abuse of a more experienced rider.
This is a relatively safe starter option as long as beginners and young children wear a helmet.
For the "Cadillac" of unicycles, you can opt for the Gremlin Nightfox which offers a gigantic 36″ wheel and a very differently-engineered frame including actual handlebars.  It's made for longer tours and ultimate comfort.
And finally, if you're ready to take on the mountains, the Nimbus Muni 24" is a great choice to get you there. It has a gel seat for added comfort, reinforced plastic pedals for durability, and a steel frame with a little bit of flex to help absorb the impacts from the trails.
As you can see, there are a lot of choices when it comes to unicycles.
If you use the details in our buying guide to learn about what makes a good unicycle and what kinds of things you should be looking for you, you'll be able to find a unicycle that works for you and your needs.
Our eight best list covers a little something for every kind of rider at every skill so you're sure to find one that will work for you among our favorites.
---