If you are looking to try and complete your first triathlon there are a lot of things to consider.
As a beginner, you shouldn't expect to be able to place very well in a triathlon the first time around as many people train for triathlon's over a period of months to as long as years in order to get ready for the event.
It is important to have your goals in check before proceeding so that you don't end up being disappointed in yourself.
A triathlon is nothing to laugh at as it is three different physically demanding events combined into one which requires the athlete to have both endurance as well as a good mental state so that they can through the physical demand that a triathlon requires.
Running
In order to be prepared for the cardio aspect of this event you are going to have to do a lot of running to prepare.
It is important to remember that although treadmill running will get you into good cardiovascular shape, it will not get you ready and used to the terrain that you will be running on when you are doing the actual triathlon.
It is important to make sure that you have a really high-quality pair of shoes in order to be able to run a long-distance as a bad pair of shoes will not only make your running slower but it can also make your feet hurt afterward as well.
Make sure that you have good quality shoelaces and make sure that you do them up fairly tight and securely before you start your run so that you won't have to worry about the shoes coming undone on you during your run. 
I like to use elastic "slip-on" style laces so I don't waste time tying
Swimming
To be prepared for the swimming aspect of triathlon not only will you have to have good cardio but you will also have to have a fast-swimming technique.
One thing that you can do to practice your swimming is to practice holding your breath while you are underwater and getting used to your wetsuit.
It can take some time for you to actually be able to increase the amount of oxygen that you are capable of taking in but over time your body will actually get better at functioning on less oxygen for a longer period of time.
This is how people get into freediving and are able to stay under the water for minutes at a time. It is important to take aspects of this such as energy conservation and use it during your triathlon race.
Cycling
The final physical aspect that you need to prepare for is the cycling stage of the event.
It can help to get an exercise bike to use inside your home so that you can get better at peddling consistently and effectively in order to get the farthest distance on the least amount of energy.
While you are training it is a good idea to take drinks of water so that your body is used to taking in fluids while you exercise rather than just during periods of rest. 
Make sure you practice on the bike you plan on using during the event to reduce the chance of unexpected problems and discomfort.
A triathlon doesn't really offer much in the way of rest periods and you need to be prepared and able to endure all elements of the race.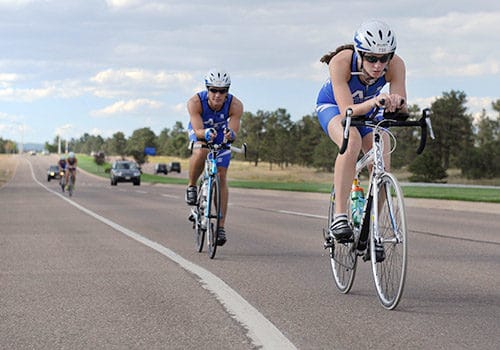 Practice Everything
You may think that training is the only thing that you can really to in order to get ready for a triathlon race but it is important to also be aware of and know how to deal with some of the situations that you may come across during the duration of your race and transitions between events.
Depending on your experience and how well you care to place in the event you are going to have to consider several factors. 
For example, are you going to stop if your shoes become untied, what will you do if you lose your bathing suit while swimming, will you stop to get more water or push through, what are you going to wear and where are you going to go to compete.
There are a lot of details to consider when it comes to triathlon and it is important to keep things like this in mind so that you aren't panicking because you came across something that you weren't expecting.
Mindset
Besides being aware of the things that you might run into and knowing what to do in each situation; it is important to mentally prepare yourself for a triathlon as well as make sure your body is actually ready to compete.
A triathlon is a really long race and if you have some kind of an injury, putting that much strain on it could cause you immense pain and it could even cause you to have permanent damage if you aren't careful with it.
It is important to know your own limits before going in because there can be major consequences for pushing yourself past your own capabilities.
Personal Training
If you are really serious about competing at a professional level in triathlon's you may want to consider looking into getting a professional trainer; see if you can get someone who has done a triathlon before as experience is a huge asset in this sport.
Triathlons require a lot of physical ability and demand someone who has a very determined mindset behind them. Working with someone who has already completed your ultimate goal is likely going to be a great motivator for you.
Having your own trainer will also be a great way to tell if you are ready to compete, as your trainer will know exactly what it takes thanks to their past experience.
Stretching & Recovery
One last important thing to remember is that even when you are practicing for your triathlon, make sure that you are stretching your body out before and after each and every one of your workout routines.
Stretching is a great way to warm up your muscles so that they can function more effectively and it also helps to keep everything loose and more agile meaning you are much less likely to tear a muscle or hurt yourself if you properly stretch yourself out on a regular basis.
Over time you will notice that you will become more flexible and if you were to ever do something like fall over or trip on something, there will just be that much more bending ability in your muscles in order to absorb the impact and keep pushing forwards.
Hopefully, after reading this article, you feel a little bit more informed and a little bit more prepared as to what you will need to do in order to get ready to compete in a triathlon.
The training for this immense task will not be easy and you are going to have to put a lot of time as well as money into your training in order to get the equipment required to compete at the level needed for a triathlon.
Best of luck with your competitions and good luck training for your triathlon if you are still interested in attempting to do one!