The best longboard wheels are a mix of durability and design.
Say you want a new color or an extra set of wheels, you're going to want something that will last longer and stay tough throughout even the roughest road conditions that some people tend to skate through depending on where they live.
A sustainable package of longboard wheels will come in four and have a soft, yet sturdy texture.
Regarding their shape, longboard wheels are known to be wider than skateboard wheels, primarily to hold the weight from the width of the longboard.
---
Longboard Wheels Buying Guide
---
For those who use their longboard frequently, mainly as a means of transportation, it is essential to purchase a set of strong wheels that will help you maintain your usage.
Some people use their longboards to get to work, school, or their friend's house. Others strictly use a longboard to do tricks at the skate park.
Some people may depend on longboard riding as an inexpensive means of transportation whereas others look at it as nothing more than a hobby. And then you have the people who use their boards for both activities.
The ideal situation is to find a set of wheels that are inexpensive and can stay strong even with consistent use.
When looking for an efficient set of longboard wheels, there are specific characteristics that will assure you that you are choosing the right set. Look for these specific traits when searching for the right longboard wheels:
Size
Size is significant for a longboard because you need something that will sustain the weight of the board and the person using it.
The larger the wheel, the more surface area there is on the road, and with more surface area comes better balance and faster speed.
Although having bigger wheels makes it more probable that your acceleration time will be slower than normal, you will have a higher speed and a better ability at rolling over any cracks, bumps, or potholes that are in the street.
In addition, size is important because it determines a fine line. One could easily determine that large wheels are meant for longboards, whereas smaller wheels are for skateboards.
When finding a set in the middle of that range, it becomes more difficult to decide which wheels are best for your board and riding style.
Overall, the bigger the wheel, the better your chances of having a quality longboard wheel that can withstand the rigorous rocks and road materials that could potentially damage your longboard investment.
Shape
The shape of your wheels determines the performance of your longboard just as much as the size. Having a wide wheel is important because it will help with wear and tear due to rough surfaces.
It also promotes balance, as you are required to stay on the board for a reasonable period of time, granted you are using it for transportation purposes.
While the shape of a skateboard or longboard is essentially the same concept [excluding width], you will find a select brand, which produces longboard wheels with an awkward shape.
While this isn't very common, it is important to acknowledge odd-shaped longboard wheels and identify what you like or dislike compared to standard wheels.
---
Best Longboard Wheels Reviews
---
With a unique design, bright colors, and durable texture, Orangatang longboard wheels provide you with a high-quality experience for your longboard.
Measuring at 80mm, these wheels are large enough where they have the ability to roll at fast speeds. Their width of 56mm also helps with balance and quick response when sliding.
The unique part of these wheels that separates them from the competition is the core. The core of the Orangatang wheels is made of high-strength, heat-resistant material that helps with the acceleration and momentum.
The core also possesses a cross-section that helps reduce weight while riding at a fast pace. This will ensure that you can get as much as you can out of these wheels and drift wherever you would like.
These bright orange and green wheels are a clear indication of the Orangatang brand. As large and wide as they are, you will have the perfect opportunity to stand out on the street or skate park with some of the best wheels on the market.
Instead of the standard black or clear wheels, you can get a color scheme that stands out and screams "look at me."
These wheels work for people of all different sizes.
Thanks to the width, sturdy material, and core, people over 200 pounds have the ability to use these wheels and not have to worry about breaking down or going too slow to efficiently longboard ride.
The Orangatang wheels have the durability needed to have longboard wheels that last. Durability is critical when shopping for longboard wheels especially if you are paying top price for the item.
These large wheels will help you have the smoothest ride possible, getting you to wherever you need to go, or guiding you on a fast ride around the skate park.
Pros:
Large, wide wheels help with stability and speed
Durable
Cons:
Some buyers claim that their wheels chipped
Lack of color variety
---
When analyzing the shape of the Shark Wheels, you have to wonder how such an awkward shape can deliver a consistent and smooth ride. Well, these wheels were made with an emphasis on speed.
The Shark Wheel brand is offering a hybrid shape that is a result of a fusion between a cube and a sphere. The Shark Wheels are arguably one of the most durable longboard wheels; as they can function in virtually any type of weather element.
Thanks to the rigged wheel texture, you can skate over wet or rough conditions better than any other longboard wheel. They offer enough durability to use your longboard on tough surfaces or for daily travel.
While these wheels don't necessarily fit the traditional mold of a longboard wheel, it is always beneficial to analyze wheels that are "different", because they might be the model of the future.
The ridges used in these wheels serve the same purpose as the tread on a car or bike tire. Having these ridges assures you that your longboard can be used through dirt patches and in wet weather conditions such as rain, and maybe even snow.
Overall, these wheels don't limit you to sunny weather.
Being in high demand in the longboard market, you could expect that these longboard wheels are higher on the price spectrum.
If you want to make an investment rather than a purchase, look no further and invest in the Shark Wheel brand, because you will get your money's worth with great durability and high-quality material.
Choosing wheels that will last are somewhat difficult to do, primarily because you can never truly be sure about the durability of a set of wheels.
With the Shark Wheel brand, you are receiving high-quality wheels with a unique shape that isn't common for longboard wheels.
Pros:
Durable wheels can go over essentially any poor weather condition
Unique-shaped wheels look square when they roll; beneficial for high performance
High-quality slide control
Cons:
One of the more expensive options
Some buyers claim that their wheels aren't as durable as advertised
Design isn't traditional; not popular with everyone
---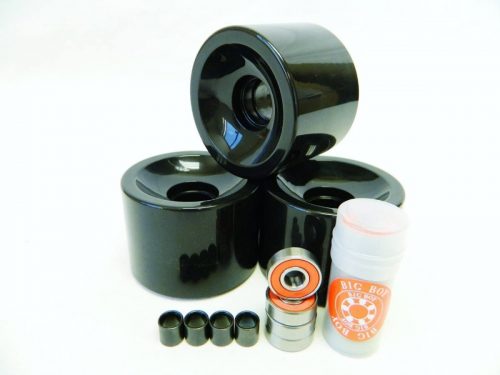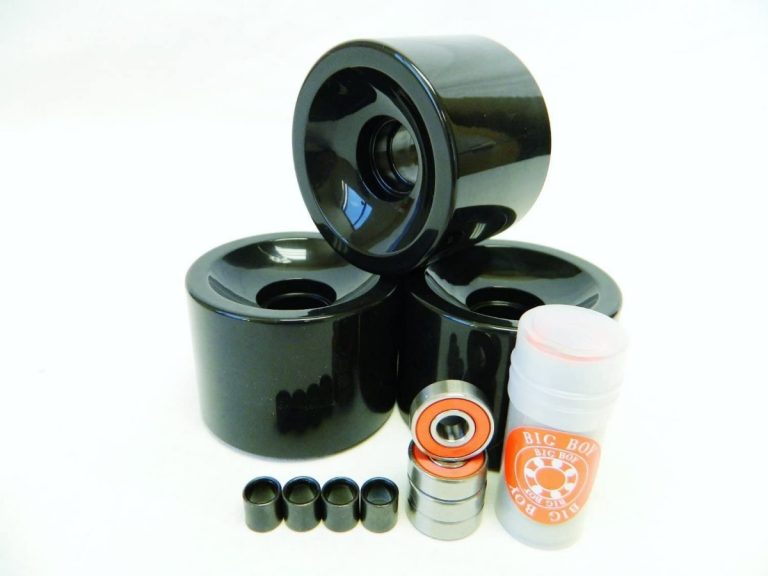 There are few brands that supply longboard wheels that would offer bearings with their wheels at no additional cost. The Big Boy brand offers a set of four longboard wheels measured at about 60mm, in addition to bearings for your board.
This option is potentially the best combination of wheels and bearings available. These wheels are great for simply cruising and are also durable enough to handle other unforeseeable roadblocks such as potholes and curbs.
These wheels are very wide and enhance your balance while riding. They are excellent for their inexpensive price and go well with any longboard or skateboard.
The ABEC-9 bearings come in two different colors and aren't at an additional cost, so you are getting a bargain with the price that is listed.
In other words, if you are looking for a cheap set of wheels that perfectly fit the typical longboard wheel and are inexpensive, the Big Boy Rebound wheels are your premier option.
Pros:
Durable
Bearings are included
Soft wheels that are great for cruising
Cons:
Bearings aren't great quality
Wheels aren't as big as they should be for a longboard
Narrow
---
We like the versatility of the Orangatang Stimulus because of its perfect size to offer you the best of all the areas in which a longboard wheel can excel.  For example, the 70mm size makes it large enough to carry lots of speed.  
At the same time, it can roll over debris fairly easily because of the relatively big 70mm size.  However, because they're not super huge in diameter, the 70mm wheels are still light and quick enough for slides and other tricks!
The stone-ground contact patch and the rounded lips ensure a smooth and predictable slide, and that doesn't wear out much during the life of the wheel.
The core of the wheel is strong and supportive.  It's encapsulated and maintains a smooth ride while supporting the lips.  This enables a crisp slide and even wear profile. 
They've been described as being a great combination of a broken-in race wheel, and a drifter freeride wheel.  Here's a quick spec overview:
Diameter: 70mm
Width: 49mm
Contact Patch: 42mm
Durometers: 77a, 80a, 83a, 86a
Bearing Seat: offset
Formula: Happy Thane
Core: high-strength, high-stiffness, heat-resistant urethane
Pros:
Versatile (best qualities to offer lightweight and ability to roll over debris and offer good speed)
Encapsulated core offers support and a smooth ride
Cons:
Because they don't leave many thanes (markings the wheels leave on the pavement or other surface) they slide more than they grip.
---
Freedare offers this budget set of wheels and we think it's a great deal.  Why?  Well, despite being slightly smaller than most wheels we reviewed (they're only 58mm), this set of 4 wheels has surprised many a user with their level of quality.
  With ABEC-7 high-carbon Chromium steel, 10.5mm spacers, 82A softness polyurethane rubber, and the power to surprise, these wheels won't kill your budget or your dreams!  The dimensions of each wheel are 58mm x 45mm. 
Remember that these are longboard wheels that are typically too big for smaller boards and do not lend themselves well at all for doing tricks on the halfpipe. 
Please note that another great feature is that they are pre-lubricated!
Pros:
Large size helps with road friction
Wheels are soft for a smooth ride
They arrive pre-lubricated
Cons:
Not ideal if you need them for tricks and stunts
---
The only reason these ABECs are not on top of our list is the stratospherically high price.  Aside from that, the quality of ABECs is unmatched.  The smoothness is unlike most wheels (which are pretty smooth in their own right). 
They're 107 mm, so they sit pretty high off the ground, so as long as you're good with a bit of extra height, you'll like these. 
They register a 74a hardness (which is not insanely hard, which means they grip the road better and ensure less unwanted sliding or skidding).   
They offer far less "bounce" than some wheels, and the really unique feature is the pure, durable, tough, and HEAVY-duty quality. 
The SuperFly wheels weigh a whopping 504g each which is a full 100g – 200g heavier than many competitors which appear approximately the same size. 
The extra weight accounts for longer life, a smoother ride, and unfortunately, a higher price tag.
Please note that bearings are typically not included with most wheels, so you just may want to have an extra set waiting around in case!
Pros:
Arguably the "best" wheels available for your longboard
Great brand and reputation
Cons:
You'll have to look twice at the price tag!  Some wheels are less than $20 while these take the fun out of $150!!!
---
If you're looking for reliable longboard wheels, Everland might be the answer. This four-wheel set can go over plenty of rough surfaces and do it with style, as there are almost twenty different color variations available.
From a cosmetic perspective, the Everland wheels are exactly what you would expect in longboard wheels. From shape to texture, these longboard wheels are essentially the prototype.
The price of these wheels is pretty cheap, but that doesn't reflect the item's quality. The wheels from Everland offer stability, durability, and style.
With the Everland longboard wheels, you can run over potholes, bumps, and even curbs without the worry of breaking a wheel.
From stone-ground blue, yellow, orange, red, and a variety of other colors, you can ride in style, in basically any type of smooth or rough setting.
Pros:
Eighteen-wheel color options
Wheels are soft and wide
Stable on sidewalks and other surfaces
Cons:
One buyer stated that one of their wheels broke after use
Bigger wheels make your board slower
Wheels get dirty easy
---
The sKape brand has an affordable set of longboard wheels that will keep your ride fast and the consumer content. With about eleven wheel colors to choose from, you have enough options to apply to your board.
These wheels have a solid performance if bigger wheels are your preference. They ride typically smooth and absorb impact from the road a lot better compared to smaller wheels.
The texture of the sKape wheels is medium; they aren't extremely hard but sturdy enough to hold up against poor road or weather conditions. They have enough surface area to provide the right amount of friction to ride smoothly.
Also, having a larger diameter means the longboard will be able to ride smoother.
One should beware of the consequences of large-sized wheels. The large size of the wheels doesn't necessarily indicate that the board won't go as fast, or feel heavier than usual, but these wheels in fact suffer from those troubles.
You might not have the ability to ride your longboard at an extremely fast speed, but you will have a set of wheels that have size and a shape that will keep them useful for a while!
Pros:
Large size helps go over potholes and other road nuisances
Eleven color varieties
Acceptable texture
Cons:
Wheel size makes it more difficult to ride fast and light
Inexpensive price
One customer claims they began to have hairline cracks in their wheels
---
Sliderz wheels offer a four-pack that has the durability and sufficient shape to handle both the skate park and the street. These wheels can serve skateboarders and longboarders thanks to their versatile size and durable texture.
The Sliderz wheels do a good job at handling the sliding technique that is used every so often by frequent riders.
According to the vendor, these wheels "slide like butter" just enough to get your adrenaline going, and offer you enough control so that you don't wipe out on the sidewalk.
In other words, these wheels offer you the best of both worlds: a rush and complete control of your board.
The Sliderz longboard wheels are durable enough to handle the rigors of the roads. Are you more likely to wear your wheels out skating on the roads rather than the skate park? Most likely.
But that shouldn't deter you from using your longboard in the street. Luckily, these wheels will last longer than your average wheels, so even if you skate on the road often, it will be a while before you have to consider replacing them.
The Sliderz wheels are affordable for a four-pack. Not every longboarder is looking for an expensive set of wheels that promises top-quality up and down.
There are instances where you may need replacement/backup wheels, and in that case, you may want to choose the Magneto Sliderz thanks to their reasonable price.
There are certain brands out there that would want as much as double the price of the Magneto Sliderz for the same amount of wheels, so if your wallet is looking slim, you can inquire about these longboard wheels.
Pros:
Can be used in different skating environments
Great for sliding
Offers excellent control of your board
Cons:
Somewhat narrow
Not all the wheels come stone-ground; you will have to break them in
---
The Blood Orange longboard wheels have a variety of color options and smooth texture that will be sure to take you on a steady board ride.
With an oval shape and an average width, these wheels would be great for a free-ride or at a skate park with a flat surface.
Known to be more suitable for experienced riders, the Blood Orange wheels will prepare you for the most advanced longboard ride.
These wheels come in a set of four, so you won't need to worry about matching wheels via separate purchases.
Regarding price, the Blood Orange Liam Morgan wheels are neither cheap nor expensive. It can be assumed that a set of four are set in the middle price-wise, depending on what size wheel you are searching for.
It is assumed that the price is also a reflection on the Liam Morgan urethane formula that is used in the wheels, something that is a substantial asset to their performance.
There are probably other wheelsets that are more versatile in regards to how you use them, so if you want something that is extremely useful in both the skate park and street environments, you should consider other brands in addition to Blood Orange.
If you want something specifically for the skate park, these wheels are a strong possibility for you.
Pros:
There are a handful of colors to choose from
Wheels are great for sliding
Liam Morgan formula is good quality
Cons:
Narrow target market; not suitable for beginners
Not the best option if you are looking for a wide wheel
Better for skate parks as opposed to the street
---
Conclusion & Recommendation
Size, shape, and durability are three entities that should be considered when you are looking for a set of longboard wheels. Durability is one of the more important features for those who use their longboards often.
While those who use their boards solely for tricks wouldn't be affected, the riders out there who ride their longboard to and from work, or hanging out with friends, might be more concerned about durability. 
The reason is that the bumpy road conditions that sometimes occur. Having soft, yet durable wheels will help you ride over hard rocks and potholes, and won't necessarily make your wheels chip or break in their entirety.
Shape is also a consideration because you need the right shape in order to ride smoothly and contribute to how fast you can go on your board. Having a wide, oval shape is your best bet for longboard wheels.
This will keep your momentum steady and keep you balanced at all times, rather than being on edge, waiting to fall over due to poor stability. If you aren't comfortable on your own longboard, the odds of you using it at all are slim to none.
That's why having the right-sized wheel is very significant.
Orangatang tops the list at number one due to their high-quality material and highly regarded reputation in the longboard industry.
They have bright colors that keep the rider semi-visible; a unique design that displays what the Orangatang brand stands for. Next up would be the Shark Wheel longboard wheels that appeared on Shark Tank.
It is a surprise to see a set of wheels that aren't the traditional shape be considered a top brand of longboard wheels.
These wheels have an odd shape but a superior texture that can go through any weather condition or rough surfaces such as a dirt field or rocky avenue in your local city.
No matter what you choose, any of these ten wheelsets can be used for any level of longboard rider.
Whether you are looking for square-shaped wheels or LED light-up wheels, whether you are on a low or high budget, you can find the right set of longboard wheels in this top ten list!
---