You're in the court, a steady hand around your racquet as you move towards the service line. The racquet glistens in the lights as you drop the ball and serve to begin the rally.
The next minute or so, you and your partner dance around the court, paddling it backward and forwards against the ball even harder.
You're sweating and panting as you lunge, reaching the impossible angle to hit the winning stroke and your partner collapses in defeat, unable to reach your superbly placed shot.
At the end of the match, you're exhausted and sore, but ultimately grinning inside as you exit the court and give your opponent props for a great match.
This is the beauty of racquetball, the ability to have a lot of fun at an intense pace. You're most likely smiling right now as you look forward to your next match and the fun and hurt begins once more.
For all the hurt, there is a great feeling from the intensity of the exercise and the adrenaline driving you to react in milliseconds to a fast-moving, unpredictably-placed ball. Only those who play it fully understand this.
---
If you're looking at this sport and thinking about joining in the fun, there are a couple of fundamentals about the sport that are good to know. It was invented in the 50's and has similarities to squash, tennis and American handball all rolled into one.
For the beginner looking at squash and racquetball, they look quite similar. There are however some differences. For one, racquetball can be played outside or inside.
When it comes to equipment, one of the main differences is the ball size, which in racquetball is 2.25" in diameter as opposed to 4cm for squash.
The other difference is the racquet itself. Squash racquets can be up to 27" long, whereas racquetball racquets must not be more than 22" long.
It's quite obvious that a good racquet is essential to your success in the game. It may be simply the look and feel of a racquet in your hand or you envision making a mark with some professional gear.
This review will assist you in identifying what you might want and need in purchasing a new racquet.
Racquetball Racquet Buying Guide
Types of Racquets
We've mentioned that the maximum length a racquetball racquet can be is 22". That is of course the maximum length and while many racquets are at that length, there are some that can be closer to 18" or 20".
While the length size doesn't vary so much, the area of the racquet head does. The general range for head size is between 94 and 108 square inches.
They're also made in a quadriform shape, meaning the base is shaped in a 'V' before tapering off and almost flattening out at the top, making it look like an inverted tear-drop. This design is to maximize the area of the strings without breaching the 22" length cap.
With a larger head size, the racquets can generate more power. However, especially for younger or less experienced players, a head too large can be less maneuverable if not weighted and balanced properly.
Weight
Another factor that determines different types of racquets is weight. They are classified into three groups – Light, Medium, and Heavy.
Light 
The Light racquets are defined as being between 150-164g. They are excellent for beginner players and those that prefer a quick, light swing. They are also easier in the hand for lengthy periods and won't put so much pressure on the wrist and forearm.
A lack of power can be a downside, but for players that are more technique-based, they might be preferable in terms of maneuverability.
Medium
The next segment, Medium weight racquets, are between 165 and 174g in weight. As you'd expect, these are excellent for all-around players and for general play. Being the most popular, there are many varieties on the market.
With a medium-weighted racquet, you will find they are the most balanced in control and power. If you like to hit with a combination of technique and power, then these are a good option.
Heavy
Then there are the Heavy racquets or ones that weigh over 175g. These are great for players with a slower, steadier swing speed looking for extra power from their strings.
Generally used by stronger players, these are ideal if you don't mind the extra weight and have the strength to improve the maneuverability with their arm power. Beginners may find value too if their swing is on the slow side.
Other variations you will find in racquets tend to come in the form of colors, grip sizes, head shape, and other, more superficial differences.
These are personal preferences and don't really make a difference in performance other than the psychological delight that comes to you when you really dig the gear you're using.
Choosing the Right Racquet
Walk into a store today and you will find companies like Head, Ektelon, E-Force, and others all jostling for the best racquet position.
Each of them has a claim as to the lightest, the strongest, the most powerful etc, regardless of whether that is the best for you as an individual. There are a number of factors that determine what you will benefit most from on the court.
Aside from budget and personal choices in color and general design, your level of ability, weight, and the size will make a difference to how you play the game. Remember the opening scenario that all racquet players will be familiar with?
There is simply no substitute for the feeling you get from having a racquet that you know has been engineered especially for you! But how do you track down that racquet with your name on it?
Well, this section should shed some light and help you to know where to find it.
If you're a professional player or one that has been playing for a number of years, you most likely will have a good sense in what you need in your racquet. You've already identified the way you swing and how racquets of different weights feel in your hand.
This is great and beginners will do well to narrow down their choices simply by playing and trying out racquets of different attributes. But technology is always moving and the market moves with it.
So it's always worthwhile to check out what's current in the world that is your sport. 
Power Hitters and Heavier Racquets
One of the first things to keep in mind is your swing speed. Do you have a fast speed or slower speed? This will make a difference as to how heavy you will want your racquet to be as well as the size of the head.
If you're a player that relies on power and heavy-hitting, a larger and heavier racquet will be the go. Pick one that also has a quadriform shape to maximize the length of the strings to give you that extra rebound on the shot.
Being heavier, the racquet will have more momentum in the swing, resulting in a slower swing that impacts with gusto. Some beginner players may benefit from this too if they don't mind the weight.
This is because the heavier swing will compensate with their slower speed to give them that extra power.
Of course, keep in mind that over time, the heavier racquet will affect the arm more and anyone that feels pain or discomfort after a game should reconsider the weight of their racquet.
Technique Players and Lighter Racquets
Remembering that racquetball is not necessarily all about power, there are a lot of players that rely on their technique and precision when placing the ball.
Add in the fact that often you're required to react very quickly to a shot return, then power becomes less important in the context of the game. If you think you might be in this category, you might consider opting for a lighter racquet that will enable quicker strokes.
It also allows for better flexibility in the play so you can get those balls that are heading for the corner at the speed of light.
The other advantage is that for players that have less arm strength, the lighter racquet will reduce the chance of a repetitive strain injury occurring.
Other Factors
The composition of a racquet can vary with the quality. Generally, lighter and more expensive racquets are made of very light materials, allowing for the extra weight to be put into the strings and other components.
Another thing to keep in mind is how the weight is balanced across the racquet. Some manufacturers like to distribute their weight to make the racquet feel different compared to others even of the same weight.
For example, if the weight is concentrated towards the top, it will make the racquet feel heavier because the swing will be more pronounced. Whereas if the weight is centered towards the handle, it will allow for the extra maneuverability we spoke about earlier.
Then, of course, there is the majority of them that have an evenly balanced weight across the whole racquet. This is probably the best pick for someone who is new or for the all-around player that likes to have the best of both worlds.
Grip size can also vary although for the casual player, this is less of a concern. Some professional players like to customize their grips and most manufacturers have racquets that can come with all manner of grip widths.
Even here, players could tweak their game depending on the width of their grip, with small grips giving the player the ability to increase the wrist snap.
Let's get into the top ten guide now to see what is on the market right now and what you can expect from the top racquets on the court this season.
---
Best Racquetball Racquet Reviews
---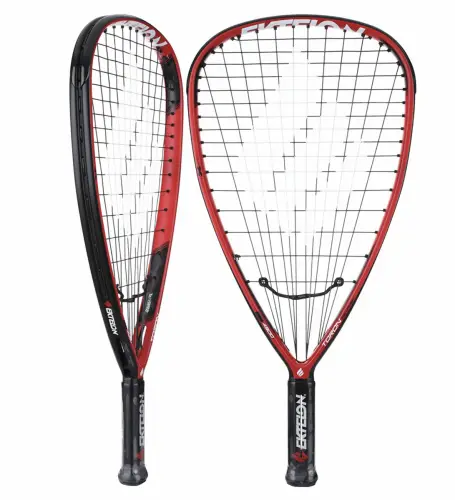 When you're dreaming about being a champion, there is only one racquet that can qualify – the Ektelon EX03 Toron. This fairly lightweight racquet is made of graphite and at only 170g, makes it one of the lightest you can get.
Despite its lightweight frame, Ektelon has managed to make it one of the most powerful racquets around as well, making the ball fly out of the strings without a devastating swing.
The feel in the hand is excellent and it is so easy to swing thanks to its lightness and the fact that it has a large sweet spot. Some users have complained about it being fragile.
Well, it is a lightweight graphite racquet and therefore it might not be as strong as a heavier product. Overall, this racquet is for those that appreciate how an excellent quality racquet will improve their game.
If you're a professional or play regularly, this racquet will be a worthy investment for a much-improved game.  It features a teardrop shape and an Ektelon Vision II factory grip.
Pros
Lightweight
Powerful
Large sweet spot
Easy to swing
Cons
---
Gearbox really is a brand that is a cut above the rest, and its "north of $200" price tag points to that reality.  Until recently, I was not familiar with the brand and all that it offers.  If you're kind of like that, here's a quick background. 
In two thousand and seven, Gearbox was founded in California by Rafael Filippini.
As a professional racquetball player and with over 25 years in the composites industry, he worked to hone his skills, creating revolutionary technologies while simultaneously fulfilling his dream to create a leading technology brand created by an athlete for athletes.  
The M40 delivers power, control, durability, maneuverability and more.  This is the most advanced racquet engineered by Gearbox. The M40 collection received rave reviews and is back this season with an all-new look. 
The M40 line includes two key technologies not offered in any previous model. This collection is constructed using M40 High Modulus Graphite.
In addition, Gearbox engineers extended the internal C3 Power Groove to now run the entire inside length of the racquet.
Together, these technologies give this collection a more crisp, lively feel with even more power.
The Gearbox M40 165 Quad offers a quadraform shape with 18 gauge black monofilament string.  An adjustable rubber damper system allows for a customized, vibration-reduction system and the sweet spot is maximized in size.
Pros
Light in the hand
Top-quality for the price
A large sweet spot at the top end
Non-slip handle
Cons
Way too pricey for a casual, weekend player!  (yes, that's a challenge for you to prove me wrong!!!)
---
We're pretty sure E-Force named this racquet accordingly because they predict such a fate for any unsuspecting opponent facing this on the court. With a large surface area and a powerful, well-balanced weight, the
Apocalypse certainly delivers devastation for anyone wielding this creation. One of the features that enable this is its well-designed surface. It is well balanced and stable in the hand, delivering power and performance.
It is partially due to the longer handle, which gives the technique player a chance to whip it and maneuver the racquet to deliver the optimum advantage.
This is an excellent quality racquet that has received very favorable reviews from customers stating its stability and power delivery has changed their game.
Being a larger head size, its sweet spot is larger too so you can be sure that hits will deliver better in terms of power and accuracy. This is a highly recommended racquet even though it is on the upper end of the price bracket.
Pros
Large string surface
Powerful
Stable
Well balanced
Cons
---
When Head designed the Radical Pro, they pumped it full of the latest racquet technology to allow it to compete with more expensive models from other brands. As a result, you will find this great bit of gear to be a favorable addition to your arsenal.
One of its main features is the use of Innegra, which is one of the lightest fiber materials in the world. It results in it delivering a high amount of power for its weight. It also delivers excellent stability and vibration control for those hard returns.
The strings have been designed so they extend into the handle, giving them increased length which subsequently gives you that extra power. All in all, this racquet has been designed to make the most out of what Head have put into it.
It's priced in the middle level and is an ideal choice for an all-around player looking for a combination of value and quality.
Pros
Power stabilizer
Lightweight fiber with a high power
Durazone strings
Cons
Only one grip size available
---
When you're looking for a super-strong frame with one of the lightest frames out there, take a look at the Liquid Metal series from Head.
Here, the manufacturer has taken a look at what has made tennis racquets superior year after year and applied it their racquetball racquets. The result is this fabulous material that makes this one of the most powerful racquets of its type in the range.
They've also worked hard on the string quality, making sure they carried their Power Channel technology into this beast. It comes in various weights from Medium to Heavy, giving players the opportunity to get the one they feel most comfortable with.
When customers have used this, they've noted how easy it was to manipulate the racquet and pull off the shot they wanted. It's a great overall racquet aimed at the player who's on the court regularly and has a moderate budget.
Pros
Super-strong frame
Stabilized handle
Durable
Different weights available
Cons
---
We simply love the Launch Pad Bedlam from E-Force. In the same price range as the previous two entrants from Head, this has been one of the most popular racquets for some time.
The reason for its popularity is the durability and strength of the incredible Tri-carbon frame. Not only does it stand up well to the occasional smack on the wall, it also delivers excellent power to the ball.
This is amplified by the fact that they have shaped the racquet into an inverted tear-drop shape and added a little weight towards the head.
This gives it a larger sweet spot in the upper part and combined with the added weight at the tip, any ball finding itself in this area will be quickly whipped back to the wall at speed.
There is nothing much missing in this racquet except maybe the cover! Putting that aside, the technology in this thing makes this racquet really great value and is highly recommended, especially for those that like the weight balanced towards the top.
Pros
Tri-carbon frame
Large sweet spot
Teardrop-shaped
Cons
---
If this racquet could be summed up, we would say it's the perfect racquet for beginner players. Not only is it one of the cheapest ones around, but with Head, you can be sure that they've packed enough technology into this to make you feel like a pro on the court.
First of all, it IS on the heavy side at 215g so if you play for an extended time, you might feel some discomfort towards the end of the match.
However, keep in mind that this weight also delivers more power so beginners who have yet to refine their wrist action will find this highly beneficial.
The frame is also made to be very durable and really you can whack this around any old way and it will hold steady for a long time. The strings are quite stiff, which is great for power but not so great for vibration.
Therefore, if this annoys you, consider getting another grip to soften the blow. For the first time player, you couldn't go wrong with this racquet as it delivers everything you need for a fraction of the cost.
Pros
Very affordable
Delivers awesome power
Stiff frame and strings
Durable
Cons
---
Brand new for this season, this is our first entrant from Wilson in the top ten and it's one of their flagship racquets. Here they have introduced Basalt fibers in their frames, which is a very lightweight material from volcanic rock.
It is also said to be better for the planet and better than other racquet fibers due to higher durability, stability, and sound and vibration resistance. Consequently, you can expect a high-performance racquet that produces excellent power.
The weight has been balanced really well to give you that all-round performance, with technique and power conveyed as you wish. It is one of the most expensive racquets on the market right now which might place it out of reach for beginners and casual players.
This is a shame really, as we think it's an excellent and well-balanced racquet that would be ideal to perfect your game. However, with all the technology in there, it is truly a top-quality racquet.
Pros
Brand new model
Teardrop-shaped
Well balanced
Large sweet spot
Cons
---
The Hurricane is another ideal racquet for the beginner player. Although in the heavy category, it is surprisingly lightweight for a racquet in this price bracket.
The frame is sturdy and delivers excellent power to where you need it and it also feels very steady in the hand due to its well-balanced weight. We have to say that the grip and the strings feel cheap, but what can you expect from this price end.
Also, you can always change them out and we recommend this because if you like the overall feel of the racquet, a better grip and set of strings will really bring it up a level.
The other great thing about this is that it's usually sold as a set with balls and goggles, adding even more value to an already excellent racquet.
If you are looking for a good racquet and for whatever reason, don't want to spend a lot, check this one out and see if it will fit well with your game.
Pros
Inexpensive
Perfect for beginners
Great power
Cons
Grip and strings feel cheap
---
For many people who begin their racquetball adventures, they simply want a nice feeling racquet at a low cost that will enable them to hit the ball. This is where Wilson have studied the market and positioned themselves nicely.
The Striker is one of the cheapest racquets around and worth it for someone that wants to have a casual hit and learn the rules without a big investment.
Wilson have designed the frame out of aluminum alloy and it is able to withstand a lot of pressure and wayward hits. One of the best aspects of this racquet is the string setup.
Here they have engineered the strings inside the V-matrix frame in order to produce extra sting bed movement to increase power and reduce vibration. You might benefit on getting a better grip and overall it is good value racquet for the beginner player.
Pros
Inexpensive
Fantastic sting setup
Durable Frame
Cons
---
Conclusion & Recommendations
Racquetball is loved by many for its simplistic play and the fact that you can get a good workout in a fun environment. Smacking that ball as hard as possible against the wall is an effective stress reliever too.
It is obvious that one of the best ways to make the most out of your time is by having a great racquet. It doesn't matter whether you are a beginner or a professional as each racquet will have something special for you.
We've covered a number of them here across a wide price range. As with most things, generally the more you spend, the better quality you can expect.
Of course, it is more complicated than that and it's certainly true that it's more about the way you play rather than what gear you have.
It also will depend on things like what weight you want, the shape of the head, and sometimes it can just be the color that's most important.
Only you can know what will be the most ideal weapon of choice out on the court. But if you have an unlimited budget and play regularly, the Ektelon EXO3 RG Toron and the E-Force Apocalypse 170 will be the best you can get your hands on.
Their superior frames and strings deliver more power and precision than any other, while being well balanced in weight.
There are a lot of great mid-range racquets too, ideal for those that play regularly and looking to step up their game to a more professional level.
In this range, the Ektelon Thunder ESP as well as the Radical Pro and Liquid Metal – both from Head – will serve you well and give you the edge on your opponent.
They comprise good all-round capability in terms of power, build quality and value, perfect for those knowing what they want but not prepared to spend big.
On the budget end of the scale, you can still pick up a decent racquet for a casual hit around or for kids getting into the game. These include the Head CPS Demon, probably the best in this range, the Hurricane, also from Head and the Wilson Striker.
These are all good quality racquets that will serve you well at an excellent price.
So get your racquet and head for the courts, because there is a lot of fun and fitness to be had. Enjoy your time there with a fabulous racquet and be prepared to taunt your friends when you hit the winning shots over and over again.
---