While sometimes people will refer to any athletic shoe as "tennis shoes", it may create confusion that all sporty shoes are suitable for tennis. This is not the case. Tennis shoes are made specifically for the sport of tennis.
The amount of lateral movement, quick steps, and agility needed to be a good tennis player is heavily reliant on the pair of shoes you are wearing.  Finding the best women's tennis shoes is vital to success in the sport today and playing to your full potential.
Buyer's Guide
When purchasing tennis shoes there are things you have to consider that can help with the way you'll be able to perform in the sport.
---
Shoe Comfort
Like with most shoes, comfort is the most important part. There would be nothing worse than to play a long match against a tough opponent and lose because your feet are not comfortable.
To make sure you are buying comfortable shoes, it is best to try the shoes on in person. Different brands can fit differently, so sometimes your average brand may not fit you.
Other than size, there are multiple areas that you would want to make sure have the proper cushioning to provide you with the best comfort.
This part of the shoe is designed to help keep your foot in place and in the shoe. Located along the circumference of the hole that you stick your foot into; it can provide great comfort.
When considering this section of your shoe, you also want to make sure the cushioning is soft enough that it does not rub and cause irritations on your heel or even plantar fasciitis.
Different brands have specialized trademarked cushioning in each of their shoes. This special cushioning is normally engineered from a foam substance that helps protect your feet from shock and impact.
On average, most popular companies use a material called EVA, which is a lightweight material that can provide maximum comfort, yet it still manages to be durable.
Materials
All shoes are made out of different types of material which can benefit players in different ways. While a lot of shoes are a combination of multiple materials to have the best of both worlds, shoes are made out of specifically just one material that gives the player many different advantages.
Canvas material in a shoe is very breathable and allows your foot to stay dry from wetness or sweating. A disadvantage to buying a shoe made with canvas is that it does not provide a lot of support, especially for lateral movements.
This is the most durable and the most expensive material. Leather tennis shoes look professional, provide a lot of support, and will keep your feet dry in damp conditions.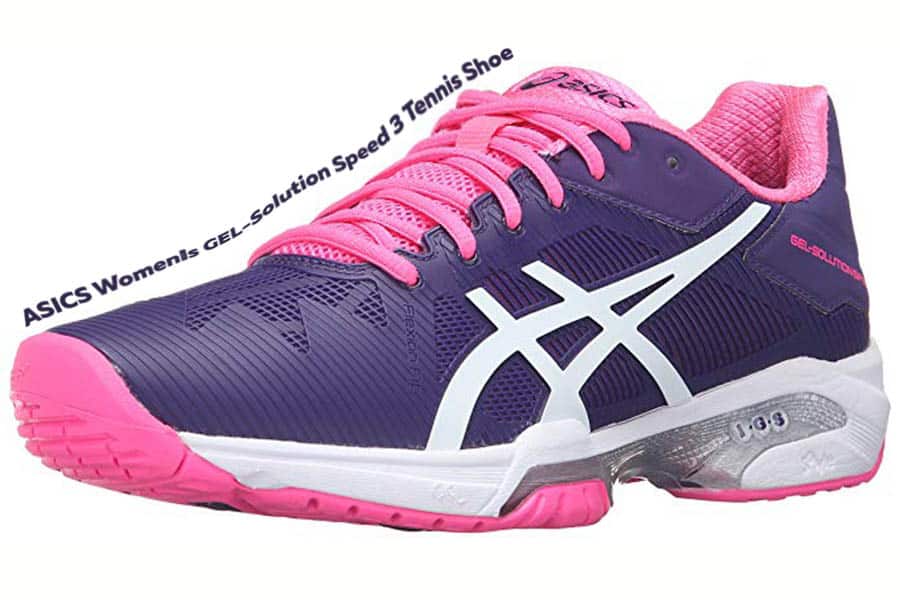 Vinyl tennis shoes can provide the support that the other materials provide and they keep your feet dry from outside moisture, but they keep the heat in. Your feet can overheat and get incredibly sweaty because this type of material is not very breathable.
Unique Foot Shape
Some people might know what type of foot they have because they already have to buy special shoes for themselves. Specifically, if you have a flat foot, you would need shoes that help you with an overpronation walking pattern.
When you have pronation or overpronation, your shoe is more likely to wear out on the inside of the front of the shoe. Other foot styles would be having a high arch, which is considered a supinated foot.
When you have this type of foot it typically means that you have a high arch and that your shoes will wear out the most at the heel and the toe. Lastly, would be having a neutral foot. This means that you evenly distribute your weight during each step you take.
Your shoes are more likely to wear out evenly on all sides of your shoes.
Some people are unaware of the type of foot that they have. Some telltale's signs that you are wearing the wrong type of shoes for your feet would be having constant discomfort at the end of the day, or from shoes wearing out unevenly.
To see what type of foot you have you can do something called a wet test. All you do is get the bottom of your foot wet and step onto a surface that allows you to see your wet footprint.
If you see a gap between your foot and the heel it means that you have a high arch, if there is no gap at all you are flat-footed, and if it is even looking, then you most likely have neutral feet.
Tennis Court Type
Depending on what types of court surface you will be playing on can also determine what type of tennis shoes you need to purchase.
Because some people play tennis outside on a rougher terrain they need a special type of sole to help reduce any tripping or shock from uneven surfaces. The women's tennis association regulates play on all court types.  
There are also indoor tennis courts that are smoother, which may need you to have a pair of tennis shoes that allow you to glide easier on their slick surfaces. And then, some tennis players even play on grass!
Dusty clay courts can cause slipping because the courts don't offer a lot of traction. With this being said it is important to have a pair of tennis shoes that have a great grip on the sole.
A good sole for clay courts would be one that doesn't allow the clay to get stuck in the groves of the bottoms sole.
Another important thing to know when it comes to clay courts is that they are a slower paced game, so your tennis shoes need to have durable sides and lateral support to offer care for your feet while sliding side to side to get to the ball.
Hard courts make for a faster-paced game because the ball has more energy after bouncing off of the surface of this type of court.
A hard-court is vigorous and rough on your shoes, meaning that you need to have a durable and sturdy pair of tennis shoes that will not wear out quickly.
To make sure that your shoes are durable they will have a tough outsole and upper that will give you stability and be able to handle the hard court surface.
This type of surface also makes it important that you have a well-padded and cushioned shoe because hard courts can cause a lot of pain on your feet and legs.
Probably the most unpopular type of tennis court surface is grass. But it is still played and is the best game for a serve-and-volley type game.
Since grass is a different type of surface than the last two, it is important that you have shoes that are created for grass tennis matches. Tennis shoes required for grass courts will have a good grip.
Grass can be slippery for many reasons, so it is imperative that your shoes can grip the surface well and prevent any slipping and falling.
Your shoes should also have a flexible upper part so it is easier for you to run quickly to the ball and they won't constrict your agility.
Lastly, when it comes to grass tennis courts, some courts regulate your tennis shoes and require you to have a flatter outsole. For example, players at Wimbledon have to have a completely flat tennis shoe so it doesn't damage the court.
Individual Playing Style
Tennis is a little different than other sports because you do not have a position, especially in singles. You are the only person on your side of the court. So instead of considering the type of position that you are playing, you need to consider what your playing style is like.
Baseline Player (Defensive)
Someone who is considered a "baseline player" is a tennis player that normally stays along the backline of the tennis court on their side.
When you are this type of player you need shoes that have a lot of lateral support because you are constantly moving back and forth.
Because you are wearing out that part of the court, you are also likely to wear out the sole of your shoe, so you need to make sure that you have a durable shoe that will not wear out easily.
Serve-and-Volley Player (Aggressive)
A serve-and-volley player is someone who likes to be up and in the action. This type of player normally serves and then charges the net quickly. Because you play close to the net during this style, it is common to have to shuffle back when hits are sent behind you.
With that being said, these types of players need shoes that have a durable toecap and arch support to help them with their transitioning along the court surface.
---
Top Ten Female Tennis Shoes Reviews
---
1.   Asics Women's Gel Solution Speed 3
Engineered with a mix of synthetic and mesh, the upper portion of this shoe stays fit snugly, which will avoid any injuries or issues regarding fit. The material used in these shoes are also incredibly breathable which helps keep your foot dry.
The "Gel" in the title of this shoe is relating to the gel cushioning system they have built into their shoe. This system helps absorb any shock or impact from a rough terrain.  It's predominantly in the rear and fore of the shoe.
The outsole is created from a durable rubber material helping the shoes stay intact, so they do not wear out easily.
The Asics Gel Solution Slam is also a lightweight shoe, which has the advantage of keeping you on your toes and helps to keep you agile while gliding side to side on the court.
The midsole is made of Solyte.  That's a material that's lighter in weight than standard EVA or SpEVA.
Asics uses something called a "Flexion Fit Upper" which is their version of a form-fitting upper that offers some "give" for comfort while not sacrificing support. 
Two layers of memory foam line the collar of the shoe and molds to the athlete's heel creating a personal, custom fit.  This is called the P.H.F. (Personal Heel Fit)
To keep you from sliding or slipping on the surface that you are playing on, Asics has a unique traction pattern that is perfect for hard-surfaced tennis courts. Here's a guide made by Asics about which tennis shoes are best in which environment.
PROS
Shock Absorption
Keeps feet dry
Personalized Heel Fit
Lighter midsole than most shoes
CONS
---
2.  

Wilson Rush Pro 3.0 Women's Tennis Shoes



The Wilson Rush Pro shoe has an appropriate name (the PRO part) because they look very professional (like you really do know what you're doing on the court!). They come in a variety of colors to suit anyone's style, or to match the team colors.
Made with a mix of leather and mesh materials, they are stable and breathable. Along with stability and breathability, these shoes offer a lot of room in the toe cap for people with a little wider foot.  The heel drop is 9mm from the heel to the toe, which is moderate.
They fit snugly in the heel and they have arch support, which is great for players that have a supinated foot. 
A supinated foot refers to the rolling outward of your foot so the part of your shoe's sole that wears out the quickest is the outside of the sole, or the part nearest your baby toe – in other words, you probably look bow-legged like you've been riding a horse your whole life (the opposite is a pronated foot which refers to the turning IN of your foot so your knees rub against each other).
PROS
Breathable
Good for wide feet
CONS
---
3.  

Asics Women's Gel-Resolution 8 Tennis Shoe
Asics is a very popular brand when it comes to sports that require a lot of quick steps and agility, like tennis. The Asics Gel Resolution 8 Women's Tennis Shoe provides everything you need to be a top tennis player.
The gel cushioning that Asics uses to provide comfort does not disappoint in these shoes. This type of cushioning makes the shoe feel like it conforms to your foot.  At the same time, it uses a technology Asics describes as giving you a "close-to-the-court" feel.
If you have a wider foot than average, these shoes may need a little bit of a break-in period, but no more than a couple of days. Although the Gel Resolution 8 shoes are very comfortable, they are not made of super-breathable material.
Asics incorporates another feature called "DYNAWALL" which offers added midfoot stability during lateral movements.  A torque-control feature in the heel is designed to maintain a "locked-in" feel. 
A tough outsole, as well as a toe protector feature, will decrease wear and increase the lifespan of the shoe.
They don't overheat your feet and they do keep out moisture, but they could have better ventilation material built into them. Lastly, the support that these shoes offer makes it easy to move quickly without the fear of rolling your ankle.
PROS
Support of ankles and arch
Comfortable gel cushioning
Very durable exterior features for long life
Lighter shoe than most due to the use of Solyte midsole cushion material
CONS
---
4.   K-Swiss Hypercourt Express Women's Tennis Shoes 
The K-Swiss Hypercourt Express Tennis Shoes are best for players that have high arches. They are created with a K-Swiss trademarked EVA midsole that provides comfort for every inch of the bottom of your foot.
Because these shoes are created with more arch support it means that it will cause less discomfort with people that have higher arches.
The uppers of this shoe come a little higher than typical tennis shoes and their eyelets for lacing tie snugly around the top of your foot so your shoe will stay on securely and it offers extra support for your ankle.
Another great feature of these shoes is that the soles have a specially designed shock spring that helps your feet impact with the floor, meaning it is easier for you to bounce back after every step you make.
They feature K-Swiss Dragguard Rubber and Aosta Rubber outsole for durability and a molded Ortholite x40 Socklliner.  They're made of a synthetic composite which, according to many owners, is SUPER LIGHT. 
Some describe it as feeling like a "cloud" compared to other leather options from various manufacturers.  The Hypercourt Express is a full-on tennis shoe but it was inspired by long-distance runners, which means the weight (or lack thereof) will be something to behold!
PROS
Arch and ankle support
Shock spring
CONS
Narrow- not ideal for wide feet
---
5.  
adidas Performance Women's Barricade Classic Bounce W Tennis Shoe
This Barricade Classic Bounce is a wide version of this model and it's made for excellent performance on any surface.  Bounce cushioning is the hallmark of this shoe and all the "Bounce" line of adidas shoes.  Comfort and efficient energy return is what "Bounce" offers superbly.
A breathable Barricade mesh upper provides adequate ventilation and very good stability while the "AdiTuff" toe protects against wear during toe drags.
While carrying a 4/5 rating on Amazon, many wearers were either a little or a LOT disappointed by the performance compared to the original.  Some said the arch support was a bit less than the original while still retaining lateral support.  Others said it was harder to get the shoe to mold to and fit their foot properly.
Even more owners said it was a wonderfully comfortable shoe with lots of support.  We're guessing that the shape and qualities of your foot and it's structural properties will determine whether or not you think this shoe is comfortable.  But, then again, that's really the case with any shoe on the market, isn't it?
They fit a bit small, so order a half size larger than you normally wear.
PROS
Supportive and durable
Shock absorbing
Sharp-looking
CONS
May not be comfortable for some foot shapes
---
6.  

K-Swiss Women's Bigshot Sneaker



K-Swiss Bigshot Sneaker is perfect for wanting to be quick and agile. They provide excellent comfort coverage to the entire foot. With a tight lacing system on the upper these shoes stay in place no matter how much you move around.
The arch support in these shoes are not ideal for anyone with a high arch. The support provided in this area is only low and can leave some people with higher arches wanting more support.
But the support from the sole of the shoe was much better. With a gripping traction surface to keep you from sliding and keeping your ankles feel like they were secure and free from rolling.
Plus, these shoes are made with a great ventilation system, so they keep your feet from getting too hot and sweaty. Making for a more comfortable wear.
PROS
Ankle support
Breathable ventilation
CONS
Not ideal for high arched feet
---
7.  
Nike Women's Zoom Vapor X Knit Tennis Shoe
The Nike Vapor X shoe is a newer innovation than most others on this list and it offers some unique features!  Nike is proud that this shoe offers an unprecedented level of breathability.  They just may be onto something!
One of the problems for today's athletic performance shoemakers is offering the comfort of stretch knits while maintaining pro-level support.  Often the two qualities of support and stretchy comfort are mutually exclusive, but Nike is making awesome headway towards bringing those two qualities together.
The Circular-knit material is very light and breathable.  For support, Nike uses high-strength and high-tensile yarn.  A zoom air unit is positioned in a soft foam midsole for both comfort and responsive cushioning (performance).
Then, a stretchy internal sleeve surrounds your foot in a very sock-like way for a snug but VERY comfortable feel.
Finally, the exterior toe box has a pattern of small triangles of durable rubber to increase wear-resistance in this high-wear zone.
PROS
Durable and Secure
Breathable
Flex grooves allow your foot to move naturally
Features full-length foot frame to stabilize foot during quick cuts and direction changes on the court
Designed for hard court wear
CONS
---
8.   Prince Women's T22 Tennis Shoe 
Not typically a household name, Prince Shoe Company, makes an incredibly great pair of tennis shoes for women.
The Prince T22 has great traction on the sole of the shoe that has a mixture of different patterns, including the herringbone pattern tread, to help keep you stable during a variety of movements required during the match.
These shoes fit perfectly to any type of foot. There is a wider toe cap, so your toes and shoes won't rub together and cause any irritations. And the shock-absorbing technology incorporated into these shoes provides great support and comfort for your arch and heel of your foot.
PROS
Arch and heel support
Wider toe cap
REALLY good Amazon user rating
CONS
Pricey if you want a budget shoe
---
9.  

Asics Women's Gel Gamepoint Tennis shoe



Another great tennis shoe made by Asics is the Gel-Game Point Tennis Shoe. Relatively inexpensive, these shoes are perfect for anyone. Although they are a little basic looking when it comes to style, they exceed in comfort and durability.
With a rearfoot Gel cushioning systems, these shoes absorb shock from any impact that may happen while running back and forth on the court. Also, this system helps transition from different directions easily.
The synthetic and leather materials used in this shoe provide support and breathability. The shoe fits snugly around your foot without any slippage problems.
PROS
Gel Cushioning comfort
Absorbs Shock
CONS
Not as stylish or flashy as some designs
Synthetic leather upper instead of breathable, high-tech fabrics
---
10.  
New Balance Women's 896v2 Hard Court Tennis Shoe
This manmade New Balance shoe is great for anyone with wide feet, since New Balance shoes are built specifically for wider feet.
With a multiple lace-up system, you can tighten these shoes to fit snug on your feet without having to worry about them slipping off or causing any injuries.
New Balance has a trademarked ABZORB foam that is inside of this shoe providing comfort and shock absorption, and the tongue and collar of this shoe are padded to provide comfort on your foot all over.
This shoe is made from a breathable mesh lining that allows for your foot to stay dry while wearing.  Of course, they are fully synthetic and that's a good thing as synthetic performance shoes are replacing leather in all sports as they are typically lighter, more breathable and (believe it or not…) more durable and long-lasting.
PROS
ABZORB cushioning
Breathable synthetic material
Lots of color options
CONS
---
Conclusion
Overall, any one of these shoes can be the best tennis shoe for your foot. Of course, finding a shoe that is best for you all depends on how it feels for you when you try the shoes on.
That is why buying tennis shoes is best to do in person, to make sure you are getting the correct size and that you are happy with the comfort level of the shoe.
When it comes to this list of tennis shoes as a whole, the best pair of shoes to purchase would be the Asics Gel-Resolution 8 Women's Tennis Shoe. This shoe provides so much support in many different areas on your foot.
Plus the Gel cushioning system allows your foot to feel like it is on a cloud the entire time you are wearing them. With the shock absorption and stability, these shoes can help you move quickly while preventing any unforeseen injuries.
If you are looking for the best bang for your buck, you should go with the Asics Women's Gel-Game Point Tennis Shoe. Although from first look these shoes appear to be basic, they provide maximum support to your feet for a long hard match.
The Gel cushioning that is also in these shoes provides a high comfort level that will have your feet thanking you at the end of a hard-fought match.
---