Top 10 Best Weight Vests : Men and Women
If you're looking for a bonus to your workout and want to get a little something extra, weighted vests are a great way to increase your workout for your entire body. No matter what the exercise is, weighted vests are great for training purposes for all sorts of athletes. Similar to a swimming vest or backpack, weighted vests are designed to easily fit around your upper body to give you an ultimate resistance while you work out. They are usually designed with heavy materials to add much-needed weight with aluminum or metal. You won't need to give up any of your normal body movements or functions, which is one of the main purposes of the weighted vests. They simply give you some extra weight to build up your strength during full body workouts without restricting your normal body movements.
There are tons of great exercises that can be done with weighted vests that will work for both experienced and beginners. Weighted vests are commonly used for running training; speed, distance, and short agility varieties, calisthenics, and even during your everyday routine. Most will come with adjustments and fit snuggly against your torso that will make it comfortable and hard to notice.
The way that the weighted vests work with your body is by making the muscle fibers react to the extra weight that you are wearing and carrying around. They are not specifically designed to help lose weight or add muscle, but they will help increase the difficulty of the workout which in the long run can help you do both. You will train your body to recognize the extra weight you are carrying and then your body will be able to react more efficiently when you take the weight vest off.
Contrary to popular belief, you don't need to be a superior or professional athlete to use a weighted vest. There are almost endless amounts of workouts that you can do with weighted vests, but if you need some extra ideas try these out.
Jogging
Throw it on for a walk or light jog. Some people may prefer the traditional dumbbell approach with a low amount of weight, but wearing a vest can make that process much more comfortable for your body, especially your arms and hands if you don't have to worry about carrying around dumbbells for your entire workout. You were going to do cardio anyway, so why not add some resistance?
Hiking
If running or jogging isn't your thing, using it for an elevated walk or hike can be just as good. Hiking can be a challenging workout in and of itself due to the terrain changes and uneven paths. This can give you more freedom with your weight selection as it will be more based on endurance than sprinting speed. It can offer a lower impact but still highly effective workout with the weighted vest.
Stick to your routine
Believe it or not, most of our daily chores require a fair amount of physical movement on their own. Whether you need to do the dishes, yard work, or just general cleaning, adding a weighted vest can help you get more out of your housework which you would have to do regardless.
Lift weights
Similar to adding more weight when you workout, adding a weighted vest to your entire body during your lifts will strengthen your whole body. Even if you are focusing on upper arm workouts, the weighted vests can give you extra resistance on body parts that can often be neglected. It's a challenging way to burn more calories and strengthen your core muscles during your lifts.
Before you read about the top weighted vests you should look at, it's important to reflect and acknowledge your personal level of fitness. It's a great idea to try and add some more weight and challenges to your workouts, but you should be able to continue your workouts without seriously compromising your health. Adding a weight vest to your workout will inherently increase your chances of injuries so make sure you are in good shape to begin with and you are realistic with your vest goals. If you are just getting back into shape or recovering from an injury, periodically incorporating the vest is a good idea rather than going all out every session.
---
Our Top 10 Comparison Chart
CAP Barbell creates some of the best workout and exercise equipment in the industry (including barbells) and their weighted vests are not surprisingly top of the line. It's available in eight different weight options and each vest can additionally adjust the weight by 2.5-pound increments. This will give you a very specific weight to add to your workout which is a little more convenient than having to jump between five and 10-pound differences.
The vests can range between 40 and 150 pounds of resistance and are made of top of the line craftsmanship. The straps are made of Velcro and the stitched pockets are thoroughly secure and thick to secure the weight. Sandbags are the method of added weight which is easy to remove or add on the go. You won't need to stop for long to replace or take a sandbag out due to the simplicity of the weight. The length of the vest gets slightly longer as the weight increases, so if you're on the taller side it might be worth going up a size so the length is more comfortable.
It's a stealthy look and comes in a one size fits all design. Whatever your fitness level, the Cap Barbell will make you look good and feel good while you're wearing it. The downfall is its price, which can be quite hefty for many people. If you know you will use it and can handle the weight then this is a great option. If you are new to the weighted vest game and can't fully commit for whatever reason, a different option might be the best for you.
Pros
Large variety of weights
Snug and tight to the body
Cons
Could use an additional waist strap for extra support
Varies in price
---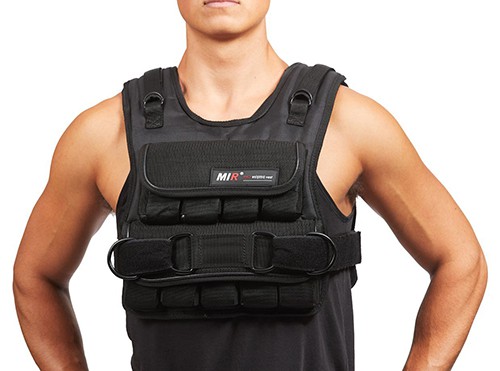 The MiR Weighted vest comes fully set with resistance weights ranging from three to 60 pounds. The wide range will allow you to find your perfect balance of resistance. If you are looking to burn extra calories, the weights are located on the upper torso to protect your stomach from uncomfortable bouncing and protecting the rest of your body.
The vest is made of high quality and heavy-duty nylon, featuring extra padding designed to comfortably fit to your shoulder contour for maximum comfort. It's completely adjustable with two straps that can be loosened or tightened underneath to make the proper body length of the vest. It's a simple sliding mechanism to properly fit your torso. The weights are easily adjustable and the Velcro straps secure them in their body pockets. The weights are in three-pound increments.
It comes in six different weights ranging from 20 to 60 pounds with an extra option for shorter athletes. It's on the smaller size measuring in at only 11 inches in length which gives you even more space and mobility during your workouts. One size fits most but be sure you have it tight as it can move up and down if you don't have it snug enough. Besides the price, this is the major downfall.
Pros
Wide range of weights available
Limited stomach discomfort
Nylon material
Cons
More on the expensive side
Can bounce on your chest if it is not tight enough
---
This thin and breathable vest is perfect for anyone that lives in a warmer climate or does high-intensity workouts. It's extremely comfortable and the steel weights are only a quarter of an inch thick. It comes in five different sizes ranging from small to double extra-large and can additionally supply booster packs from those looking to add more weight. The unisex black and gray design is slim enough that you can wear in under dry fit material shirts that aren't skin tight.
The fabric is some of the most breathable and comfortable ever, and the 10-pound capacity vest can even be washed. It's even odor and water resistant and stretches with your torso for maximum comfort. The side is open for extra breathability, adding yet another way to keep you cool during your workout. the weights are dispersed in a way that is evenly distributed throughout the vest so you won't feel like you have an uncomfortable amount of weight in a certain spot.
The downfall for the Hyper Vest is the price. Since it really is one of the most comfortable options available, you know you will be unrestricted in your movements but you have to be willing to pay for it.
Pros
Superb movability
Cool and lightweight
Breathable and washable
Cons
Expensive
Limited weight options
The RUNmax Pro is an incredibly well-rated vest on Amazon receiving a 4.6 out of 5.o rating.  The feedback from most users is that it is very comfortable and that's really the name of the game.  Anyone can add weight to a wearable item, but is it comfortable?  It's a big YES for RUNmax Pro.  
The included weights can be added or removed at will and it's easy to change them.  The vest features a phone pocket and water bottle holder and it even gives you the option of adding shoulder pads to boost the comfort level!  Some thought and engineering were given to the design of the RUNmax Pro in terms of weight distribution as well, so it won't strain your back or shoulders (any more than necessary).  
The weights range from 12 lbs- 60 lbs and offers the option of using it for a whole variety of exercises including obvious things like push-ups, but also things like firefighter training or just wearing around the house for "gravity training".
Oh, and did we mention a LIFETIME warranty?  RUNmax Pro stands behind its quality so you can (hopefully) buy this vest without worry of durability or longevity.
Pros
Not as bulky as some
Lifetime warranty 
Odor and moisture resistant
Cons
Velcro fasten system does not go low enough on the vest
---
The Mir air flow vest is designed to provide maximizes air flow around your body.  This breathable feature keeps your body cooler During workouts and raises your tolerance level a notch or two. The exterior is a denim material and it's machine washable and machine dryable. This keeps the Air Flow vest from retaining any odor after workouts (especially between workouts). The overall design is intended to make sure your sweat is easily absorbed by the vest instead of keeping the sweat between your body and the vest. 
miR offers a standard version of this vest (pictured) or a zippered version and each comes with weights.  The vest itself is available in models ranging from a maximum of 20 lbs (smallest) to 60 lbs (largest) in 10-pound increments.  The vest you buy will come with 3 lb weights totaling the purchased vest weight, but the smaller vests can be upgraded with more weights (not included).  For example, the 60 lb vest comes with 19 three-pound removable weights.
The weights are all solid iron and made to last more than a lifetime!
Pros
Lots of size and weight options
Upgradeable
Air Flow technology
Cons
Fairly expensive
While it has a good 4.3 out of 5.0 Amazon rating, some users experienced discomfort if used with 60-lb weights.
---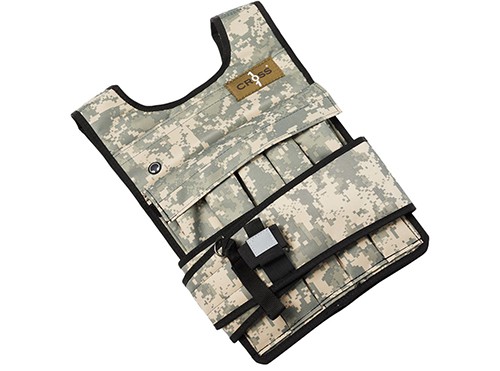 The Cross101 is a nice alternative for a quality vest at a more affordable price. it's a 40- pound capacity vest that comes with 10 four pound weights. The weights are made from an iron ore material and can easily be added or removed. The weights can be adjusted in four-pound increments. The Cross101 has a width of 13 inches and is one size fits all. The vest is a pretty sweet camouflage look and has a wide and adjustable belt to give you a comfortable but tight feel. It's a pretty good option for workouts that don't require fast and constant moving.
Most of the weight is distributed along the shoulders and neck area but if that doesn't feel comfortable to you, then adjusting the vest to make it tighter will redistribute the pressure. It's perfect low-intensity workouts like pushups and pull ups and keeps your arms extremely mobile.
If you plan on running or doing some high-intensity interval training you may have some issues with the vest. The weights can slide and move if you have intense movements. It would be a great option for hiking or standard weight training, but you could potentially run into some issues while running. That's the major downfall to the Cross101. All around it's a very solid vest but may give you some limitations during running workouts.
Pros
Very affordable
Stylish look
One size fits all
Cons
Limited mobility while running
Weights can move around
Can be extra pressure on your shoulders
---
The Pure Fitness comes in two different weights at 20 and 40 pounds and is a great way to help add resistance to your workout. From aerobics to running workouts, the Pure Fitness is great for a variety of reasons. The weights included are 0.88 pounds weights that are easily added or removed from your vest. The 40-pound vest is a gray and blue design that features 43 sand filled weights. The 20-pound vest is a gray and yellow design and comes with 16 different sand filled weights.
It's a fully adjustable vest designed to comfortably fit most adults. The vest itself was designed to be evenly distributed across your upper body and the different options in weight will be helpful in deciding which one to get. It's comfortable and is small enough to fit under jackets and sweatshirts to give you extra variety in choosing what to wear when working out. In addition, it has reflective colors on the trim which can provide some extra security if you decide to do some hiking in lower visibility areas or while biking and running at night.
A potential downfall is largely dependent on your height. Both options are very affordable compared to many other models, but can give you a hard time if you are on the shorter or thinner side. Since there are only two sizes, the length can reach your hip bones and rub against your shoulders and stomach. While it does prevent chafing for the most part, your height could have a moderate change on its ability to rest comfortably.
Pros
Both models are very affordable
Sleek and flashy design
Cons
Limited weight and size options
Can be uncomfortable on certain body types
---
The Harbinger 20-pound vest is designed to increase total resistance and help to build up strength in your core and improve overall speed and endurance. It's designed to be used while doing calisthenics, general weight lifting, or running. It's made with an outer shell of anti-abrasive material which is used to prevent tears, rips, and damages. It's built with more width than other models and is completely adjustable. The neoprene belt and dual padding cushions on the shoulders and chest give it an extra sense of security and comfort.
The Harbinger can be adjusted with one pound weights in increments of one to 20 pounds. The unique FLEX weight design contours to your body while working out giving each individual a unique feel to the vest. The compact design fits securely for limited restrictions in your movements giving a wide range of mobility. It's one size fits all and is adjustable for a customized fit. On top of that, you can prevent odors and discoloration since you can hand wash it. It's pretty affordable, but a somewhat big downfall is that it can take up to two months to receive after you place your order. If you order when you don't have plans to workout this is a great option, but if you plan to use it right away this won't be a great option.
Pros
Very affordable
Washable
Unique FLEX design and difficult to damage
Cons
Shipping time
Wide shoulder design
---
The Maxi Climber is a 12-pound vest made from neoprene material with built-in iron and sand weights perfect for climbers and outdoorsy adventurers. One size will fit most, and the adjustable straps will give you an ideal fit that is comfortable and adds resistance to your body. The weights are concentrated around the chest and upper body areas which will give you a great core workout for whatever type of training you do. The material is flexible, durable, and won't get in your way while offering you comfort and a sense of breathing throughout your chest.
It's small enough that you can wear it under hoodies or jackets, so the weather won't be a deterrent from getting you out there in the elements. Additionally, it has several pockets and compartments that will allow you to carry your keys, phone, and wallet without having to worry about damaging or losing them. The negative side to the Maxi Climber is that while it is super thin it can be torn more easily than other models. Keep that in mind while you wear it because it acts as a double-edged sword.
Pros
Looks great
Reflective light for added visibility
Very affordable
Unisex
Cons
Thin and light material can be damaged if not taken care of
Limited weight options
---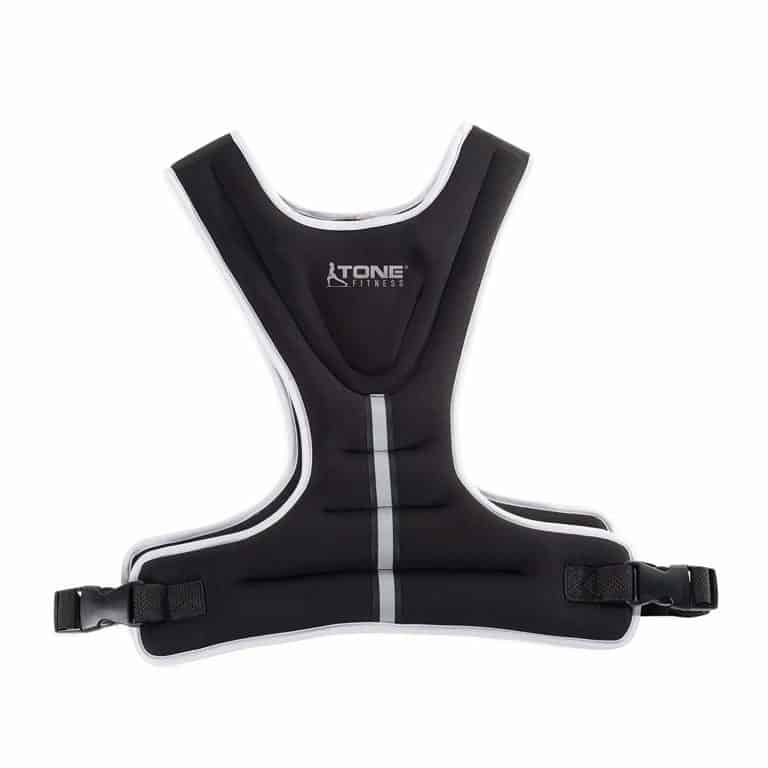 The Tone Fitness vest is a perfect option for someone new to the weighted vest game and doesn't need too many bells or whistles. Like other weighted vests, it's perfect for helping you gain extra strength or burn more calories while working out but at a much more reasonable price. It's designed from neoprene material giving it a soft and comfortable feel, and has a weight capacity of 8 pounds. One size will fit most and additionally has reflective safety straps and pockets from your possessions. It comes in two colors, blue and black, to give you more options when selecting what the best look is for you.
It's great for hiking, walking, using stair masters, yoga, and any other workouts where you want to get something extra. It's a relatively tight fit and the chest strap can be tightened or loosened to fit your chest more exact. While it's a great option for many beginners, a downside to the Tone Fitness is that it can move around if you don't have it properly secured and you are doing extreme workouts. It doesn't have to be sprints or rapid movements, but workouts, where your torso is moving and twisting, may require you to undo the belt and strap it on again.
Pros
Very affordable
One size fits all
Reflective straps and pockets
Made for men and women
Cons
Can move around with rapid movement
Limited weight resistance options
---
So there you have it, some of the best weighted vests available this year. There are tons of good options with years of experience and positive reviews from casual users and experts in the field. It's important to research these each on your own, but these 10 are some of the more popular and quality vests available. Most are fairly similar but many have subtle or significant differences that make it stand out from the competition. The material is often neoprene or similar stretchy and cool fabrics, but the price and weight capacity is often different.
If you're looking for an absolute starter weighted vest and want to keep your costs low, there are a few options. This can be a great option for a variety of reasons. If you're busy and won't be using a weighted vest often but want to still try it out, a cheaper model can be a great way to decide if it's right for you. If you aren't sure you'll feel comfortable wearing it or just don't want to shell out the extra cash for something that you aren't particularly crazy about, a cheaper option can also be a good call. The important thing to remember is that cheaper options often have less weight capacity. If you're on the stronger end of people and can wear heavy backpacks without noticing, a cheaper model probably won't be for you.
The two good options for cheap models are the Maxi Climber and Tone Fitness weighted vests. You'll give up a bit on the overall quality, but these are great starter vests for people who just want a little bit of extra weight. They both have a limit of 12 pounds and are a slim and breathable material to keep you cool with your workouts. You can use it to get accustomed to the feel and get stronger and move on to more expensive and heavier models. Both are good calls for your first weighted pack.
If you want the ultimate weighted vest and have experience with exercise and heavier weights, the CAP Barbell is a great option for many reasons. It's more expensive than many other weighted vests but it offers a wide range of different weights from 40 to 150 pounds and has a classic stealthy look. The material will cost you a little bit more than other products but the vest will stay tight on your chest and won't limit your mobility in any way. It also gives you some extra inches in each increase of weight, which is great for taller athletes looking for a more comfortable weighted vest.
You really can't go wrong with any of the weighted vests on the list but it will mainly depend on your budget, athletic ability, size, and personal preference. Obviously, if you're on the larger or taller side a heavier or longer vest will be more comfortable for you. If you are on a tight budget you only have a few options, but it's better to start small than to go all out and get a product you aren't happy with or might not use. Most of them will give you a similar look, but if you want to use it at night you'll want to get one with reflective straps to give you an extra sense of safety.
Whatever you decide the weighted vest will ultimately give you as much out as you put in. If you buy a high-quality vest but rarely use it you won't be doing yourself any favors. If you know you'll need extra weight to get a real workout but want to cut costs by buying a cheaper and less expensive option you will be defeating the purpose. Either way, a weighted vest is a great idea and a step in the right direction for achieving your health and fitness goals!
---