Before we jump right into the technical specifications of the Sole F85, I have to tell you about something that may be even more important than the size of the deck or the power of the motor. 
What is it?  It's my overall first impression about how the machine looks, feels, acts, functions and if all those elements make it worth the effort to get it to where you need it and to pay the hefty price tag!! 
By the way, a VERY good alternative from the same family is more available on AMAZON and it's the Sole F63.
After all, I've owned at least 4 treadmills in my adult life and now I review fitness equipment for a living, so why would I choose a Sole treadmill over the many other options available at any good quality fitness store or online?
Well, I did my research online and narrowed my options to about 3 good quality machines that I knew were on the upper limit of my budget. 
Then did some price shopping to determine which machine would be the winner, and yes, you guessed it, the Sole F85 came out on top!  Why?  Let's get into it!
An Impossible Journey!
I'll touch on all the awesome features in a second, but my story is much more interesting than boring specs! 
When I arrived at the fitness store in St. Catharines, Ontario on a rainy Monday morning in the middle of the COVID-19 worldwide economic shutdown, little did I know that in less than 24 hours, all stores in Ontario, Canada would have to close for business unless deemed "essential" and apparently (if you can believe it!!) fitness stores didn't make the cut. 
As I backed my 2007 Chevy Avalanche to the bay doors to have them load my treadmill, I was discouraged to see that 2 strong and very fit 20-something fitness fanatics struggled to move the box which was WAY too long to fit in my 8-cylinder truck box without sticking out past the back end.  
Luckily, I had some straps in the truck and was able to secure the box after watching them exert what appeared to be ALL their energy (in perfect unison) to push and heave the box onto my truck. 
I kept my "social distance" at about 8 feet at least (though they did not keep any distance at all from each other). 
I noticed they were out of breath after loading the box and my heart sank at the thought of what was waiting for me in about 15 minutes from then in my driveway! 
I needed to move that box about 10 times farther than they did, and my muscles were nowhere near as big as either one of them …. and there was only ONE of me!!!  AHHHH!
I asked if I needed to sign an invoice to prove I picked up the unit, and they looked at each other, then at me, then back at each other and said "NOPE, YOU'RE GOOD TO GO!" 
I really must have looked like I had leprosy or something.  What a crazy world the Coronavirus has made!
See Latest Price and Availability AMAZON'S DEAL
---
At this point, it was raining and I had an uncovered cardboard box in my truck and I knew something had to be done quickly once I arrived home. 
I broke the news to my wife as I peeled into the driveway, and we both started trying to unload the beast before it was completely soaked. 
We wrangled it into our garage where I barely had room to unbox it given the extreme dimensions of the box itself! 
See Latest Price and Availability of the F63 AMAZON'S DEAL
---
However, I was thrilled to see what looked like lots of individual pieces in the box and I thought it might easy after all to move it into our weight room if it was in so many small pieces. 
My optimism was dashed when I finished taking the 3 or 4 light plastic pieces to the workout room and realized that about 99.3% of the weight was still sitting in the box AND IT WAS IN ONE PIECE!!  That began our afternoon of hurt!
I was able to get an old moving dolly to take most of the weight of the deck and motor while my wife and oldest son did our best to keep the machine on the dolly as I navigated our stone driveway that was soft and muddy in early spring. 
I finally got it to our back patio area where I was able to begin a video (which you can see HERE) that shows the rest of the story!
How to Get this Beast into my HOUSE!
In case you didn't want to watch the video or if you like reading instead, I'll be brief!  My wife and I used Forearm Forklifts to gain some leverage in our battle against this gravity-loving entity! 
In spite of our use of towels and "forklifts," we nearly damaged our steps, wall and the machine itself during our move which included going up only 2 stone steps at the back of our house and into the room immediately on the other side of the door. 
It could have been far worse if we needed to move it around through the house and up the stairs to a bedroom or downstairs to the basement!
After a few more minutes we struggled to get it into position, and after we did, the machine had one more nasty surprise for me. 
You see, I didn't read the warning (carefully enough) which said not to cut a retaining strap until the machine was in place. 
Well, it WAS in place, but what I didn't read was that "in place" meant the machine had to be sitting upright in its final position – as it would be if one was running on the deck. 
Our deck was sitting on its side when I made that fateful cut to the retaining strap only to have a steel support fly out at my shins faster than either my wife or I could see! 
When I looked down it had already connected nicely with my shins and the pain was just beginning!  READ THE INSTRUCTIONS!!!
First Impressions
Aside from my "wonderful" experience so far, I had a whole lot of thoughts about the treadmill once I got it assembled.  It took me about an hour and I will warn you, please do each step VERY carefully. 
The photos in the assembly instructions are decent, but not as easy to follow as you might think.  I had to unscrew and undo a couple of steps to get it right.
Once assembled I was itching to make ANOTHER VIDEO about my initial thoughts.  Here's the gist of it if you skip the video;
Stability
Compared to every other treadmill I've owned, this one was by far the heaviest and that told me it would be sturdy and virtually immovable.  Even without officially "leveling" the deck with the adjustable feet, it was sturdy as an ox!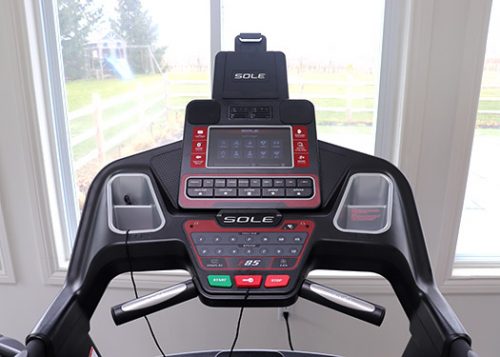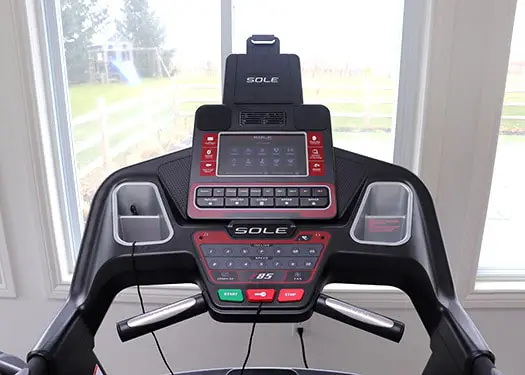 Aesthetics
I love the look of the machine as it features a big control panel area with three distinct sections.  The bottom section features the main Start and Stop buttons as well as the safety key and quick speed settings just below the quick incline settings. 
This area also has an input for MP3 music players and an output for headphones.  For what it's worth, it's just as easy to connect your headphones directly to your smartphone rather than going through the machine itself, but it sure does work!
The next section of the panel includes incremental adjustments for the incline and speed as well as 11 different custom controls for individual users and customized workout routines. 
It also includes the main LCD screen that displays all the information you'll need to make all your changes/inputs, etc.  And that's not all.  This section also includes an integrated fan and speakers. 
Now, I have to toss in my two cents regarding the speakers.  If you're serious about listening to music that inspires and motivates your workouts, I'd give these speakers a failing grade. 
Like every other treadmill I've owned that featured speakers, it sounds like my computer speakers from 1994 before bass woofers were invented!  They lack all bass and sound "tinny".  
Invest in a great set of wireless headphones and you'll be WAY happier.  I just bought THESE about 2 weeks before I bought the Sole treadmill!  They're super cheap but work REALLY well and they look expensive!
Finally, the top section of the control panel includes a tablet/smartphone holder that doesn't just rely on gravity to hold it in a trench, but it has an adjustable clasp on the top to hold your device tightly, which allows it to sit on a steeper angle facing you better. 
Of course, there's also a USB charging port right beside it so you're good to go for as long as you can handle it!
A Word About the Controls
I have mostly good things to say about this treadmill, but it's not all roses for the F85.  While it functions very adequately, I believe that (given its not-so-budget-friendly pricepoint) the buttons and controls are lacking a bit. 
Like the utterly "non-useful" speakers which lack any motivating bass and power, the buttons and controls look much like something manufactured in 1992.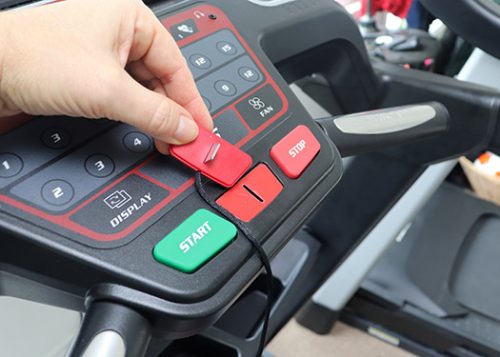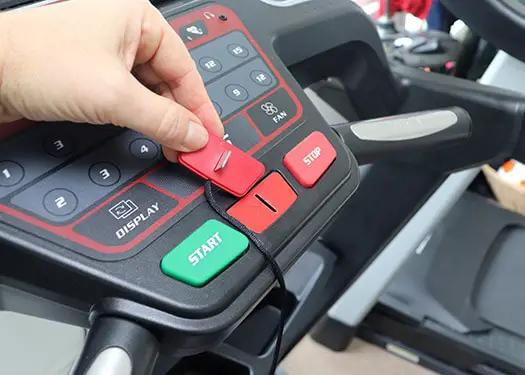 I was REALLY hoping that the screen was touch-sensitive, and given that most screens today on any machine or device is touch responsive, my finger immediately went to the screen to start inputting my information. 
To my dismay, I realized I had to click "UP↑" and "DOWN↓" keys to enter information and I felt like I was on a computer from the era of "Back to the Future". 
The non-magnetic safety key is awkward to insert, and it's obviously not meant to be inserted or removed at every use, nor does it insert cleanly and easily. 
It goes in with some resistance and feels like it is never quite "set" when it's fully inserted.
We did, however, like the side rail mounted speed controls which admittedly, are way easier to use than reaching up into forest of keys to try to find another speed-adjusting option. 
But then, isn't the whole point of exercising to get "uncomfortable" so that we actually use and stress our muscles in order to build and tone them?  Hmmm…. I still like the easy access these buttons offer!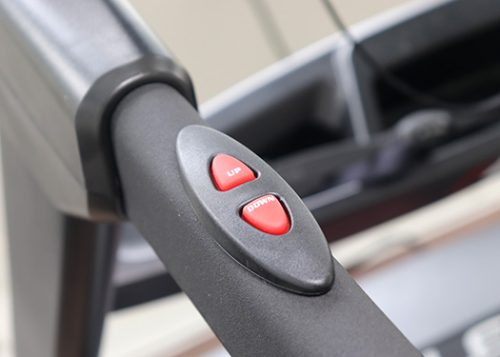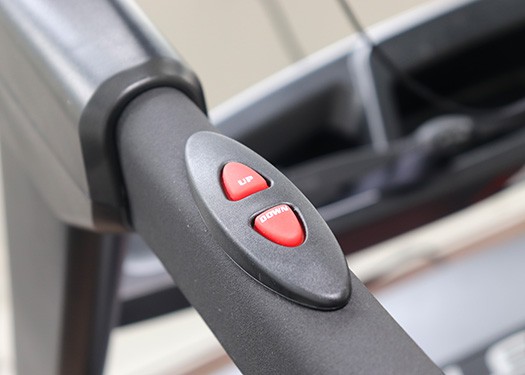 The Deck and Motor
I was quick pleased with the deck's built-in hydraulic system that made lifting this heavy monster very easy, while also automatically opening it in a gentle and controlled manner. 
In fact, it's so easy to lower and raise, that the default position of this treadmill (when not in use) is always up.  That's never been the case with any other treadmill I've owned. 
The deck has a "cushion-flex" system to reduce strain on joints.  In fact, the cushion-flex whisper deck reduces joint impact as much as 40% compared to running on asphalt.  That's a big claim, but it makes me feel good!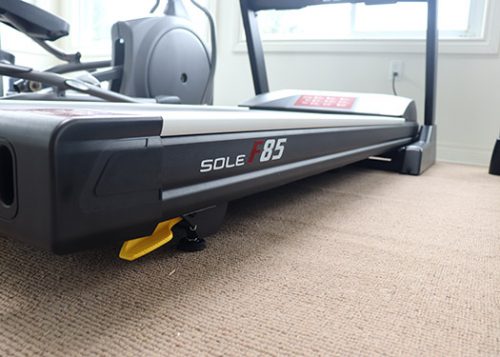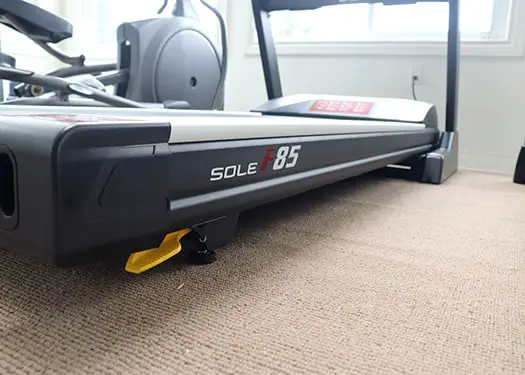 I honestly didn't even look at the motor, but when I read that it was a 4.0 hp beast, I was immediately sold. 
I have researched over 2 dozen treadmills recently and even the ones costing significantly more than this one didn't have any higher powered motors than a 4.0 hp. 
I was only mildly anxious about how "noisy" it might be, but after a quick test, I was pleasantly surprised by its quietness.  With headphones on (not even noise-canceling ones) you won't hear it even a bit!  Well, okay, a bit, but you know what I mean!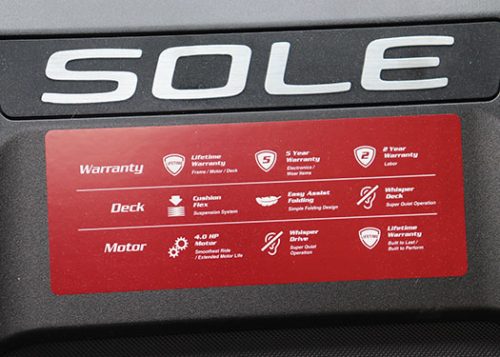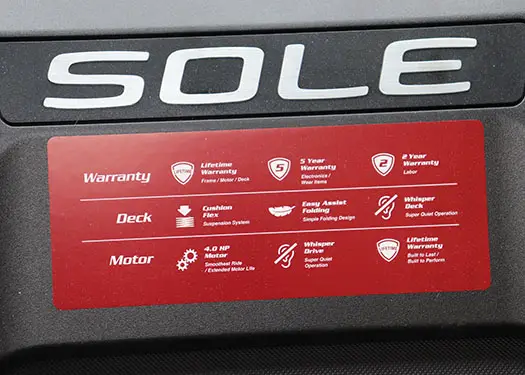 Features
The engineering team at SOLE strives to exceed their customers' expectations. That's the official word from Sole and I believe them … to an extent. 
Through emphasizing quality design, they consistently create quiet, stable, and durably made treadmills.
Loaded with comfort features from the cushioned deck to the cooling fan, and with a lifetime warranty on treadmill frames and motors, SOLE treadmills are (in this reviewer's opinion) one of the better deals on the market with a number of specs that are only available in higher-priced brands and models.
Bluetooth
You can listen to music through the Bluetooth 3.0 Audio Speakers from any enabled smart device. SOLE offers users the option to record workout feedback via Bluetooth from SOLE equipment to an Android or Apple smart device.
Users' workout feedback is automatically saved to the integrated personal calendar, and the data can also be downloaded to the free SOLE FITNESS APP, or transferred to compatible fitness apps (Fitbit, iHealth, Record, Map My Fitness, MyFitnessPal, and other open-source training apps).
Message Board
SOLE offers integrated message boards on most of their treadmill models. It's an alphanumeric text center that sends scrolling messages to the user as guidance through the details of each workout.
This feature can help you to understand the full capabilities of Sole treadmills at times when accessing the user manual may not be so easy (though we keep the manual nearby).
The message board is also able to recap an entire workout and allow you to see the progress you've made.
High Torque Motors and Flywheels
All Sole treadmills feature the heaviest duty motors and chassis in their class. Industrial quality motors are used in conjunction with large diameter, all-steel, zinc coated, and balanced flywheels for a vibration-free and secure running surface.
The flywheel extends the life of the motor by allowing it to run cooler and with a lower power consumption while their heavier weight lends to the same fluid motion found on commercial grade treadmills.
Belts
The belts are not plastic but are made of rubber for durability, PVC to prevent over-stretching, and nylon providing a smooth, static-free surface to glide over the deck and rollers.  
Rollers
The Sole F85 treadmill features large rollers which means a larger contact surface with the belt contributing to even movement and longer roller and belt life.
Big rollers with sealed bearing design and copper ground wires reduce static as you exercise making for a smooth, quiet motion that will (with any luck) stand the test of time.
---
Specifications
Machine Dimensions:
| | |
| --- | --- |
| Footprint (in.): | 82″ L x 37″ W x 66.5″ H |
| Folded Dimensions (in.): | 44″ L x 37″ W x 71″ H |
| Item Weight (lbs.): | 280 lbs. |
| User Weight Capacity (lbs.): | 400 lbs. |
| Running Surface: | 22″ x 60″ |
| Rollers: | 2.75″ |
| Carton Dimensions: | 85.5″ L x 37″ W x 17.5″ H |
| Shipping Weight (lbs.): | 308 lbs. |
Controls & Features:
| | |
| --- | --- |
| Motor Info: | 4.0 HP |
| Speed: | .5 – 12 mph |
| Incline: | 0 – 15 levels |
| Heart Rate Monitoring: | Hand pulse grips, chest strap compatible |
| Chest Strap Included: | Yes |
| Cooling Fan: | Yes |
| Standard Programs: | 6 |
| Custom Programs: | 2 |
| Heart Rate Programs: | 2 |
| USB Device Charging: | Yes |
| Bluetooth Compatability: | Yes |
| Bluetooth Speakers: | Yes |
| Audio System: | Built-in speakers (MP3 Compatible) |
| Console Display: | 10.1″ high-resolution LCD |
| Display Feedback: | Time, speed, distance, calories, pulse, incline, program |
See Latest Price and Availability on the SOLE F85 –  AMAZON'S DEAL
Warranty:
| | |
| --- | --- |
| Frame and Motor: | Lifetime |
| Deck: | Lifetime |
| Parts: | 5 Years |
| Labour: | 2 Years |
---
First Impressions of the F85
---
One Year Later
Well, I've owned the Sole F85 for an entire year (and a month).  Is it all I expected?  Is it holding together?  Let's jump in! 
Okay, first of all, let it be known that I use this machine DAILY.  It gets used for almost exactly 60 minutes every single day.  About half of that is on a medium speed (6 or 7) while the rest is at speed 10-12.  That's a fairly heavy usage on any machine.
The first thing we found was that about 3 months in, we received an automatic reminder on-screen that we were supposed to lubricate the belt.  There didn't seem to be any problem, but we bought some lubricant anyway.
Great, Useful Features
During the course of the past year, our family only used the straight manual setting where we simply set the incline with a push of a button and then set the speed with another push of a button. 
The incline adjusts quickly and feels VERY solid.  Adjustments in both speed and incline are seamless and give me great confidence in the quality of manufacturing. 
The included chest strap heart rate monitor works very well and there's also a set of hand grips for checking your heart rate.  In fact, there are lots of controls that have a redundant second way of being accessed. 
For example, speed controls are located on both the side handrails as well as the main console.  The same is true for incline controls. 
There are a number of storage cups built into the console, and there's an additional tablet holder that attaches to the top of the console.  We use it for our phones, but it works for just about anything that's thin.
A year into its useful life, there are no signs of wear and tear that we can see. 
The only issue is that after lubricating it (probably more than we should have) we've had a few issues with belt slippage under our feet, so we tightened the belt to fix the problem.
Features We Don't Use!
While it's a well-featured machine, there are features we have never used, nor will we.  For example, the fan (which we used once) is so pathetically weak, even my kids couldn't tell it was on (when it was one). 
You can't hear it (which is good) and you can't feel it (which is bad) even from just a few inches away.  It certainly could not reach your face while running.  We went and bought an industrial air circulator fan for hot days in the exercise room!
The console features a headphone and music input, but if you use them, your listening experience won't be great! 
We STRONGLY suggest you simply use your phone (on the tablet holder) and use a Bluetooth on-ear or over-ear headphone connected directly to your phone via Bluetooth or cable. 
We suggest skipping any circuitry offered by the Sole F85 since it degrades the sound you'll get directly from your phone.
Programmable Features
I've deliberately left this part to the end, and for good reason.  We find that we never use the programmable features though they work as advertised. 
I won't get into every detail of those features (since I haven't explored them fully). 
We bought the machine in part because of its wonderful automatic features, but we found that every day we used the treadmill, we felt differently (more or less energy), and we felt much better served by simply increasing or decreasing the speed and incline manually on the sidebars (which are only a few inches away from our hands while running) as needed.
The preset programs include a "HILL" mode that simulates a hilly environment, and a "FAT BURN" mode that operates on the principle of a slower, longer run at 60% – 70% of maximum potential. 
The "CARDIO" mode is meant to strengthen your lungs and heart by using a higher level of exertion combined with frequent fluctuations in speed and intensity. 
There's also a "STRENGTH" mode that targets your legs and bum and finally a "HIIT" mode which stands for "high-intensity interval training".  T
his mode increases your endurance by depleting oxygen levels and then allowing them to recover using a high-intensity session followed by a low-intensity session.
These all work as advertised and I can see why some would love this.  Personally, I stick with manual and I'm good with a steady pace over my 5k typical runs.
---
Overview
The Sole F85 is the top model in Sole's folding treadmill series and it's also Sole's #1 seller!  It features a 4.0 hp motor (while more expensive machines from competing brands feature 3.2 hp or 3.5 hp motors). 
Speeds up to 12 mph can be reached with 15 different incline settings if you start feeling like Batman!  For me, I keep the incline low since I'm staring down the barrel of 60 years of age!!!!  AHHHHGH!
The F85 also has Sole's biggest deck area and a 22-inch wide running surface and their longest commercial-sized belt. 
It features heart rate controls and a full chest heart rate monitor as well!  If you weigh 400 lbs (I hope you don't, but if so, start moving more but do it carefully and with supervision) or less, this machine will work nicely for you.
We found the F85 treadmill console is fairly user-friendly with a nice-sized display showing feedback about Speed, Incline, Time, Distance Traveled, Calories, Pulse, and Pace at all times, and includes a 1/4 mile track feature and a peak and valley graph for specific programs.
Built-in speakers allow you to hook up any MP3 player for easy listening while you exercise, and cooling fan and speed/incline controls are easily accessible on the armrests.   
We find the internal music/headphone settings lack the sound quality you can get using just your phone, and the integrated fan lacks any serious power to cool you down when you're sweating.  I
's not strong at all, and even if it was, it couldn't reach anywhere but your face.
You can also change the measurements from Metric to Imperial so you can have Kilometers or Miles.
It's an excellent machine overall, and we'd suggest it if only for the quality name and structural quality.  My gut tells me this machine will last the rest of my running years!!
---