Our 10 Best Basketball Shoe Reviews
Okay, for starters, let's clarify what this post is and what it is NOT! 
It's NOT…
… a complete guide to the absolutely "best" shoes you could ever buy to play basketball this year!  There are simply too many good shoes out there, and too many variables (like the shape of your foot) to conclusively tell you any particular shoe is the "best". 
Furthermore, what does the "best" mean?  Is it the best shoe for durability and longevity, or the best shoe for comfort?  What about the best shoe for the price?  You see where I'm going with this line of reasoning right?
Also, note that not every shoe is the absolute latest, since the latest doesn't always mean it is "better" than last year's model. 
Shoe companies (especially basketball) are under pressure to come up with new designs that look cool and perform well, but the "improvement curve" can't always rocket upwards just like your stock chart cannot always move steadily upward with no declines. 
Some of the shoes listed here are from 1 or 2 years ago, but they are reviewed each year so our chart of recommendations is always no more than 12 months old.
It IS…
… our best overall choices (top 10) of shoes that fit the profiles of being AMONG the best in value, comfort, durability, style and relative "newness". 
As good as they are, most shoes from 2009 or 2013 don't make our list because we're assuming you're looking for the latest (or thereabouts) basketball shoes. 
It's our "best shot" at giving you a good starting point to begin your research and hopefully helping you ultimately decide on what basketball shoes to buy for this season!
Get the Most Out of This Review
When reading the guide make sure you list what the most important priorities are to you, for example,  traction, comfort, breathability, high top/low top, durability, and much more.
This guide should help you find the best combination of these things, as well as the best price.
In this article, we'll begin by detailing some of the biggest names and releases out there in the world of performance basketball shoes. Then, we'll rank the shoes by different factors to help you get a better sense of which shoes are best fit for you.
Then, there will be a bonus section on how to jump higher with your shoe purchase, as well as a secret shoe not made by NIKE or any other popular brand that may be the key to helping you jump higher.
We want you to maximize your knowledge about basketball shoes and make the best decision for the best basketball shoes for you!  Let's get into it now!
---
1.  Men's

UA Curry 7 Lockdown
This is a bit of an unusual pick for #1 because it's NOT the most expensive shoe available.  Often, review sites will review and recommend the highest-priced product since that will generate the highest commission rates.  Well, we're doing no such thing! 
Let's get into the details now!
At around 13.7 oz (depending on size) the Curry 7 has a relatively good sole with good grip. 
It's interesting to note that Under Armour wanted to incorporate as much of "Steph" as they could in the shoe by including a cross-thatch pattern on part of the sole which is reminiscent of the stucco on Curry's home where he grew up in Charlotte, NC.
The upper features translucent layers of synthetic leather, mesh, and TPU for reinforcement for mobility and stability.  In the heel and the collar, there is foam padding for additional comfort.
UA HOVR™ technology gives you a return of energy with each step.  Micro G cushion (common to many UA ball shoes) also cushions while giving you a very close court feel for quick cuts. 
It's tough to have your cake and eat it too, but Micro G seems to do the trick pretty well!
A de-coupled heel helps offer a more natural motion.  If you're not familiar with what "de-coupled heel" means, here it is in a nutshell; It's a heel cup that is not all one piece. 
Its split design works like a shock-absorber (independent suspension) to better isolate the initial strike zone at the back of the shoe.
The Rubber outsole uses herringbone traction to provide the best floor grip and player control.  In fact, several reviewers on UA's website report that in testing the traction on dusty floors, they had no issues, planting and cutting (sounds like gardening!!).  
Users also reported more heel cushioning than the Curry 6's, and while I personally did not test a pair, I can see by their profile that they likely do offer more heel and sole cushioning overall.
The stronger lace loops and all rubber soles (not foam) are an improvement over the 6's in terms of at least durability if not performance. 
The toe box is also a bit wider but in case you're unsure of side-to-side foot movement issues, the sidewall is VERY strong so that helps keep your foot locked.
Overall, for the price, we like the UA Curry 7s for now, but we'll assess more as the year unfolds!
---
2.
Nike Men's Kyrie 5 Basketball Shoes
While not exactly "inexpensive", the Kyrie 5's fall in around the lower end of the signature series of shoes offered by nearly every company. 
The shoe's namesake Kyrie Irving is not only one of the most well-known players in the NBA, but in 2017, the Kyrie was THE number one selling performance basketball shoe on the planet – PERIOD! 
So, the Kyrie's have been popular over the past few years, but here's the kicker:  They haven't really changed much over the past few years!
Cushioning has been a problem for the Kyrie in the past and only decent cushioning is used in the heel rather than the ball (front) of the foot.  The 5's now address that problem and the feedback has been very positive!  
Ankle support, while being quite ample, is somewhat restrictive given the high supportive collar at the back of the shoe, which offers lots of stability but little in the way of flexibility and that limits comfort.
The Kyrie is not a low-cut shoe and may not be your best choice if you're into low-cuts, but the tradeoff is outstanding stability and resistance to ankle-turning with the extended outsole.
---
3.  
Nike Jordan Jumpman 2020
We like the look of simplicity mixed with modernity as seen on the Jumpman .  We're happy to see the traditional herringbone tread which is still one of the very best designs (we believe) for overall indoor hardwood court performance. 
Sure, we use our sweaty hands to wipe dust just like the rest of you, but even compared to other sole tread designs.
The sheer height of this shoe (A.K.A. "sole volume") is significant.  It sits higher off the floor than most basketball shoes and that due in large part to Nike Zoom outsole design features. 
The shoe feels solid enough so the extra height of the sole doesn't significantly affect the performance of the shoe in a negative way.  The clear "gel" style section in the forefoot of the sole is a bit "stickier" than the rest of the shoe and that helps for traction. 
It seems there's a negative for every positive because for the extra traction this "gel" features offers, it also attracts more dust and needs to be cleaned more often (if only with a sweaty palm).
The heel is not overly-cushioned but does have a "landing zone" which is the indented part just under the heel on the sole of the shoe.  This allows for a slightly "softer" landing for the heel in the absence of serious cushioning.
The mesh upper and overall design make this a less expensive and very functional shoe with less "flashiness" but overall good value.
---
4.  
Adidas Men's Dame 5
The Dame 5 is of course, named for its player, who, in this case is Damian Lillard (point guard for the Portland Trailblazers).  They're officially a "low-cut" shoe, but I'd call them mid-cut at least! 
The sole is a bit harder than many other models and that means they'll fare better on an outdoor court than most.  Of course, that comes at a price. 
The harder sole makes it less "sticky" on an indoor court, and combined with the fact that the herringbone pattern (which we like), is flat (ish) along the surface (as opposed to a "wiper blade" edge hitting the floor), this makes the shoe slide on a hard stop (especially on a dusty floor).
We like the real tongue (no one-piece construction) and we like that even though there's a lot of padding, the shoe does not feel as puffy as it looks.  That's a good thing as far as performance goes. 
The suede upper doesn't really serve any special purpose other than breaking up the look (visual aesthetics).  It's not a great material for performance (holds heat and wears poorly) and we'd like to see a full mesh instead, but what the hey – you can't have it all!
The midfoot is wide but very stable and these shoes fit tightly and feel like you'll never get them off – all the while being very comfortable!
---
5. 
Nike Men's Lebron 17
While nowhere near the lower price point of some very good shoes, the Lebron 17's are very funky to look at and have some excellent features – especially for a player like its namesake – a big man!
The Lebron 17's offer up something pretty darn good given the issues we find in nearly every other shoe.  The price point is one of the higher in the industry, but if you either have the money or wait til the price drops a bit through the rest of the year, you may get a good deal! 
Let's see what Nike says about them:
The LeBron 17 harnesses LeBron's strength and speed with containment and support for all-court domination. It features a lightweight mix of knit and heat-moulded yarns that gives each one a durable look and feel. Combined cushioning provides LeBron with the impact support and responsive energy return he needs to power through the long season.
Okay, so there's a huge blurb about them on their website but what do normal testers think about them?  Let's unpack our thoughts!
The notable feature is the height of the zoom air, air-filled sole.  It makes your foot sit way higher from the surface of the court than a foam shoe. 
Our first thought was that the excessive height on top of air would decrease lateral support and make the shoe feel "gushy" and "sloshy", but in fact, we were pleasantly surprised to find that was not the case. 
Stability was very good.  A bonus was that we just gained an extra inch over our competitors' height!  Even Nike boasts about how these shoes have extra cushioning, but they don't sacrifice "give" or responsiveness during quick, explosive accelerations.
Here's another quote from Nike that outlines their love affair with performance:
The LeBron 17 combines first-of-its-kind Max Air in the heel with two Zoom Air pods in the forefoot for comfort and responsiveness. The LeBron 17 also features an innovative, incredibly lightweight Knitposite upper for ultimate movement and flexibility.
Both Flyknit (uppers) and Foamposite (outsoles) have been staples in the Nike design arsenal, but this shoe combines them by offering something called "knitposite" which features a lightweight, sock-like upper, with a hard shell in key areas. 
Nike says that will increase your aggressiveness since you'll have "no fear" to crash the boards and get in the middle of a scrum.  I think that if you play that aggressively, you may have other problems like a black eye, elbow to the head or a fat lip! 
Try and stop that NIKE!!
Overall, we found very little to criticize about this shoe other than the price!  Fit, performance, comfort, and all that good stuff received high praise from our team, so it's a two thumbs up (if you can stomach the cost).  I keep bringing that up don't I?
---
6.  
Nike Zoom KD 12
The KD-12's are, of course, named after Kevin Durant whose career is well-documented and colorful!  He's quite a personality, but do his shoes live up to the hype?  Let's see!
Starting at the sole, we find it's clear and translucent.  We've found that most outsole materials (whether they fully or partially cover the sole) are softer and grippier if they're clear. 
I'm guessing it's because of the chemical composition that is used for clear and colorless rubbers.  This sole is probably the absolute grippiest sole of our entire recommended list. 
As usual, with that positive comes the inevitable negative, and that is that they wear out stupid fast!  After only a few games, there is evidence of breakdown on the highest spots of the ridges ont he sole. 
It's grippy because it's soft, and because it's soft, it wears down quickly!  Oh the joys of living in a world where scientific principles never really change!!
The Zoom Air cushions are coveted by many players and touted as the best type of cushion offered by Nike.  It features a FULL-LENGTH Zoom Air cushion directly beneath your entire foot. 
For those of you who care, that's not what you would normally expect from a Nike basketball shoe, but here it is!  It's a VERY good thing!
The shoes themselves feel quite tight when you try on your size in-store, but they do conform nicely to your foot as you play.  The mesh and fuse exterior doesn't feel overly premium at all, but the shoe plays like a premium shoe without a doubt!  
The KD's feature a "Quad-Axial Flywire" which is like a finger-trap mesh material under the main mesh exterior.  It's there for extra snugness and it works!
The shoe does not have an "outrigger" or flare on either side of the forefoot and while some may view that as lacking in lateral support, we like it because it allows you to be far more nimble and minimalistic in your approach to the game.
Finally, we have to chuckle at the variety and customized approach to this line.  There's a KD-12 colorway that pays a "tribute" to Kevin D's YouTube channel. 
Not only do the colors smack of YouTube (red and white) but little heel tags contain quotes and quips you'd see while watching like "Skip Ad" and "Video will Play After Ad".  And did I mention, the label on the tongue of the right shoe actually says YOUTUBE with the little arrow.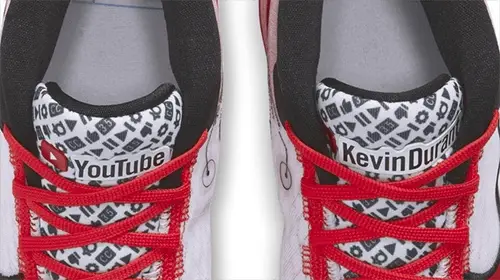 Overall, it's a tighter shoe than many others but fits true to size and is a bargain anywhere south of the $150 price point.  Various sizes, colors, and sellers will bring wildly varying pricepoints so do your research carefully!
---
7.  Adidas Harden Vol 4
Adidas rolls out yet another signature shoe for NBA star James Harden.  It's seriously one of the most unusual shoes on our list.  From some angles, this low-cut shoe looks more like a casual shoe meant for style than a performance basketball shoe. 
It appears to have very little sole volume but in fact it's quite adequate.  The look of the sole is rather like something futuristic and meant to impress the eyes of the buyer rather than perform well.
The shoe itself is low profile which can help faster, more nimble players (ie. point guards) feel like they should perform – quickly and nimbly!  
The synthetic (super-thin) skin fuse upper laid over primeknit material is unsurprising and performs relatively well. 
There is a mid-foot lockdown strap and the lacing system is geared toward making the shoe fit very snugly to avoid any sloppiness or movement in the mid-foot, for-foot and heel.
Adidas says the outsole has something called "generative traction" (crazy all these made-up terms to make your innovations look better!) which is supposedly inspired by, and tailored to the actual, physical movements of James Harden. 
How they know that is a mystery to me, but what do I know about modern tech and magic?
The general consensus among quite a number of reviewers and customers is that this shoe is the best of all previous Volumes of the Harden.  If that's true, Adidas really hit the sweet spot on this one.
---
8.  
Nike Kobe AD NXT FF  (FF = "FastFit")
Welcome to one of Nike's insanely-priced signature shoes!  We did find a decent-priced retailer but several others were selling in the high $300 price range which I believe is a bit over the top.  At under $100 we think this is a GREAT deal!  Let's see why!
The sole of the AD NXT is a bit unusual.  It features a scaled pattern rather than a herringbone or really anything we've seen recently. 
Once again, we see a clear and colorless rubber which typically means it's quite grippy, but also tends to gather detritus (that means dust and dirt and junk) which is usually taken care of with a good swift wipe from a sweaty palm.  
The entire shoe (but specifically the insole, outsole and footbed construction is very pliable which maximizes comfort.
Nike's React cushioning is used through the full length of the shoe and it works nicely in this pair (though some examples of React were not so great like the Hyperdunk). 
React is a cushioning foam material that is a result of over 400 attempts at combining various compounds to come up with a cushioning system that returns energy very effectively instead of just cushioning and NOT bouncing back (ie. your feather pillow on your bed – great cushioning but lousy return of energy).
The "laceless" fast-fit system is almost gimmicky, but it works as advertised no matter what else you might think of it.  The strap across the top is for you to just grab and pull.  It tightens all the laces for a firm fit. 
You won't be able to tight each section of the shoe separately, but after feeling the result, I'm not sure anyone really needs to pull each section separately.
The shoe itself is made much like a sturdy sock and the synthetic mesh and other materials along the top are so thin you can pinch and pull them up with your fingers.  The ankle strap is needed to secure the top of the shoe since the laces don't go that high.
The Kobe AD NXT FF is an unusual shoe for a number of reasons but one thing I can't say is that they'll hinder your game.  They fit snugly and move with no sluggishness at all. 
Hovering around the mid $300's, we're not sure this is worth the price if you get the wrong seller.  But if you click the green link below, you can get this shoe for UNDER $100!
Features at a Glance
An internal 4-way mesh material stretches over the contours of your foot for a locked, snug feel

Open-hole mesh on the inner side of the shoe exposes the interior

Adjustable strap crosses over the tongue to secure your ankle

An external plastic clip provides stability

Thin rubber outsole with multidirectional tread provides traction
---
9.  
Jordan Air 34
If you thought the Kobe AD NXT's were expensive, get ready for yet another bout of sticker shock.  Weighing in at $300 (ish) is the Jordan Air 34!
Here's a generally well-made shoe with a unique heel cup design that is so sturdy (and a little bit bulky) that it tends to cause discomfort on many an ankle bone!  We suspect that may not be a problem for every player, but it is for many.
One of the only other negatives for this shoe (besides the scary price) is that the laces have a hard time staying tight as you're lacing them up.  It can be frustrating to see your efforts undone every few seconds! 
Still, with lacing, players with a wider foot may like these given that the "default" position of the material on the top of the shoe is set for a wider foot and it buckles as it gets laced tighter for a narrower foot.
We like the look and performance of the herringbone pattern that has a fan shape to it rather than just a plain herringbone look.  We're not sure that actually helps performance or not, but it looks kinda cool and aggressive.
Zoom Air cushioning is included in most of the foot bed, so that's a big plus.  More than previous versions with Zoom Air, this shoe feels like it's propelling you forward with each step – especially if you're aggressively accelerating.
Screen mesh makes up the main body of MOST Air 34's (some will have a different material).  This makes the shoe really light.  Better still is the performance material (another mesh – basket weave style) in the forefoot for lateral stability. 
The mesh tightens as you put pressure on it laterally so it keeps your foot from rolling over the edge of the sole.
One last comment about the exterior material/design; the back half of the shoe (near the ankle) is just a see-through mesh with virtually no support at all and that does not inspire confidence for aggressive lateral moves all day long in spite of the better performance materials on the front of the shoe.
Overall, it feels good and generally performs well, but in this man's opinion, the $300 price tag is not worth it.  I'd stick with the Kobes or the KD-12s.
---
10.  
Under Armour Men's Lockdown 4
Okay, now let's go WAAAAAYY down the price scale from $300 (the Air 34s) to a whopping $65-ish for the Lockdown 4's. 
Full disclosure here – when I first laid eyes on these I did like them, but when I saw the price tag, I started to like them a whole lot more!  It's truly amazing how price mixed with quality can affect your views. 
It was like someone offering to sell me an ancient relic Volkswagen Beetle in excellent condition for a "good price".  I likely wouldn't be interested and I would politely decline because I'm not a huge fan of the VW Beetle. 
However, if he told me the "good price" was $150 bucks, then I'd suddenly become very interested and I'd probably start liking the Beetle a bit more.  Well, this is JUST like that.
The Lockdown 4 has a modern, sleek look not unlike a Nike or Adidas design and they're quite light. The tech is not overly-amazing, but it's a good all-around shoe that will suit you well at your skill level.  It won't make you better or worse than you actually are! 
It features a traditional lace design with a molded synthetic upper, and it has a pretty beefy injection-molded EVA midsole/outsole with a good degree of flare around the edges to minimize the chance of an ankle rollover.
The tread design is adequate though not overly aggressive with deep grooves or super-soft rubber.
If I were to compare the features of this shoe to a premium signature brand, I'd say the price difference shouldn't be so huge.  That's another way of saying this is a good deal for just about everyone other than an actual pro or semi-pro player.
Features at a Glance
Molded synthetic upper for a snug fit & very cool look

Perforated leather for enhanced breathability

Lightweight, super-breathable sock liner provides underfoot cushioning & support

Injection-molded EVA midsole offers a lightweight & responsive ride

Rubber outsole with multi-level adaptive traction patterns to provide exceptional on-court movement & control that won't wear down

Weight: 13.2 oz.
---
---
NOT on our list, but decent shoes from a few years ago!
Nike Lebron XI
"Cushion" is the word to describe this shoe more than any other feature!   The Lebron XI has what some would say is an excessive amount of bounce, which can be a good thing for wear and tear prevention on sore knees, but as with any great advantage, there's usually an equal and opposite disadvantage. 
In this case, court "feel" or responsiveness is sacrificed when the sole is soft and "bouncy".   The good news is that given a bit of time (approximately 5-10 good, hard practice sessions or scrimmages) they do "break-in" to give you a better court responsiveness.
Another cool feature is the full-length zoom along the bottom of the shoe which absorbs a whole lot of the impact of landing and running (works as advertised)!
I'd go out on a limb and say these are one of the very best and most balanced cushions Nike has created to date!  If you decide to grab a pair of these, you're in the ballpark of one of the best shoes on the market, but as you'd expect, the price tag is no bargain.
The materials are also a notable feature.  The iconic foamposite (material that supports and surrounds much of the exterior of the shoe) has received some new chemistry, and now a newer material called Hyperposite (merging of Nike's Foamposite and Hyperfuse) takes center stage on this shoe. 
That brings us to the next feature;  Ventilation.  The ventilation is decent, but the Hyperposite needs heat and moisture to help it mold to your foot's specific structural features. 
Too much ventilation means a longer break-in time, and the Lebron XI has (in my opinion) just the right amount of ventilation.
The shoe's support score is pretty high given that it's designed to support a big player.  In this particular case, the designers got it right when they allowed for excellent support AND great mobility range. 
Kudos to Nike designers here (or maybe it was just dumb luck!).  The best part about this is that while it supports a big center, this shoe is just as good for a point guard. 
You won't feel like your feet are laced into concrete slabs since they are delightfully ….. well, light!  They look good and perform well on every count. 
I'd say you can't go wrong!  Top marks from us!
---
Nike Lebron Soldier XI
The shoes made for the best player in the world are built for a player with extreme power that needs to move fast and play explosively. The high-top style is equipped with a velcro strap that will fasten the foot and prevent ankle sprains as you take off for dunks and contact layups.
The shoe is revolutionary because of its shocking lightweight in contrast to its bulky experience. The Lebron XI is the obvious choice for bigger players that like to run and play fast.
If you are a shooter, this may not be the shoe for you, but if you attack the basket and like to run up and down the court, this is the shoe for you. Inspired by the greatness of Lebron James, this shoe is one of the greatest performance basketball shoes ever produced.  
Is it one of the best basketball shoes on the market today?  Ummm…. well, just maybe!
This shoe is one of the premium high-top shoes on the market. If you are looking for a sterling level of ankle support, this is the shoe to buy.
In addition to the high-top structure, the shoe has a very solid velcro strap that will further fasten your ankle. Having increased ankle mobility like this will help you spin and turn quickly. However, at the cost of this ankle support is a slightly heavier shoe.
Although the Lebron Soldier XI is amongst the lightest high-top shoes ever created, by NIKE or anyone else.
The consensus is that the shoe has a very nice design and style. The Lebron XI is known for great traction, it is comfortable, and is very breathable.
It is very important that the shoe is breathable because this makes sure your feet don't sweat too much in the shoe. Some people complain that the colors on this shoe bleed. Some have reported that the color bled onto the white after only wearing them a few times.
It's possible for sure, but we're looking at the bigger picture here.  Hopefully, that won't be a deal-killer issue!
Not everyone is a fan of the aesthetic and prefer basketball shoes that avoid using a velcro strap. Personally, I think that the velcro is optimized to tighten the grip of the shoe on your ankle, however, everyone is entitled to their own opinion.
---
Nike Kyrie 4
The hottest name on the streetball courts has surged ahead and built on its successful debut of the Kyrie line. 
Inspired by the craftiness and speed of superstar guard and NBA Champion Kyrie Irving, these shoes are designed to help players plant and change direction quickly and to take advantage of their exceptional light weight. 
In order to execute deadly crossovers and spin moves that leave your defender looking mesmerized, you will need a lightweight shoe with enough support to keep you from tearing your ankle apart.
Look no further than the Kyrie 4s if you are after a lightweight shoe and quick changes of direction. The shoe features a mix of Flywire, Zoom Air cushioning and more!
Some users of the Kyrie 4 recommend altering the laces. The laces are very tight by default and cut off circulation.
Because of this, some people complain about the breathability of the shoe which is very important when you are going to be playing for a long time and want to avoid fatigue in your feet or want to let your foot breathe in the shoe so you don't have a nasty odor in the shoe.
The Kyrie 4s are also by default very narrow. The Kyrie 4 is a great shoe for playing outside as well. The traction is versatile and will work just as well on the pavement as it does on the hardwood.
---
 AIR JORDAN 6 RETRO "LIKE MIKE" Gatorade
The shoes worn by the most explosive player in the world couldn't be a more perfect fit.
Anytime Jordan releases an AJ model, it is likely to be one of the best basketball shoes on the market (or even THE best shoe in the market) for jumping high and playing very explosively.
The shoe is very compact, lightweight, and flexible. The only drawback to this shoe is it's slightly hefty price and difficulty to order online or find in stores.
The shoe is in high demand for a reason, however. If you are looking to jump a little higher to get that windmill dunk you have always dreamed of, this is the best shoe to get.
The Jordan 6 (original) marked the year MJ led the Bulls to their first Championship title. This colorway of the Air Jordan 6 Retro Men's Shoe pays homage to the original '91 "Like Mike" campaign that captured a generation. 
While the shoe is not identical in its construction, it is an "updated" replica of that design.  For those who care about the history, MJ left Coca-Cola to promote Gatorade (thus the Jordan 6 orange and green colorway). 
Gatorade's success exploded worldwide and brought to the mainstream the idea or concept of "sports drinks".
This incredible shoe features genuine and synthetic leather for comfortable support, foam midsole with visible Nike Air cushioning in the heel, encapsulated Nike Air cushioning in the forefoot and a combination clear and solid rubber outsole.
---
Under Armour Curry 5
The shoes created for the reigning MVP are centered around comfort. These are going to be amongst the most comfortable and best basketball shoes on the market. The style of Steph Curry requires him to be comfortable doing all sorts of things.
Because he is not the most explosive player, these shoes are not really suited for explosive jumping and if you are a very strong player, you may rip these shoes after a couple months of ownership.
Let's break down the details from our tester wearing a pair of white Curry 5's.  First of all, let's see the specs and guts from Under Armour.
Lightweight for optimum speed & agility

Full-knit construction & lockdown lacing for a precise, 360° fit & feel

Built with Anafoam™ containment zones in the forefoot lateral wall & around the heel to lock in the foot

EVA cushioning midsole delivers underfoot responsiveness

All-court grip system for instant stops & quick cuts on any surface

Weight: 11.8 oz.
Okay, that's the nice stuff from the manufacturer.  What about real testing?  Here's what our test team says about them;
We like the herringbone traction in the sole, and the Curry 5 has a slightly more "tacky" texture compared to the previous versions.  The problem was that the sole is bit TOO sticky and tends to hold onto dust.  If the court is squeaky clean, you're golden! 
If it's dusty, you'll be wiping the soles every trip up the court, which becomes annoying for sure!   The EVA cushioning was adequate though unspectacular.  Most players won't feel any real fatigue or pain, but there's no special "cushiony" feel either.
Anafoam is used in the heel cage and around the forefoot, which is mostly a good thing.  As it heats up, it forms to the foot so it flexes with your ergonomic movements. 
We didn't notice too much on that end, and the theory of it sounds much more impressive than the reality.  No harm done though, maybe it does work!  We do get that this shoe has to be light and fast, so it will sacrifice something.  That's just the reality of the physics!
An inner sock made of elastic, knit material contributes to a pretty decent comfort level.  We found that the arch of the foot barely touched the insole because of the compression quality of the inner sock.
However, because of the nature of the low-cut construction (ish), and the lace design, we found that our feet moved around a bit more than we would like.  The heel cup was not as sturdy as we would like but a sturdier, harder cup would probably add to the weight.
The last lace holes on the shoe tended to pull our feet downward rather than into the heel which made for a looser fit around the heel and made it feel like we could pull our foot out of the shoe without too much trouble even tied tight (we actually did do that!). 
That's not the best lacing scenario!  The other issue one of our guys had was that a seam on top of the arch of your foot can cause some discomfort.
The general consensus was to go up a size which added comfort but exacerbated the tight fit (or lack thereof).  They just don't feel super secure.
Having said all that about the sole, lacing and fit, we have to be fair and say that this shoe is really adequate to get the job done.  There's enough lateral support for most players and the weight is awesome!  Nice 'n light.  They look good and perform well overall.
One last thing:  some of our team really liked the Curry 4 even though it's an older model.  It does have some advantages, but that's a whole different review!
---
Nike Kobe A.D.
The Kobe AD continues the legacy of one the greatest players of all time. The first thing that is important to note about this shoe is that it is low cut.
If you have traditionally played in high top basketball shoes, these may not be the best basketball shoes for you.  Actually, it looks a lot more like a tennis shoe than any other basketball shoe we've seen.
Granted that it is a super low top shoe, it has very poor ankle support. On the other hand, the Kobe XI is incredibly lightweight and is one of the best basketball shoes for heavier players who want to jump higher and run a little bit faster.
However, it is very important to keep in mind that the risk of spraining your ankle skyrockets when you play in these shoes.
However, they are very heavily praised for their comfortability and lightweight though some have complained that these shoes are about the "middle-of-the-road" when it comes to comfort.
These shoes would be perfect for someone who is just looking to do drills and shoot around by themselves.
The Kobe AD's come in some very interesting colorways. It is very rare for a performance shoe to have so many designer-inspired color options and combinations! 
The construction is fairly durable with the textile mesh, and our reviewers reported that traction performance was above average across the board.
In addition to the many signature Kobe AD models such as the Mighty I.T. and the Black Mamba, you have the option of further customization on NikeID.
NikeID lets you choose between many different color combinations as well as embed a personal logo or ID onto the shoe.
Overall, we'd suggest that because the cushioning is not as generous as it could be on these shoes, larger players might prefer a LeBron Soldier model while small guards would be better suited to the Kobe A.D.
---
Nike Hyperdunk Twenty-Seventeen
Comes in 40 colors, Nike ID customizable
Lightweight, Responsive, Supportive
The Hyperdunk has been a very popular performance option for nearly fifteen years. The Hyperdunk is one of the most versatile shoes made by Nike and is branded by its Lightweight, Responsiveness, and Support.
The Hyperdunk continues the tradition of Flyknit technology and stellar performance. The Hyperdunk is a shoe technology beast featuring herringbone patterns to offer traction for multidirectional movement.
The high-top design is sure to keep your ankle stable as you cross over and euro step your way to bucket paradise.
Owners of the older version of Hyperdunk who have moved on to this edition are raving about the improvements from the previous model. However, the Hyperdunk does have its flaws.
Many people disregard the Hyperdunk as an elite performance shoe because of its somewhat cheap looking or dare we say "grandma's sweater" materials. The Flywire and Flyknit material can make the shoe feel uncomfortable for some.
This is an example of a shoe that really needs to be broken in in order for you to be able to comfortably play in them. One of the major drawbacks of this shoe is the price.
Since the Hyperdunk is already priced in the upper stratosphere, it might make sense to just spend the same money and get a higher quality shoe such as a signature player shoe or a Jordan edition.
However, there is an appeal to making a name for yourself and wearing a shoe that doesn't already have somebody else's name on it.
With this cool grey edition, you can grab your own very clean and sleek-looking shoe which (contrary to the views of those who jump to conclusions) performs as well as any other pro shoe on the market. 
The colorway of this model is understated and contrasts with those looking to "show off" or grab the spotlight.  This is OUR KIND of SHOE!
---
NIKE Lebron XII
The Shoe made famous by Lebron James and his triumphant NBA Finals campaign over the Golden State Warriors. These shoes are viewed to be of excellent caliber by even the most adamant shoe critics.
This shoe can be quite pricey and a little heavy for a performance shoe.  However, these shoes can be worn in many different ways and as a performance shoe offers a unique blend of talents.
The Lebron XIII is most known for having elite traction and durability. These shoes are made of very high-quality material and therefore do not degrade or wear down as fast as the typical shoe.
The traction has a unique pattern that is apparently very revolutionary. This shoe is also known for having very high-quality ventilation.
As is the case with many luxury items, the Lebron XIII comes with a hefty price tag. The Lebron XIII has sold out of many of its best colorways and can be very difficult to track down in stores or on the internet.
The best options for buying this shoe may be to search Flight Club or eBay. Keep in mind that buying basketball shoes this way can be very expensive and you are likely to pay far more than their originally listed price.
If you can get your hands on it and have the extra cash these shoes are great for explosive movement and will last you a very long time.
---
Jordan Retro Editions
Jordan 7,11,12, 13
If you are looking to stun everyone on the court with impressive fashion, the best way to turn heads will be the retro Jordan collection.
 These are definitely on the top of any list of best basketball shoes for pure style!  There are many different Jordans most popularly ranging from the first model to the fourteenth. Here are the best options to wear for real basketball style and performance.
The Design inspired by Western African "afro-pop", the very popular Air Jordan is widely regarded as the best performance shoe of the early Jordan releases.
These shoes are sure to make you look like a hardcore hoop fan who has a fat wallet and incredible sense of basketball style. These shoes are highly praised for their traction, cushion and comfort, and support.
This shoe does share many problems with old shoes, however.  You can expect very poor ventilation and this shoe is likely to have a somewhat weird fit.
These shoes can also be very pricey and difficult to even find an outlet with these in stock. Finding these types of shoes can be viewed as somewhat of a networking masterpiece.
There are shoe groups on facebook to join that can help you locate these shoes. While you can find them on eBay, expect a bogus markup.
---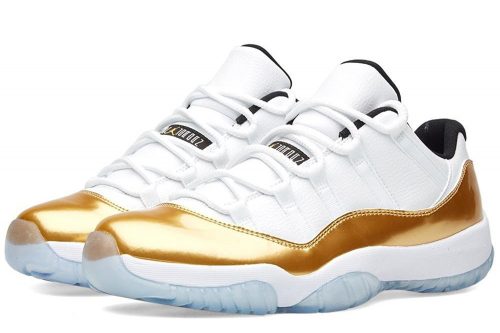 Widely regarded as one of the coolest basketball shoes of all time. Jordan 11 models such as the cool greys, concords, and reds (black and red Jordan colorway) are all famous colorways closely associated with basketball prestige.
These shoes aren't just one of the most impressively designed basketball shoes of all time, but they can also make quite an excellent performance shoe.
Many sneakerheads may cringe seeing these played in on the court but they can be very good for basketball playing purposes as well.
The ventilation in the Jordan 11s was game-changing for its time and remains today to be in the upper category of breathable shoes.
The 11s are known for their supportive material and their mid-high top design will be very supportive for your ankle and also light enough to avoid robbing you of that explosiveness you have been hitting the gym so hard to acquire.
The 11s have very supportive material and good traction. Obviously, these shoes are going to be very, very expensive. Good luck finding these in a store or anywhere else, seriously.
---
The Jordan 12s are known for having great traction as well as a very supportive high top. These shoes are dripping in style and the design is very, very nice.
These shoes are likely to be very expensive, as is the case with any retro Jordan. Users of these shoes on the court complain about their poor breathability.
---
These shoes are insanely stylish and offer great high top support. They are very comfortable, although not very lightweight. Sneakerheads will cringe if you test the durability of these shoes, but they are very likely to last you for a long time.
These shoes are not very breathable compared to newer models.  Colorways are extensive, and we've featured a "not-so-common" wheat color model.
Cheaper Shoes (Under $75)
If you are looking to save money on your basketball shoes, the Nike Air Ring Leader is currently the cheapest basketball shoe featured. These shoes are very durable and comfortable for their price.
These shoes are not very expensive and are likely to last you for a long time.  It's one of the best basketball shoes for versatility since it can be used comfortably for other purposes.  
The material of the shoe also makes it very easy to clean. Many users of the shoe agree that it runs true to size and is lightweight.
It is also worth keeping in mind that these are low top shoes, meaning that you are sacrificing a lot of ankle support in favor of lighter weight.
As with any shoe, it does have some drawbacks. The major drawback to buying these shoes has to be the aesthetic.
If you wear these shoes in a pickup game, odds are nobody will want to play with you unless you happen to be 6'10 with a Ray Allen-esque jump shot. These shoes scream that you are a new player.
Users of the shoe also complain that it is weirdly proportioned. The toe area is disproportionately wider than the rest of the shoe. The insole of the shoe is also non-removable which makes it hard to slip in orthotics if need be.
These shoes only come in one color, white, which can be hard to keep clean. These can be great shoes for playing in and exercising in, and they are very affordable.  
They offer a great option as a starter shoe if you are not yet sure how passionate you are about the game of basketball. The Nike Air Ring Leader Low is a great place to also test try low top shoes and see if you can handle the lack of ankle support.

If you are looking to make a more financially sound decision as well as avoid sacrificing your court style, the Under Armour Jet model is a great option. The shoe has a very sleek design and comes in 4 different color combos.
This is a high top shoe so you won't have to worry about snapping your ankle on a vicious crossover in these bad boys. The Jet is widely acclaimed for it's comfort, cool colors, traction, and breathability.
The breathability is especially interesting as it will help you avoid fatigue and keep your shoes smelling fresh.
Some people complain that these shoes run small, so be cautious when ordering them online. It might be best advised to go to a local house of hoops or dick's sporting goods to try them on before purchasing.
Priced very reasonably these are one of the best basketball shoes that still offer good performance on a low budget. They have a nice design that doesn't instantly reveal its status on the lower end of the price range.
They have a nice high top design to keep your ankle together. This rating is very impressive for a shoe at this price. Reviewers of the Under Armour Lockdown rave about its style and comfort.
This shoe is without a doubt a great blend of price and comfortability. However, these shoes are not very lightweight and they do not have the same mesh and flexibility of a higher ranking performance shoe.
The material of the shoe has many customers worried about the durability of the shoe. It is likely that cheaper shoes are more likely to break down fast.
---
Finding the Right Shoe by Focus
We hope we've given you some food for thought, but in case you're still looking for more, here are some great factors to consider when looking for the best basketball shoes for you.
Lightweight
The importance of having a lightweight shoe is unquestionable. Being lighter will help you run faster, jump higher, and turn quicker. When Adidas first debuted the crazy light model, the basketball world went bananas over its shocking lightweight.
Comfortability
For most people, style comes from how you feel. In order to feel good and play at your maximized potential, you need to feel comfortable. Sometimes the comfort of the shoes heavily varies amongst users.
Durability
What is the point in buying the best pair of basketball shoes you can afford if they can only last for a couple weeks?
There is nothing more annoying as a basketball player than coming home and noticing that you've ripped a hole through the toe of your shoe, or that the precious Nike logo has been creased in half and now looks like a weird white line glued together on the back of your shoe.
Traction
How can you possibly expect to crossover like Kyrie Irving or Allen Iverson if your shoes are slipping and sliding all over the court? There are many different factors that determine the traction quality of a basketball shoe such as whether you are playing outside or inside.
Style
Look good, play well. One of the most important things to being a basketball player is looking like you are one hell of a player. There are certain shoes that warrant a head nod of respect from all basketball players.
Having your style together can make the difference between getting picked up on a team or watching the game from the sideline.
Whether your style comes from developing your own look or being inspired by the look of an NBA superstar, we've reviewed some of the best basketball shoes out there with the most prestige and style.
Ankle Support
One of the most important factors to making the right decision about your best basketball shoes, is guaranteeing that you are avoiding the risk of injury.
Spraining ankles is the most common injury amongst basketball players and it is very important that you do your research so you can stay off the long list of players who sprain their ankles every day.
One of the most important qualities in ankle support is the difference between high and low-top shoes. However, there are many models of low-top shoes that offer a surprising amount of ankle support.
Price
It is always a smart idea to make sure you are getting the most out of your money. Maybe you or your family member is a newer player, just looking to try basketball out and see how it goes.
Buying a cheap pair of basketball shoes can be difficult, but this list will comb out the lowest-priced shoes and help you see which ones are not only the cheapest but a good value for their price.
SO YOU WANT TO JUMP HIGHER?
We all have dreams of jumping higher and higher, eventually getting over the rim and smashing down a ferocious two-hand dunk. There are many rumors that shoes are everything when it comes to jumping higher.  
Although shoes alone probably won't be the difference between barely touching the rim and taking off from the free-throw line, putting the ball between your legs, and shattering the backboard into a million pieces, having the right pair of shoes can definitely be the difference between skimming the rim and grabbing it.
Here are some suggestions that will help you throw down a powerful enough dunk to get the guy from the front desk to come into the basketball gym and threaten to kick you out because of your intimidating aerial showcase.
There are two kinds of jumpers in basketball, one leg dominant jumpers, and two leg dominant jumpers, (I know Harvard stuff right).
You are a one-leg jumper if you like to run and take-off of one foot to dunk, you are a two-foot jumper if you gather yourself by putting both feet on the ground and then powering up to dunk. As such, the best basketball shoes will be different, for different jumpers.
One Leg Jumper
If you are a one-leg jumper it is going to be important to have enough support to support transferring the momentum of your sprint into your jump.
Here are the three best basketball shoes I recommend: 1. Nike Lebron Soldier 10 2. Nike Hyperdunk 2016 3. Jordan AJ XXXI
Two Leg Jumper
If you are a two-leg jumper then support won't be quite as important because you probably already have pretty good balance. The most important thing for a two-leg jumper will be two have a lightweight shoe that won't cause any additional resistance.
Here are three shoes I recommend: 1. Nike Kobe 11 Low 2. Jordan AJ XXXI 3. Nike Kyrie 2
SECRET WEAPONS TO JUMPING HIGHER WITH YOUR SHOES ALONE
In this section, I will show you a top-secret shoe banned by the NBA that, although not a traditional basketball shoe produced by a blue-chip company like NIKE or Under Armour, is very likely to help you jump higher.
I will also show you an insole that is nearly guaranteed to add an inch or two to your vertical jump.
The APL basketball shoes are famous for their "load-n-launch" technology that is designed to help you jump higher. This is truly one of the best basketball shoes to get you airborne.  
The insole is supposed to be more responsive to your jump and will spring you up to that rim. The shoes tend to have better reviews from people who jump higher, if you jump high already, these shoes will likely work better for you.
The higher you jump, the more you get out of them.
APL's most famous model out right now is called the Vision. It has a very nice design, but it comes at a very steep price. If jumping higher is very important to you and you aren't looking for a traditional basketball shoe, these may be the shoes for you. 
With all the nice sales stuff out of the way, let me REALLY honest.  Over the years, APL has had different models on the market with some really great feedback.  Head-to-head tests gave us some indication that they DO in fact improve your vertical if only slightly. 
However, in recent months, we've received some feedback APL's latest offering (the Vision) has some issues with a squeaking sole after some use.  With that information, what would we suggest? 
Okay, I'll be totally upfront (and personal) with you at the risk of sounding "sales-ee". 
If I were an 18-year old hotshot getting ready to go play U.S. College ball (like I was in high school), and there was some hope of improving my vertical (if only by 1 inch) I would buy these shoes in a heartbeat – in spite of some technical concerns – like the squeak. 
However, if I was a 35-year old dude looking to stay in shape for the next 20 years, I'd stick with a nice, safe shoe like something that helps with ankle support – like the Adidas DeRose 7. 
It's a proven shoe that's virtually guaranteed to perform and keep me as safe as any shoe possibly can!
So that's the skinny.  I love the shoe, but don't freak on me if it squeaks.  All shoes are prone to squeaking (I have a pair of Nike running shoes that do that NOW!), so it's a matter of trust (and a bit of gambling!).
These insoles are used by world-class athletes across the world. In addition to helping you run faster and jump higher with a more responsive insole, they can also greatly help alleviate shin splint pain.
These are priced cheaply on Amazon and can fit into any shoe. They are not likely to stack well with the APL shoes, however.
---
Conclusion
In Conclusion, there are many different basketball shoes to choose from. Choosing the right pair is completely dependent on your needs as a basketball player and the design/colorway that best suits you.
One of the biggest differences between shoes to note is the low top vs. mid vs. high top. High-top shoes will give you much better ankle support whereas low top will usually be much lighter, mid being a blend in between.
If you are looking for an upper-echelon style, you can't go wrong with the Air Jordan retro collection.
However, if you are looking for the best basketball shoes for performance, you are probably best going with the Nike Hyperdunks, Jordan AJ XXXI, or a signature player collection.
Rocking your favorite players' kicks may help you become inspired and add their flare to your game. It is also very important to see if the shoe is durable and versatile between indoor and outdoor courts.
Also, keep in mind that buying white shoes may be problematic to keep clean and maintain that fresh white color. Good luck with your decision, and hopefully, this guide helped you gain some insight on the best basketball shoes to get for YOU! Thank you for reading!
P.S. Looking for women's basketball shoes? Check out my Best Basketball Shoes for Women Guide!
---