Having flat feet can become extremely vexing when you are looking for the right type of footwear.  Thankfully, there are shoes that are friendly to basketball players with flat feet.  That means if you suffer from fallen arches, you can still play basketball, but it's best to properly research a pair of shoes that will help your comfort level.
In a nutshell, a couple of great basketball shoes for flat feet are the Lebron Soldier, the Kyrie Flytrap II, and the Nike Air Force One high top.
It can become even more annoying when you are looking for shoes for sports, such as basketball. Although you may or may not have any control of your flat feet, you do have control over what footwear you use to play basketball to your full potential.
Before we get into that…
What are Flat Feet?
For those who don't know, people with "flat feet" (also known as "fallen arches" or "pronation") do not have an arch in their feet.
While people most commonly suffer from flat feet after birth, other causes include stretched and torn tendons, broken or dislocated bones, obesity, and nerve problems.
No matter how you obtained flat feet, this is often frustrating at times, especially when participating in an intense physical activity that requires a lot of running, such as basketball. 
Anytime you're trying to pursue such an intense activity, it is crucial to have the proper footwear for whatever you are doing so that your "fallen arches" don't become worse.
What to Look For
Basketball players need comfortable footwear because they are constantly running up and down the court for a long time! 
A nice pair of basketball shoes will have a comfortable sole that doesn't hurt your feet when running, as well as durability to cope with the excessive motion. In other words, comfort and durability are the top features you should look for that would benefit people with flat feet.
Ankle support is always good for a basketball shoe. It keeps the foot stable inside the shoe, and it also ensures that the ankle doesn't make any awkward movements while on the floor.
While this is definitely a solid benefit in basketball shoes, there are more important features in basketball shoes that could help those with flat feet.
A must-have for players with flat feet is soft, durable, and flat soles that take the proper shape of the foot and absorb any impact that may occur when jumping up and down on the basketball court.
This will keep the bottom of your feet comfortable enough to go through a full game without being in an extreme amount of pain. A high-quality sole also assists the player to avoid being sluggish.
The player may not necessarily become "faster" but will give them every opportunity to pay to their full ability.
---
Best Basketball Shoes for Flat Feet or Low Arches
---
One of Nike's signature basketball shoes of the past, the Air Force One is the traditional basketball sneaker that offers a mix of ankle support, soft cushioning, and a flat sole made for all different foot types.
The Air Force One sneakers have a unique style of ankle support; with high-quality leather upper that includes a Velcro ankle strap. This strap enhances the ankle support that's needed to make fast cuts on the basketball court.
Furthermore, the Nike Air Force One High contains a midsole with superior cushioning, so that no matter how flat-footed you are and how hard you run on the basketball court, you are almost guaranteed to be comfortable and confident when you are playing.
The best part about sneakers like the Nike Air Force One is that you have potential to get your money's worth out of them. You can wear them while playing hoops or when you're going out with your friends.
Pros:
The well-cushioned sole provides a comfortable experience
Ankle strap offers high-quality support
Could be used for casual wear as well as on the court
Cons:
The Air Force one sneakers are easy to crease
A heavy shoe/ you won't feel light on your feet
There is not much breathing room compared to other basketball sneakers
---
Similar to the Nike Air Force One, the Air Jordan One basketball shoe has high ankle support and a casual leather finish, but this shoe is lighter in comparison.
From a cosmetic perspective, the biggest difference between the Air Jordan One sneaker and the Nike AF1 is the lack of an ankle strap, and the Air Jordan wings stamped on the outside of the ankle.
The Nike AJ1 is made of nubuck and full-grain leather that will offer a durable shoe with a breathable fit, keeping you light and cool on the basketball court. This leather will be able to adapt to the shape of your foot, no matter how flat it is.
The Air Jordan One shoes would do great for someone with flat feet mostly because of the straight sole that contains soft cushioning. In addition to comfort and looks, this shoe is reasonably priced for a flatfoot-friendly basketball shoe.
Pros:
The leather used in this shoe is lighter than the Air Force 1
High ankle fit
Runs wide
Cons:
Takes longer than average to break-in
Poor traction
Some versions of this shoe is overpriced for the quality you are receiving
---
The AJ XXXIII's eye-catching and game-ready. These high-top basketball sneakers are made of tough mesh with a rubber sole that will help keep your feet comfortable while running.
After researching at length the supportiveness of this shoe, I have good news.  Users of this shoe LOVE the support and the arches are pronounced enough to encourage a "higher step". 
We've featured the AJ XXXI's for years and this is just a new iteration of the same good thing!
The Air Jordan brand is one of the more trusted brands in all of basketball.  Produced by Nike, it would be surprising to see any of their shoes failing to accommodate common physical issues such as flat feet.
Pros:
Rubber sole supports flat feet
Could wear these sneakers for basketball or casual wear
High top offers ankle support for on the court stability
 Cons:
May be too narrow for some feet
Size options might be a bit small – order 1/2 size bigger
---
Kobe Bryant may no longer be in the National Basketball Association, but his legacy continues to thrive with these low cut sneakers. 
While he is no longer with us, we remember his legacy and continue to be inspired by his on and off-court demeanor and attitude as well as his stellar skills and natural giftedness.
The Mamba Fury is a typical Kobe shoe which is stripped down and fast.  We've had great results in the past with Nike Kobe shoes offering great support for fallen arches, so we have no reason to expect otherwise from this shoe.
Its low-profile responsiveness and aggressive traction are hallmarks of Kobe's shoes. The low-cut collar allows players the freedom to cut hard while maintaining speed.
Ready Responsiveness Nike Zoom Air cushioning under the ball of your foot helps deliver a burst of responsive energy generated by your own force.
Secure, Stable Fit The laces feed through webbing loops to help the shoe fit securely and keep you stable over the midsole. Lightweight Agility Low-top design is sleek and lightweight, providing support without sacrificing agility.
A Kobe sheath logo is featured on the tongue, back of the heel and outsole.
A snakeskin-inspired traction pattern helps keep you in control.
Pros:
Light and responsive
Soft cushioning makes it easier to absorb shock
Groves on the foam compliments agility.
Cons:
Not for players looking for ankle support
Runs small
High priced
---
One may notice right away that these Kevin Durant basketball shoes have an awfully long tongue that is attached to the shoe. Fortunately, there is much more to this shoe.
This shoe, in particular, is good for people with flat feet because of the sole's design; very straight and flat.
The rubber sole contains a clear Zoom Air unit that is used for Nike's responsive cushioning. This will keep your feet comfortable on the court and free of any distractions that may occur due to flat feet.
The mid-foot cage in this shoe will be able to support the middle of the foot where the arch should be, so this basketball shoe should definitely be in consideration when out shopping for the right fit.
The Flyknit material used in the Nike KD 12 basketball sneakers will keep you as light as a feather and is helpful for a flat foot because it is able to shape your foot comfortably rather than feeling compacted.
The only downside when it comes to size is that the attached tongue makes it more difficult to initially put the shoe on your foot.
The opening isn't big enough for everyone to easily put his or her foot through, so this should be something to consider when looking at the KD 12s.
Pros:
Made of the durable Flyknit material
Responsive cushioning and mid-foot cage will be able to support feet where the arches should be
Snug fit will help you feel light and comfortable on the floor
Cons:
Lack of ankle support
Small opening to put foot through
Takes longer than usual to break in
---
The Nike Air Force Max CB basketball sneakers take on an old-school look with features that can help you dominate on the court. One characteristic of this shoe that stands out is the Full-length Nike Air unit.
This unit makes the shoe feel lightweight due to the soft cushioning and protects the bottom of the foot from the impact caused by running up and down the basketball court.
If you suffer from flat feet, this shoe will help you give it your all on the basketball court without the discomfort of your feet.  Nike boasts that the insole delivers an especially "supportive construction" and this extends to the arch of the foot.
In case you're wondering about the "CB" part of the name, it refers to Sixers NBA legend Charles Barkley who retired in the year 2000.
The Nike Air Command Force basketball sneakers will not only help you on the court, but they can be used as your everyday shoe thanks to their unique 90's style.
They are meant to be a modern version of the 1991 classics, so be aware that you technically are purchasing a shoe made in today's world rather than a shoe made in the early 90's.
Pros:
Offers some ankle support
Lightweight cushioning will keep your foot comfortable
Supportive construction for the arches
Cons:
Some buyers feel these sneakers are "too 90s"
Runs small
---
Donovan Mitchell's determination to succeed helped him light the league on fire as a rookie. His first signature shoes are tricked out with spiderweb graphics on the upper, inspired by Mitchell's spider-like stealth and dexterity on the hardwood.
Cushioning in the midsole and a rubber outsole help you comfortably cut and move, while arch support is adequate.
Standing for "Determination Over Negativity," the low-top D.O.N. looks to borrow Bounce cushioning and design lines from the Pro Bounce and Harden shoes. 
The DON shoe is meant to be whimsical and fun (super-hero-themed) while performing very well 0n the court.
Pros:
Extremely lightweight
Synthetic mesh is soft and comfortable
Lots of attention to visual appeal and detail with Spiderman accented details
Cons:
Too narrow for wide feet/struggle to get your foot inside
---
The Kyrie basketball sneakers are one of the more versatile shoes currently on the market. Based on the material alone, this shoe will give your feet more freedom to move around comfortably.
First off, the sole is made with responsive cushioning that will enhance your running on the basketball court.
The mesh upper of the Kyrie shoes contain molded channels that give you room to move around without the worry of stiffness or damage to your shoes.
The Hyperfuse material used in these shoes enhances breathability and durability; two significant factors when measuring the comfort and life of your shoes.
Another great feature of the Nike Kyrie Flytrap 2 sneakers is the fit. The mid-foot straps on this sneaker will keep the foot stable inside the shoe, which makes the fit of the Kyrie's feel a lot more authentic.
As far as the value is concerned, this shoe is priced about average for a basketball sneaker.
It isn't overly expensive to the point where you feel like you aren't getting your money's worth, and it isn't extremely cheap, which would make you feel like you didn't purchase a long-lasting, quality product.
Pros:
Snug fit
Superior durability and breathability
Lightweight
Cons:
Narrow fit
Long break-in time
Average ankle support
---
There are newer versions of the Soldier 10 (see them HERE) but we know this one works for helping flat feet.  That said, I bet the 13's are as good or better. 
Lebron James' Soldier 10 sneakers display some of the best qualities a basketball sneaker can have, especially for people with flat feet.
The Nike LeBron Soldiers are probably one of the most secure sneakers out there because they contain 2-3 straps (on the ankle, midfoot, and forefoot) that help the shoe stay on tightly and with support whenever you are making cuts or jumps on the court.
The ankle strap, in particular, is lighter compared to the other two straps so that you can have natural mobility in your ankle area. This way, you won't feel hindered by a shoe that offers too much security.
The forefoot and heel of the shoe have Zoom Air units that can be useful for aching feet. They will help absorb impact your feet receive when coming down from a high jump.
In other words, whenever you come down from a layup or a rebound, your feet won't be hurting afterward due to the hardwood surface. This will definitely enhance your comfort as someone with flat feet, and wouldn't hurt your performance overall.
The odds are unlikely that your feet will be hurting after landing from a jump or from running throughout the entirety of the game.
Being arguably the best basketball player in the world, I'm not very surprised at the price range for this shoe.
While it is more than likely that you will spend more on Air Jordan sneakers, these basketball shoes are on the high end of the price scale. Is they worth it?
Based on of the features that the LeBron Soldier 10 has to offer, I would say that this shoe is a top contender for a flat-footed basketball player looking to get out on the court and feel on top of their game.
Pros:
Three shoe straps offer ultimate security
Zoom Air units provide responsive cushioning
Impressive traction
 Cons:
Hard to break in
Been reported by a handful of users that the colors bleed
Narrow fit
---
Stephen Curry's newest shoe produced by Under Armour tops the list of primarily Nike sneakers. The UA Curry 3's are great for players with flat feet because of the soft cushioned, flat sole that will help you navigate throughout the court all game.
One of the more impressive parts of the shoe that makes it best for people with flat feet is the meta-wing carbon fiber shank that provides locked-in stability of the foot.
No matter how fast you move on the basketball court, your feet will be comfortable and stable at all times. The wide sole will fit flat feet perfectly since the lack of arch tend to make the feet seem wider.
Pros:
Sole is flat and durable
Solid ankle support
Lightweight
Cons:
---
Honorable Mention
Okay, full disclosure;  Admittedly, I didn't try these out personally, but I had to throw this pair into the mix because of the great online feedback from older versions of the CP3 pertaining to the arch support issue … plus, they look kinda cool!
---
Conclusion
---
Having flat feet can make life dreadful when you want to excel at basketball. The proper foot attire will keep you comfortable and ready to play your best on the basketball court.
Basketball shoes that have a flat, soft, and durable sole with lightweight mesh material will meet the needs of those with flat feet. So far, there are at least three or four basketball sneakers that legitimately meet these standards.
The third generation of Stephen Curry's Under Armour sneaker is definitely a high-quality choice if you want basketball shoes that will provide enough traction and comfort to play at a fast pace with flat feet.
The Curry 3 sneakers will offer top of the line foot stability and a sole that can absorb a large amount of impact. The Nike LeBron Soldier 10 sneakers are a close second that have enough features to easily accommodate flat feet.
With three shoe or foot straps providing security, Zoom Air units that absorb impact, and durable material, these sneakers from LeBron James rank pretty much towards the top of the list for flat-footed players.
On the other hand, if you're looking for a basketball shoe with good quality and style to wear while hangin' with your friends, you may want to consider options like the Nike Air Force One and the Air Jordans on this list.
Flat feet can be a nuisance and even cause recurring injuries if you don't find the best footwear for you.
Stick to something that has comfortable soles with the ability to absorb impact, something with stability, and something in your price range, and you will be ready to take the court by storm!
I NEED OPTIONS!
I'm glad you yelled for more options because it just so happens, I have some!  A great alternative option that would serve you as well or potentially even better than a specific basketball shoe might be a high-quality athletic, arched insole. 
This is the option I chose for my son who is a pronounced pronator!  He now performs much better at all sports, and we didn't even have to choose a specific shoe. 
We just swapped out the factory insoles for the better quality orthotics for sports!  I like this option people!  Check out this great insole option to start your research!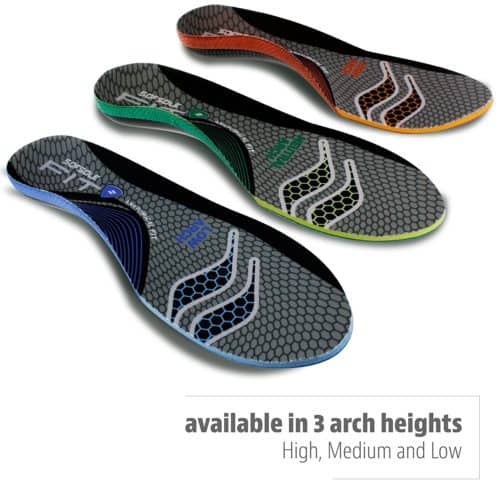 Extra! Extra!
There are lots of theories about what is the best therapy for flat feet.  Some "experts" say that orthotic arch insoles help train the shape of your foot to correct its deficiencies. 
Others say exactly the opposite – that walking or running barefoot will stimulate the muscles that tone and build the arch system.  Please do your research online and weigh your options. 
One Last Thing!
I'm guessing you're reading this article because you're looking to up your ball game!  I have lots of experience with basketball having played college basketball in Iowa (EBC) and spent much of my life developing skills. 
After much research, I've come across a training system that I think quite highly of.  It is definitely worth the money if you'd like to gain an advantage over a competitor to the extent that you would not be able to without the course. 
If you'd like to check it out, there's a banner near the top of this post, and you can also click this link to find out more!  Happy Balling!
---