Basketball shorts are one of the most versatile forms of clothing in the world.  Basketball shorts are great for a number of activities and are also great for lounging around in. 
Basketball shorts are obviously mostly connected to the sport of basketball, but they are also used in a variety of other activities. 
They are commonly seen in gyms being worn by people who are working out and by those that are working outside.  They are also worn by people who just want to be comfortable around the house as they work and/or sit. 
They're great in the summertime, too, especially for those that don't want to show off their white thighs or their chicken legs!  No matter the reason, basketball shorts are a great accessory to have around. 
This buying guide will help you determine what you need to look for in a pair of basketball shorts.  There is a lot more than meets the eye, so you have to be careful when selecting which one best fits your needs. 
We will then look at the ten basketball shorts of 2019!
---
Basketball Shorts Buying Guide
---
Materials
The materials that are used in basketball shorts can make a world of difference in how you feel and move.  The materials also determine how much, or how little, air flow you receive. 
This can be and will be a big deal as some gyms are simply heated differently than others.  We've all been to gyms that are super warm, and that is the absolute worst. 
It may not help much, but the right pair of shorts can certainly help you stay sane.  It always seems like you make more bad plays when you are too hot.  The opposite could be true, too, though. 
You may want a warmer pair of shorts for use in cold gyms.  This isn't typically a big problem, though, because if you play at anywhere near a high intensity you'll warm up fairly quickly. 
At any rate, let's look at the materials and see how they make you feel.
Cotton
Cotton is a popular option in just about any all clothing in the world.  Cotton has its advantages and disadvantages, just like anything else you'll see.  The great thing that cotton is going to offer is going to be its comfort. 
It is hard to match cotton in this regard.  They are also quite good for playing in colder environments, such as a gym that hasn't been heated in quite a while. 
However, that also means that they are not going to be very good when the weather turns warm.  Playing outside in cotton is a hugely unsatisfying experience that certainly isn't encouraged. 
It won't hurt you, but you will feel like you're going to die.  It's also no fun in a warm gym full of people.  Cotton absorbs sweat, which is not a good thing. 
Its fibers are the opposite or hydrophobic, which means it will gravitate toward sweat, which will eventually weigh you down as you play longer and longer. 
As if this wouldn't make you heavy enough, cotton is already fairly heavy on its own right!  The price of cotton, though, is usually fairly cheap in comparison to other materials, so if this is a consideration, it may be your way to go.
Polyester
Another choice out there is polyester.  This is a very commonly used material that you see in most basketball shorts made today.  It is also very popular in many other forms of sports materials. 
Polyester is very good at reducing the amount of moisture.  This means that the shorts will weigh you down much less than a material like cotton would.  They allow your legs to 'breathe' this way. 
This can make all the difference in a game, whether it's very serious or just for fun.  It can also mean you feel better doing whatever you are doing. 
A lot of companies, such as Adidas for example, will call their polyester fabric by a different name.  This is just done for proprietary reasons, and it does not mean that it's a different sort of material at all. 
Polyester is a little more expensive, as it is a man-made product.  It also will not last quite as long as cotton shorts, but this is due to them not being as thick.
Hybrid Blends
Special or hybrid blends are also found as materials used to make basketball shorts.  These blends can include any number of materials such as cotton, polyester, and spandex. 
It is a combination of these three that Nike uses for its "Dri-Fit line of clothing.  The cotton is essentially included to help you out so you can wash it in the dryer. 
Whatever the combination of materials is, the primary goal of the hybrid blends is to almost always to keep moisture away.  As a result, these types of materials are typically higher priced than either polyester or cotton options. 
They also have to be examined closely on the tags and instructions so that you can take care of them properly without ruining them!
The fourth and final option that we will mention is mesh.  Mesh is an option you can choose because it is a cheaper price point option, like cotton, but it differs because it is more breathable than its cotton counterparts are. 
They allow air to flow underneath garments much better than cotton would, but they are still no match for polyester or specially blended materials.  This is because 100% mesh does not wick moisture away. 
It simply allows you better airflow.  This is a popular option for basketball because of its low price.
Reversible Shorts
It was difficult trying to find a place to include this, so we've just put it here by itself.  Reversible shorts are a great option for all sorts of recreational play. 
Whether it is a league or for pickup, they can be great because you can easily switch teams.  Reversible shorts are found in all sorts of different materials, but you can usually find them for pretty cheap. 
You can even find really good shorts that have moisture-wicking properties that will allow you to reverse them.  If this is something you need, then you don't have to settle for an inexpensive pair if you don't want to!
The Right Fit
Finding the right fit for basketball shorts can be very important.  It's a big deal because you want to look good and feel good as well. 
It'll do you no good to look like a doofus on the court so that your friends, teammates, or rivals will make fun of you.  Yet, it's also about being a little different. 
Some people, like Larry Bird and John Stockton from years gone by, were still great basketball players that saw their greatness transcend whatever dorky look people might have perceived them to have.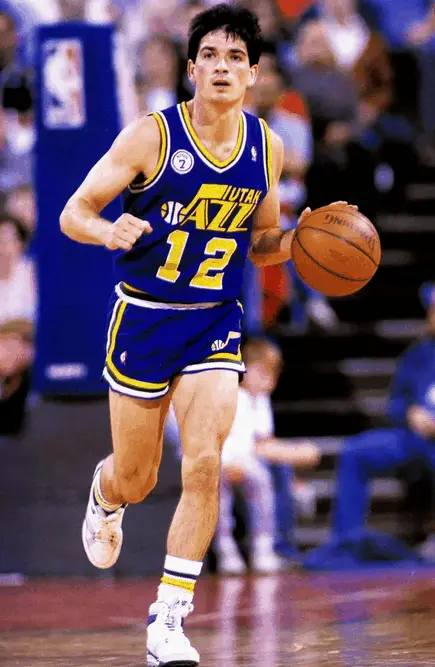 Here is a general sizing run down to help you out.
Small: 28-30 inches
Medium: 32-35 inches
Large: 36-38 inches
Extra Large: 40-42 inches
Extra Extra Large: 44-46 inches
If you find that your size's waist size doesn't correspond to the length that you want, you do have an alternative to choose from.
Because most basketball shorts have drawstrings for you to tie together, you should easily be able to go up a size or maybe two.  Just don't overdo it, as you could end up looking like a rodeo clown or trip over yourself.
Basketball shorts should fit you well.  They can be a little baggy, but they shouldn't be so baggy that they are difficult to keep up or look like they would be difficult to keep up.  Also, remember they are shorts. 
They are not shants (short pants) or ¾ pants or capris.  Those will also make you the target of jokes and laughs!  Swinging too far away from the short look can also be bad, or get you into trouble if you are playing in a league. 
So just know the rules and use common sense in choosing a pair that will suit your needs best!
---
Best Basketball Shorts Reviews
---
Point 3 is arguably the best pair of shorts available on the market today.  That's why it made #1 on our list for this year!  More is said about this pair than any other single pair of shorts online.  Why? 
Well, let's see where I can start! 
Firstly, they have a unique offering not available in any other companies shorts, and that is an unusual material built into the shorts that allow a player to wipe his/her hands off during the game to minimize dirt from wiping shoe soles
(to maintain good traction – trust me, I did this all the time during my college ball years!), or to get rid of extra sweat on your palms before you handle the ball. 
In addition to that, they are extremely light and have little extras that "up" the game like exposed silicone beading on the inside of the waistband to keep them tight around your waist.  You can see the full line of features HERE.
Pros
Hand drying technology is a unique addition
Lightweight adds to the overall appeal
Allows for exceptionally unrestricted movement due to careful design features in the crotch and elsewhere
Cons
Pricey
Contains pockets which are highly unnecessary for competitive basketball apparel
---
Coming in a multitude of colors is a fashionable yet refined look from Under Armour. 
The Raid Shorts are great for getting rid of moisture as it has a four-way system that allows you to move easier and have your sweat wicked while drying quickly.
They are 90% polyester and 10% elastane, which is essentially spandex.  They have a loose fit, yet they are laced with heatgear technology to help you be all-around more comfortable. 
These have pockets in them, which aren't always a given with basketball shorts, and they are made from mesh.  They are quite an expensive price, but you get what you pay for … sometimes!
Pros
Dries sweat quickly
Very comfortable
More features than can be mentioned!
Cons
Price is quite high
No built-in liner for those wanting that
---
Also coming in a variety of colors, though not as limitless as the #1 option, is the Champion option here at #2.  These shorts, as the title indicates, are mesh. But they aren't 100% mesh like you would assume. 
After some investigation, it is apparent that they are only mesh on the very outside to give it the bubble-like look and texture. On the inside, it is 100% polyester, which will breathe much better than the mesh would have allowed you to. 
These also have pockets as well as a drawcord that you can adjust on the fly, and they come at a very low price, which has made them quite popular.
Pros
Very good price
Mesh gives it that look and feel that reminds you of basketball as a kid
Very comfortable
Cons
The pockets are very deep, which means whatever is in there will move around a lot
Depending on the color, these can be see through- not a great thing to encounter
---
Not sure who or what determines the name, but the Mo' Money shorts moniker actually makes a little bit of sense as they are in the moderate to high price range, depending on the size and color. 
These shorts have quite a few options of colors to choose from, each with a two-tone design with the Under Armour symbol on the left side of the shorts. 
They are 100% polyester, but they have mesh pockets as well as mesh paneling to help increase ventilation.  The waistband is elastic, and it also has a drawcord.
Pros
Great comfort
Way more breathable than most
Very cool looks
Cons
Higher price than a lot of store pairs of shorts
Sizing appears to run a little small
---
These are your more traditional basketball shorts that we all know and love.  These shorts have no pockets because they are designed for actual in-game play only. 
So, this would be great for a recreational league of some sort, but not as much if you are looking for versatility.  They are 100% polyester, which is becoming the norm in basketball as it is breathable and comfortable to wear. 
They only offer two colors, but the contrasting colors look great.  The price is also exceptionally inexpensive, so it could be a very good option for bulk buying.
Pros
Very low price
Traditional basketball look and feel
Colors look great paired together
Cons
No pockets if you need them
Has an inner lining that some people do not like
---
Coming in around ten different color options and a moderate price level are the "Essential" basketball shorts from Adidas.  These shorts look great with Adidas' classic three-striped look, and most of them aren't just white. 
So you can match them to school colors if desired.  They are made of 100% polyester, have a drawstring to help you adjust if needed, and they are very comfortable and breathable. 
They also have two full pockets for those that needed them!
Pros
Has pockets
More of a versatile short than just basketball
Great designs from Adidas
Cons
Can be see-through
They can run a little small and/or short
---
This offering by Champion has just three colors to choose from and is in also in the very low price range. 
These shorts, like most basketball shorts, are 100% polyester all the way around, so these do not have the look that the mesh ones had earlier. 
Like the earlier Champion model, these have an elastic waistband with a drawstring and they have pockets for storage.
Pros
Has pockets
Great for people that have a hard time finding a good fit
Very good price
Cons
Pockets seem to be open at the bottom
Can run small if you're on the edges of the sizing chart
Limited available sizes
---
The Adidas 3G Speed shorts are built for speed and have a number of designs that look great with the three stripes look.  The front of the shorts have pockets that have zippers to help keep your stuff inside.
They are small pockets, but at least you won't be losing things.  Unlike most of the other pairs on the list, this pair is not made from polyester.  Instead, it is made from nylon. 
These are a decent option for the low to moderate price range.
Pros
Decent price
Zippers to help keep things in place
Nylon makes these weigh less
Cons
Appears to run too large, even for basketball shorts
The latest iPhone will not fit in the pockets
---
Here is a pair of shorts that are great for the younger players. These Nike's are truly meant to make you feel elite because they look exactly like what some high schools and colleges would be wearing. 
They are 100% Dri-Fit polyester with some mesh to help breathability, they have the inner drawcord as per usual, and they have many colors to choose from.  The prices can get to be a little high, but they are Nikes!
Pros
Dri-Fit keeps you dry on the hottest of days
Looks like your traditional basketball shorts
Great for kids/smaller teens
Cons
Price can be high
Not for adults or bigger kids
---
Made from Dri-Fit and polyester with quite a few colors and designs is a moderate to high-ranging (in price) pair of shorts from Nike. 
The HBR is very comfortable and will keep you dry, and they also have pockets despite looking like an on-court only type of short.  They have a drawstring in case you have any issues with fit as well.
Pros
Comfortable
Keep you dry
Has pockets despite their great looks
Cons
Run a little small
Waistband can be too tight
---
Additional Background Information
The history of basketball shorts goes back a long way.  It was first created by a man named James Naismith for a Physical Education class.  Little did he know that the game would catch on and be a world phenomenon one day. 
When it first began, it was a sport played much different than it is now.  This was also the case with the clothing.  Basketball is unique as the shirts are almost always sleeveless. 
This no doubt made many of us smaller guys and girls a little bit intimidated.  Also included in the uniform are the shorts.
For a long time, basketball shorts were always the same.  They were SHORT.  We are talking really short.  Like you can barely get your fingertips to the bottoms of the shorts SHORT. 
This was not the trend with just women.  It was the case with full-grown men.  The sight was sometimes unseemly.  The shorts were usually also pretty tight, much like running shorts would be today, but without the comfort of them. 
Basketball shorts were just traditionally short.
That all began to change in the 1980s as players looked to be more stylish and more comfortable.  This carried over to just about all players of the game, and it's presently difficult to find anyone that doesn't wear long and baggy shorts. 
These shorts are great because they allow much more air in and they are more comfortable and will chafe less than shorter shorts. There are occasionally players that buck the trend, however. 
Larry Bird and John Stockton are two of the proponents of the classic look.  Michael Jordan, on the other hand, is seen as one of the innovators of the long shorts style.  But many argue over who started the trend.
There is a debate over whether this whole thing is simply down to fashion or not.  Many people simply believe it is due to the fact that the "cool kids" don't want to be seen wearing "old white guy shorts." 
But honestly, there is a functionality to basketball shorts that shouldn't be overlooked.  We'll discuss that further in the "materials" section.
This is all said to let you know that there are a lot of different things that can be labeled as basketball shorts that are out there on the market.  So, you can see shorter ones out there. 
And you might want to consider that if you want to have a different style or don't like the feel of long shorts!  Don't go around sagging when you simply don't have to do so. 
Get a pair of shorts that are longer and that cover more of your body, so that you don't have to be a distraction or embarrassment on the court.
---