Like many types of shoes, basketball shoes have models and designs that are meant to be worn by players with wider feet than average.  Our team of researchers (there are only 3 of us for now) will keep you updated on what shoes are the best options for basketball players with wide feet, and we even get a chance to wear test some of them for an even more in-depth review.
Some of the best basketball shoes you can expect for wider feet this season are the adidas Performance Men's Cloudfoam Ilation, adidas Men's Ownthegame and Nike Men's Lebron 17's. 
---
Finding a comfortable, proper-fitting wide basketball shoe when you have wide feet can be quite the ordeal. Sometimes it might seem that those wide-footed people are living in a narrow-fitted world.
And if finding a solid pair of shoes to play basketball in (not to mention somewhat stylish) was not the worst of your problems, there are also the issues of finding shoes with proper arch support to help correct some of the problems brought about by having wide, flat feet.
Let us help you find the best basketball shoes for wide feet!
But thankfully basketball is a sport where a number of players have rather large feet, so this issue is not the most detrimental.
Compared to finding a good fit in other types of sports shoes, finding just the right basketball shoes for wide feet is very easy. 
However, it does require a little bit of prior knowledge and understanding of what exactly to look for. With the help of this list, you no longer need to be cursing your parents for giving you those wide feet.
What Basketball Shoes are made for Wide Feet? 
When looking for a shoe that will fit well for wide feet, it is important to first locate the material of each shoe. The more forgiving that the material is, the more that the basketball shoes for wide feet will be flexible and able to wrap around a wide foot.
If the shoe is hard, then there will be little give in the foot area of the shoe. Finding a shoe that is flexible is much easier in this day and age, than say, five years ago.
The sheer amount of knitted or woven material in these basketball shoes is ideal for the wide foot.  Synthetic leather is not the best material to choose since it does not stretch or mold well with your foot. 
Woven or knitted materials will accommodate your wide foot very nicely, BUT they may stretch a bit too much which leaves you without good support and opens you up to twisted ankle injuries!  We've tried to find the best of both worlds in our review!
Another trick would be to merely look at the outer sole of the shoe. If the material and traction pattern seems larger or stretches on for longer than the average basketball shoe, then that means the actual meat of the shoe will cater to the wider foot.
Finally, this list will rank these shoes according to the overall quality of the shoe. If you were searching for just a shoe that will fit comfortably, then you might not have the best shoe for the court.
Those with wide feet tend to have flat feet, meaning that arch support is ideal in a shoe. Also, traction, ankle support, style, price, and weight should be taken into account when purchasing one of these pairs of shoes.
Solely having wide feet does not mean you should be held back when it comes to on-court performance. So, here is the list:
---
Reviews of Our Best Basketball Shoes for Wide Feet 
---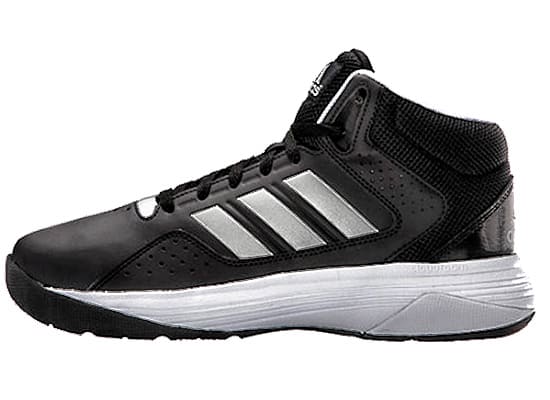 At the top of our list of best basketball shoes for wide feet is the Adidas Cloudfoam Ilation.  
The Men's Cloudfoam Ilation has some excellent features, but it's not without its drawbacks either.  I'll get into that in a bit, but for now, let's look at the good stuff! 
The Good
If you have wider than "average" feet, you'll almost undoubtedly be thrilled with these shoes.  From nearly every 5-star review it seems they're not only wide, but exceptionally comfortable. 
They're lighter than average for their size and the cushioning is better than many higher-priced shoes.  The herringbone traction is quite good for a budget shoe and it does come with a mesh ankle collar for ventilation. 
Also, the price is unquestionably attractive, but that's also a sign that there may be some issues that make this not quite the "perfect shoe".
The Bad
With a really good price like this shoe sports, you know you're in for some criticism right?  Well, here it is:  These shoes are not the most durable in the world and the outsole, as well as the main material or shell, has been known to lose integrity. 
The sole can peel from the main shoe body, while some of the stitching has been known to rip on this model.  The write up on Amazon says these have a leather upper, but our research tells us that's not true. 
The outer shell is a synthetic composite cover and it's not terribly flexible at that.  
Overall
This is a wonderful option if you fit the following profile;  You're a basketball player, but you don't play every day.  You play maybe once a week or even less. 
You may also be someone who stands a lot during the day at work, etc. You happen to not want to spend an arm and a leg on a pair of signature basketball shoes for wide feet, and of course you have wider-than-average feet. 
You understand that if you use them for basketball every week, you may be replacing them in 1-2 seasons (maybe, or maybe they'll last indefinitely).   If that's you, then these are your shoes!!
---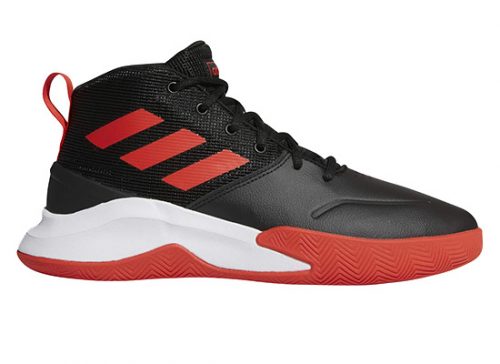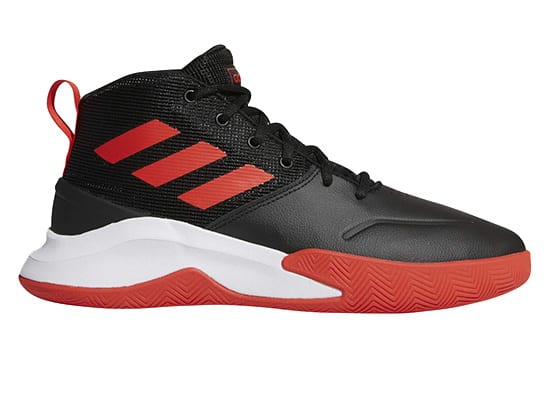 It looks like Adidas has gone to some deliberate effort to make shoes with a softer insole and outsole to help cushion a heavier weight while at the same time accommodating a wider foot. 
The OwnTheGame model is not unlike the first Adidas on our list (the Cloudfoam Ilation) and it offers similar features.  Let's see what they are.
The Good
The wide basketball shoe is lighter than you might think by looking at it and has enough features to justify its $60-ish price tag.  The OwnTheGame has:
A mid-top design to maximize support while minimizing unnecessary weight
Synthetic mesh weave upper with imitation leather composite for a pretty decent lockdown and lateral support qualities
Traditional lace design so you don't have to re-learn a new way of securing your shoes
Pull tab to aid in putting the shoe on
Cloudfoam footbed with ortho qualities to maximize freshness and hygiene
Lighter than expected
Just the right amount of flex
Adiwear outsole
Budget-friendly
The Bad
As expected, because it is not a premium signature shoe, the low price point betrays a lower construction quality.  Don't expect premium performance, support and durability
Feels cheap and performs a bit less than a premium wide basketball shoe
Overall
Much like the Cloudfoam Ilation, wide basketball shoes are an excellent budget-oriented shoe. 
The midsole padding and adequate support features make this nearly identical to the Illations and offer just another alternative that some players may find more comfortable and durable.
---
The Nike Zoom Devosion makes our list because it's made by, well, NIKE!  …and it's built more like a premium shoe rather than a budget shoe.   
It's a nice looking basketball shoe for wide feet with lots of aesthetic features like accented trim or piping (more visible on some shoes than others), visually appealing swoosh along the top/toe area and a breathable mesh upper with a decent amount of lateral support and protection. 
These shoes run true to size and are built a little more substantially than some knit ball shoes.  With that tougher build comes a very average price tag, so these are not only a good price, but a great value.
Users reported an average of 4.5 out of 5 stars on Amazon, and they especially liked the good lateral support while not being as restrictive to a slightly wider foot. 
In addition to all that, the Devosion has excellent ankle support!  What more can you ask :)?
It looks like our opinion on this shoe's performance is shared by a lot of satisfied users around the world.  You can start your search for user reviews (other than ours) at Amazon!
The Good
Recognizable brand
Well built and far more durable (for longevity) than some of our other recommendations
Aesthetically engineered for visual appeal
True to size
Great ankle support
Good lateral support while allowing for wider foot
The Bad
A bit heavier than the #1 and #2 options on our list
Not a huge variety of sizes left
Overall
If you appreciate good looks and have an average budget these may be for you.  They'll definitely last longer than our first 2 recommendations, and if a bit more weight doesn't bother you, these may be the ones!
---
The Lebron 17 offers the biggest heel max air unit so that's a plus if you're a big player (who probably has wider-than-regular feet!).  The heel has a stabilizing clip to keep your rear foot stable and secure. 
It features a wide collar and traditional tongue which allow a bigger/wider foot to slip in and out of the shoe more easily.
The sole features an aggressive diamond pattern which is fine on hardwood as long as you wipe it with your hand every few trips down the court.  It's not our first choice for indoor hardwood competitive play, but it'll do the job.
The Lebron 17's work well for a slightly wider foot since there is no aggressive support (ie. plastic trim) on the outside of the forefoot on either side.  Stability is adequate, but the lack of a plastic stabilizing strip allows for a comfortable fit for a wider foot.
The ankle support is quite good given the overall weight of the shoe.  Usually, good support comes at the expense of a heavier weight, but this shoe has both great support and low weight!  Good job Nike!
The Good
Unparalleled ventilation
Reasonable traction
Good support – especially considering the low weight.    
The Bad
Less protection and support for lateral movements on forefoot (but that allows for a comfortable fit for a wider foot as well)
Not very durable along the top and sides of the forefoot (no added protective features like composite or plastic insets or fuse overlays)
Expensive … ish!
Overall 
If you're looking for a wide-foot-friendly model that is extremely breathable and lightweight, the LeBron Zoom Witness is probably right on the money for you!
---
The Dame 3's from Adidas are stepping up our options in price a bit (that's part of the reason it's not #1 on our list) and it fits the profile of a "budget" shoe which is also a signature shoe of Damian Lillard.
Going upwards of $100, we can see that the features and qualities of this shoe reflect the higher price.  Let's see some details;
The traction is a multi-direction bladed pattern which is definitely not common, but oh so adequate! The seamless mesh shell of the shoe sturdy yet stretchable in places where it needs to be! 
There's a soft textile lining and the whole shoe is sensationally breathable (at least compared to last year's version of the D Lillard).  There's a midfoot overlay that offers very good lateral support while at the same time offering multiple lacing options. 
We're not sure if the multiple lacing options are really a great idea or just a gimmick, but we'll go with the first option for now!
We like the Bounce cushioning system found in this shoe better than the Boost, and it all comes at a non-premium price!
The Good
Well-priced for value
Unique mid-foot overlay for both lateral support and multiple lacing options
Very comfortable "bootie-style" ankle collar
The Bad
Twice the price of some of our top recommendations on this list
May have features that are more gimmicky than functional
Wide foot hole in the collar needs an aggressive lockdown to keep foot secure
If your foot is too wide, the mid-foot collar may be uncomfortable and may be a deal-breaker
Overall
In spite of the "bad" features, we like the shoe a lot more than we dislike it.  It has the looks and performance we appreciate without sacrificing anything REALLY important.  The price is twice what you could pay for a wide shoe, but it's also about half of what you could pay as well!  Figure that one out!
---
The jury is out on whether we like the look of this shoe, but it makes our list for a few reasons.  We like the classic 100% leather, though it may not be the #1 choice for some. 
Leather definitely adds weight, but it also conforms to your foot better than synthetics, and if your foot is wide, that's EXACTLY what you want! 
We like the 5 very different color options for the Tai Chi Lx, and though leather is a tad bit less breathable, the mesh tongue promotes air flow.  The EVA footbed gives you enough cushion to not have to worry about impact injury as well.
A very high average rating on Amazon helped in our decision to include these on our list, but it's not 100% clear if they run true to size or a half size smaller (which means if you're a size 11, you should order 11.5). 
Either way, the return policy is excellent and you can usually have them within a day or two and you'll surely figure out the sizing.
The white colorway has graffiti-oriented images and if I had a choice, I'd get the black or grey models that not only don't have any print images, but they also have added mesh in addition to the nubuck leather in the upper rather than 100% leather.
The Good
Very cool retro  old school look (if you like that)
Will expand (be malleable enough) for wide feet since they are either all or mostly leather uppers (depending on the colorway)
Good Price
The Bad
Not so great cushioning system
Might be too bulky for some
Overall
If you like And 1 shoes (and a heck of a lot of people do) and you appreciate old school looks in a modern shoe with leather/nubuck/mesh and great conformability to your foot (that wide foot of yours), this may be the shoe for you. 
One of the HUGE things we like about this shoe is that unlike a lot of models on Amazon, there are still a lot of sizes in most of the colorways still available so you won't be disappointed that your size/color is unavailable.
---
The Air Force 1's have such a storied and incredible history, that it's almost "wrong" to talk about the composition of the outsole and stitching patterns.  That would trivialize this iconic shoe which stands for much more than basketball. 
The Air Force 1 was released in 1982 for the first time and it was named after the U.S. president's aircraft.  It was the first shoe to include the revolutionary Nike "AIR" technology. 
The original design was inspired by a hiking boot.  Since that time, it has become …. ready for it??… the BEST SELLING athletic shoe in the HISTORY OF THE WORLD – EVER ….PERIOD! 
I'd say that says a lot – especially since it doesn't have Michael Jordan's name attached to it!
Today (and for the past 25 years) this shoe has been used as a symbol for fashion, culture, the vibe of a city and other things that have nothing to do with basketball. 
In fact, there have been so many updates and versions of this shoe that it even branched out into formal wear.  It became a brown, polished leather $2000 shoe in one of its versions along its evolutionary lifespan.
This version is made of leather and synthetic compounds.  It features the classic adjustable ankle strap and its high cut collar provides a great, snug fit around your ankles. 
It's no slouch on the court either since it was actually designed for basketball with NBA greats like Jamaal Wilkes of the Lakers and Moses Malone of the 76ers.  It was also worn by Kobe Bryant in 2002.
The Good
Stands above the rest of the Sneaker crowd as the best selling sports shoe in history
Sturdy build with good overall support for foot and ankle
Reasonable price at around $125-$130
Can be purchased to wear for casual or fashion or to make a statement
Sturdy leather construction
The Bad
No new Tech in many, many years
Overall
If you like fashion, function, classic and historical icons of pop culture and actual practical function, then you'll never get all those things in any other shoe (though maybe a version of Air Jordans for wide feet at some point) so you may want to snag one of these while you can!
---
Akin to the player that this is named after, the Adidas D Rose 773 IV is an altogether good shoe (although I'm not sure whether these will be the cause of numerous injuries).
It is versatile and lightweight, comes with good traction and is aesthetically pleasing in a sort of crazy way. Let's break it down!
The traction is unique in that it consists of segmented chunks of herringbone patterns on an otherwise treadless shoe bottom.  However, the herringbone that does exist in each little segment is extremely soft and that offers an unparalleled grip on the hardwood.  
The cushion is Adidas Bounce – which we really like even though we think it's a bad name.  You see, you don't actually BOUNCE in them.  Bounce just offers a wonderful impact cushion – not actual bouncy-ness.  Energy return is Bounce's claim to fame.
It features an injected TPU upper for great stability.  There are 2 layers of netting/screen/mesh for adequate but not super great ventilation. 
The material is forgiving and thus, it can accommodate a wider foot.  The D Rose 773 IV is crazy durable since it is made out of a durable mesh as well as synthetic leather (TPU injected) and it's all seamless in its construction.
The Good
Stellar Traction
Bounce Cushion Impact Resistance and Energy Return
Sturdy Build for durability over time
Can definitely be worn for casual/fashion out on the town
The Bad
Not super ventilation (just good)
Kind of big and bulky for a basketball shoe (by today's standards)
Overall
If you're a bigger player (large forward or center) who just wants good cushioning and durability, this shoe fits the bill.  If you're a quick forward who wants to "feel" the court and have responsive and well-ventilated shoes, this may not be your choice for a new pair!
---
We couldn't help but add in these shoes which are not the newest D Rose model on the market (hit the market in 2015), but received way too much positive feedback for being wide-foot friendly! 
From excellent heel support to lightweight and good ankle support, these shoes (almost) have it all!  And remember, get the primeknit version rather than synthetic leather, so they'll hug your wide foot better. 
The only drawback (which may be almost undetectable) is the fact that the D Rose 6 has such excellent cushioning, that some players have noted that it's not quite as responsive on the court as less cushioned models. 
Remember, the more cushioning, the less "court feel" you'll have since there's a layer of pliable material that compresses and shifts, between your foot and the actual hardwood. 
Otherwise, the great price point and glowing reviews should get you excited about this option!
The Good
Great Cushioning
Great Price
Very Wide-Foot Friendly with non-rigid Primeknit material for easy foot expansion on the sides
The Bad
Less than perfect lateral support because of forgiving Primeknit
Cushion is not responsive for a "court feel"
Overall
This shoe represents one of the better "values" on our list.  It's way under $100 and offers great impact protection (landing and jarring) and is arguably the best shoe on the list for fitting and hugging a wide foot. 
As long as you're not a fussy point guard, my guess is that you'll love these shoes!
---
Here's a surprising entry into our top 10 best ball shoes for wide feet – at least for me!  These Under Armour shoes have some really strong features which made it impossible to leave them out! 
Firstly, the traction is unbeatable.  So many shoes are criticized for mediocre to poor traction given a shallow tread depth.  Not so with the Drive 4s. 
A deeper tread on the forefoot allows for grippy traction which will always outperform most other shoes (worn by your opponents) on the same surface. 
Depending on your foot size/shape, you may experience an uncomfortable break-in period, but that's not unlike many shoes costing double!  It runs true to size and has a more-than-adequate ankle support feature. 
One of our reviewers mentioned this is a great shoe for flat-footers too given the arch support! 
It features a die-cut EVA sock liner midsole which provides better than average cushioning and support, while the exposed Micro G heel unit gives even more firm cushioning. 
At this price point, I'd be more than tempted to give them a try if I had wide feet.  ALAS, I have really NARROW FEET!!!! (hey I'm not rubbing it in – in fact it's just as hard to find a good fit for me as it is for you, now get off my case!) 🙂
The Good
Insanely Good Traction
Bonus Ankle Support
Good Arch Support for Flat-Footers
Firm Cushioning (for more "court feel")
The Bad
Break-in Period may be Uncomfortable
Overall
While not the least expensive shoes on our list, they do rank among the best with traction, ankle support and arch support, not to mention "court feel". 
Most others on our list have poor court feel, little arch support and mediocre traction.  The price difference between them is not that big.  Some might even argue that the Under Armour Drive 4 should be at the top of our list and not the bottom! 
Oh, well, you made it this far didn't you?!
---
Honorable Mention
We just had to include the Air Visi Pro because of their insanely good reviews and especially the ones about how long they last!  Please feel free to dive into some in-depth reviews by owners of the Visi Pro's right HERE!
---