IMPORTANT NOTE: 
Our editor and reviewers are always checking for the latest shoe release dates and quite a few shoes are introduced to the market annually.  However, just because a shoe is the latest model to the marketplace, that does not mean it's the best one for the job.  Several of our top picks are not from the newest or latest year.  Some are models from years ago, but still get the highest marks for comfort from reviewers and buyers with wide feet!
---
Finding a comfortable, proper-fitting shoe when you have wide feet can be quite the ordeal. Sometimes it might seem that those wide-footed people are living in a narrow-fitted world. And if finding a solid pair of shoes to play basketball in (not to mention somewhat stylish) was not the worst of your problems, there are also the issues of finding shoes with proper arch support to help correct some of the problems brought about by having wide, flat feet.  Let us help you find the best basketball shoes for wide feet!
But thankfully basketball is a sport where a number of players have rather large feet, so this issue is not the most detrimental. Compared to finding a good fit in other types of sports shoes, finding just the right basketball shoes for wide feet is very easy. However, it does require a little bit of prior knowledge and understanding of what exactly to look for. With the help of this list, you no longer need to be cursing your parents for giving you those wide feet.
What to Look for When Buying Basketball Shoes for Wide Feet? 
When looking for a shoe that will fit well for wide feet, it is important to first locate the material of each shoe. The more forgiving that the material is, the more that the shoe will be flexible and able to wrap around a wide foot. If the shoe is hard, then there will be little give in the foot area of the shoe. Finding a shoe that is flexible is much easier in this day and age, than say, five years ago. The sheer amount of knitted or woven material in these basketball shoes is ideal for the wide foot.  Synthetic leather is not the best material to choose since it does not stretch or mold well with your foot.  Woven or knitted materials will accommodate your wide foot very nicely, BUT they may stretch a bit too much which leaves you without good support and opens you up to twisted ankle injuries!  We've tried to find the best of both worlds in our review!
Another trick would be to merely look at the outer sole of the shoe. If the material and traction pattern seems larger or stretches on for longer than the average basketball shoe, then that means the actual meat of the shoe will cater towards the wider foot.
Finally, this list will rank these shoes according to the overall quality of the shoe. If you were searching for just a shoe that will fit comfortably, then you might not have the best shoe for the court. Those with wide feet tend to have flat feet, meaning that arch support is ideal in a shoe. Also, traction, ankle support, style, price, and weight should be taken into account when purchasing one of these pairs of shoes. Solely having wide feet does not mean you should be held back when it comes to on-court performance. So, here is the list:
Best Basketball Shoes for Wide Feet Reviews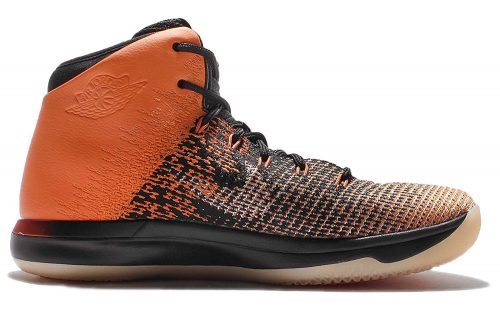 At the top of our list of best basketball shoes for wide feet is the Jordan Men's Air XXXI.  The Jordan brand as a whole tends to be some of the best for wide feet. The material and shapes that they use work well with those with wide feet. Much of this dates back to the first every Air Jordan I's, which were a shoe that was stylistically adapted for those with wide feet.
The Men's Air XXXI has some excellent features, but it's not without its drawbacks either.  The transition between the weave at the front of the shoe, to the synthetic leather on the back, is done very well, and it feels natural and exceptionally functional once you're strapped in.  It is interestingly designed with Nike's signature flyweave technology giving the actual foot portion of the shoe a flexible and comfortable feel. The inner sleeve allows for a bit of give, and the flyweave is constructive without cramping your foot into a tight space. As we move up the shoe itself, we see the flyweave turns into a leather upper that provides a good amount of ankle support for those big players who might be worrying about their ankles. But, this gives it an incredibly interesting and unique look, with the gradual transition from one material to the other. So, they still have the same old Jordan look to them, but with a high-performance twist.
The heel lockdown is also done well with the inner boot working well with the synthetic exterior to support your heel and ankle with luxury and style.  There's room for an ankle brace if you wear one!  Seriously, you "wide-footers" will love this shoe!  It has a slightly wider toe box than a typical shoe, so it's almost as though they were specifically made for a wider foot.  Hmmm….
These Air Jordans settle in pretty high on the cost chart of the shoes on this list but are slightly less than getting a pair of high quality, knitted basketball shoes. One aspect to look out for might also be the traction, which is less than ideal for a somewhat dusty or slippery floor.  Overall, these would be our recommendation for a bigger player or a wide foot.
---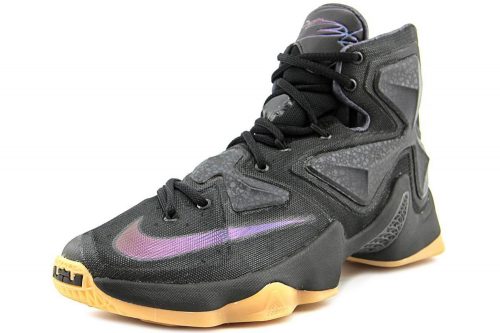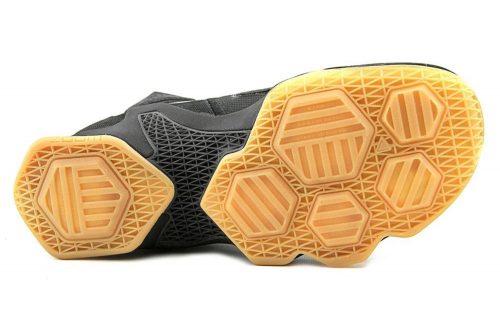 If LeBron James is going to put his name on a shoe, he'd better like it. Especially if it is as pricey and highly touted as Nike is making this shoe. Looking at his stats, he is 6'8 and 250 lbs., so even if he does not have wide feet, he is going to need a big shoe that can handle both his weight and his huge feet.
The LeBron XIII are some of the best "big man" shoes that Nike has to offer, and they are some of the most expensive big brand shoes that you can buy. The shoe is made out of a variety of different materials, started with a breathable mesh, one-piece sleeve. Then Nike added on Hyperposite material in different areas on the shoe to give it a bit more rigidity where it needs to, without cramping your foot. These are placed in the perfect areas so that you have the support that you need on the court. Finally, the LeBron XIII's are finished off with Flywire cables that give the mesh a little bit more of a structure, so that there is not too much give. But still, this is definitely the best Nike (non-Jordan) shoe that money can buy for a wide foot.  It's most certainly one of the top basketball shoes for wide feet.
---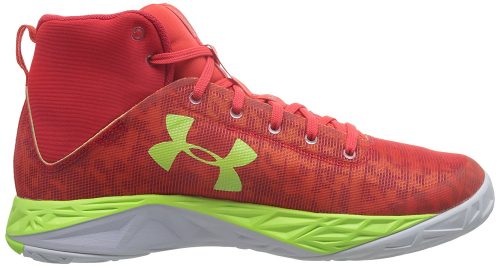 The Fireshot gets top marks from us since it tends to offer one of the best combinations of support and comfort for wide feet.  It contains UA's Mico-G technology.  Micro-G is a foam that is unique to Under Armour, and it is the sole platform for the shoe that allows for a cushioned, bouncy feel that is also responsive on the court.  It's 30% thinner than other competitors' proprietary foam technology which means less weight, and more responsiveness and "court feel" than other brands.  We think this is the best of both worlds if you're looking for both "bounce" (helps you jump higher) and quick responsiveness on the court when you stop or turn quickly (you don't want a soft, bouncy sole to let your foot slide over the edge to an ankle sprain!).
The material that the Fireshot is made out of is comfortable, soft, pliable. This is the only Under Armour shoe that is made out of this type of mesh material, and this is another plus for those with wide feet. This will allow your foot a little bit more room than in a number of other Under Armour basketball shoes.
With regards to other specs, the traction on this shoe is not fantastic, and it is not a supremely cushioned shoe. But, it is not too pricey and it is durable. The shoe will definitely last you, which is excellent seeing as it is made with such flexible material.
It looks like our opinion on this shoe's performance is shared by a lot of satisfied users around the world.  You can start your search for user reviews (other than ours) at Amazon!
---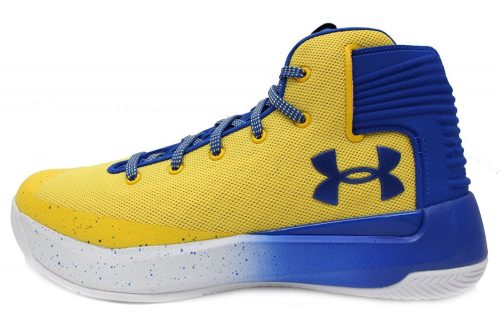 This shoe is UA's latest offering for 2017 and 2018.  So far, we have not tried this shoe personally because it's similar to previous Curry models.  We've had great experiences with UA shoes in the past, and for wide feet, UA continues to excel by offering a heel stability system so wide feet won't easily slide off of a narrow sole during lateral movements.  Here's UA's feature list for the Curry 3 Zero right from their site (notice bullet point #3);
Reinforced mesh upper for incredibly light, breathable support
Open-holed mesh tongue construction for enhanced ventilation
Adjustable heel stability system keeps the foot locked in place
Abrasion-resistant TPU toe cap protects against toe drag & increases durability
Anti-odor molded Ortholite® sockliner molds to the shape of the foot for extra underfoot comfort
Dual density midsole combines Micro G® foam with Charged Cushioning® under the heel, for the ultimate blend of soft comfort & explosive energy return
Meta-wing TPU shank provides locked-in stability through heel, arch & forefoot
Outsole features signature detailed traction pattern for maximum floor control & grip
---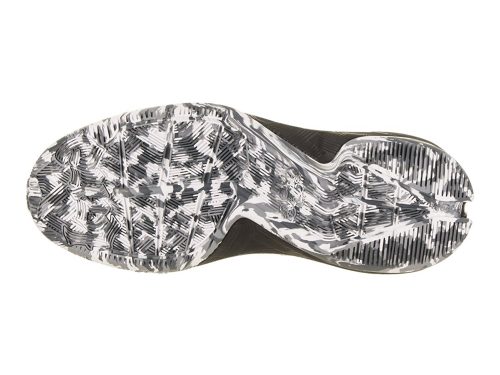 Most of the shoes on this list so far have been catered to those with wide feet that prefer a mid-cut or high-cut style. The D Lillard 2.0 is one of the lightest, low-cut shoes out in stores right now. Similar to a lot of other Adidas models, this shoe has one version made with agile synthetic leather material and one created with signature Adidas' primeknit. Both of these work well with wide feet, but as per usual, the primeknit or the woven jacquard is the safer bet with a little bit more give.  Synthetic is a bit less forgiving when it comes to molding to your foot.
As for the specs, this shoe has amazing traction, due to a tire company making the outer sole, and focusing on good rubber with plenty of traction. The cushioning is excellent, and the shoe is snug, keeping your foot contained without restricting it. The synthetic material that comes on the regular version of the D Lillard 2.0 is as soft as can be, making this shoe one of the comfiest you will try.
When it comes to the price range, these shoes are on the low end, and strangely enough, the primeknit version is even cheaper. So, if you are not too worried about ankle support or rollover potential, then this might be the shoe for you.
---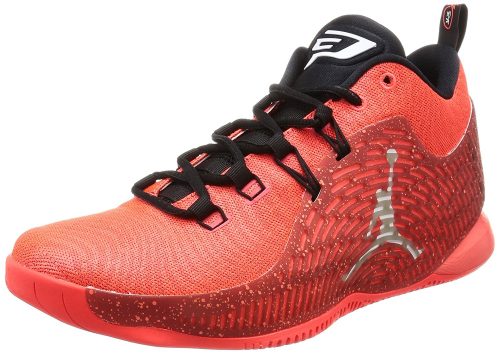 Here's another low-cut shoe with the name of the game's best player of all time behind it! (please tell me you don't need me to spell his name for you!)  Like a number of other Jordan brand shoes, the CP3.X is crafted in a manner that allows for wide feet, and it does so with a forgiving material. The shoe is made with a breathable woven material that will allow your foot all the room that it needs to fit into the shoe comfortably.
Overall, this is not the best low-cut shoe on the list, but it is somewhat cost-effective, as is much of the CP3 line. It will not make or break your performance on the court, but it definitely gives enough space for wide feet to not feel crushed by the outskirts of the shoe.
One of the highlights of this shoe is actually the cushioning that is built into the shoe. It will not wear down your feet, leaving them sore. That can especially be the case if you have flat feet that might exaggerate some foot pain.
---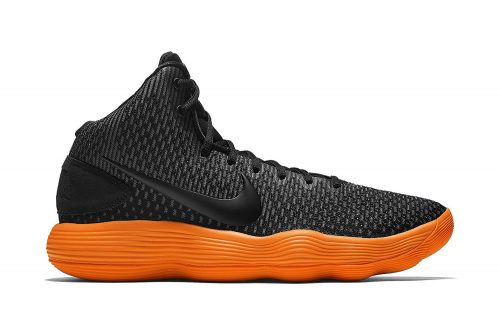 All in all, the Hyperdunk line is actually quite comparable to the CP3 line, just in a high-top version with a little bit more ankle support. The Hyperdunk 2017 shares the wide make in common with the CP3.X, but where it differs is the material. Like a number of top basketball shoes these days, the Hyperdunk 2017 comes in two different versions, one being regular (same feel as the CP3.X) and the other is flyknit. If you are worried about how your feet will fit in this shoe, the flyknit version is the one to buy, although it is a deal pricier. Nike also has a measuring guide to assist you in choosing the correct size.
Similar to the CP3.X, the Hyperdunk 2017 is not the best shoe ever, but it will get the job done and it will not hurt wide feet. We've had some reviewers tell us the Hyperdunk just isn't wide enough and they don't fit well.  We agree, however, the definition of "wide feet" will vary incredibly among players, and we do know that the Hyperdunks fit some users with "wide feet" very well.  It's simply a matter of experimentation.  The traction on these shoes is awesome and it is effortlessly stylish. It is an all-around good shoe but probably it won't instantly make you love them.  Nevertheless, you will not hate them, and depending on the shape of your foot, you may find them super-comfortable and responsive. One thing to add is that the flyknit version is interestingly good-looking. It comes almost purely made out of knitted material, and there is a knitted ankle collar that provides excellent support, while not looking like anything else in the world of basketball shoes.
---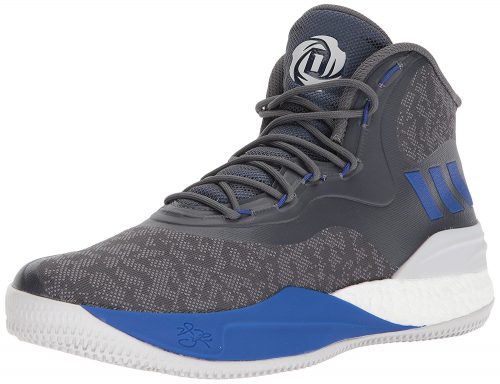 Akin to the player that this is named after, the Adidas D Rose 8 is an altogether good shoe (although I'm not sure whether these will be the cause of numerous injuries). It is versatile and lightweight, comes with good traction and is aesthetically pleasing in a sort of crazy way. The D Rose 8 is not too different from the Nike Hyperdunk, with the price and specs, but Adidas does always manage to do things their own way.
The D Rose 8 is another shoe that has a regular version and a knitted version. The primeknit version is probably the one to buy if you are stuck with wide feet. But, Adidas does not take the knitting concept as far as Nike does, layering the knit with a decent amount of more supportive synthetic materials. The primeknit does not have the same cool ankle collar that the flyknit Nike Hyperdunk 2016's have. The fit of these shoes is one of the better ones that you will feel, as the inside bootie feels pretty snug when you are in them. Additionally, the cushioning works quite well to give you a bit of an explosive edge. The only reason that you might want to consider the Hyperdunk's over these is the slightly less flexible material that these D Rose 8's are made of.
---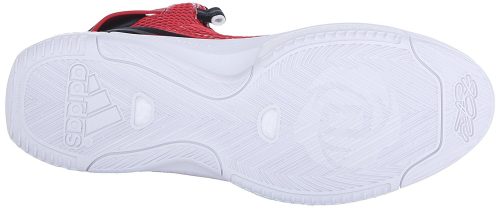 We couldn't help but add in these shoes which are not the newest D Rose model on the market (hit the market in 2015), but received way too much positive feedback for being wide-foot friendly!  From excellent heel support to lightweight and good ankle support, these shoes (almost) have it all!  And remember, get the primeknit version rather than synthetic leather, so they'll hug your wide foot better.  The only drawback (which may be almost undetectable) is the fact that the D Rose 6 has such excellent cushioning, that some players have noted that it's not quite as responsive on the court as less cushioned models.  Remember, the more cushioning, the less "court feel" you'll have since there's a layer of pliable material that compresses and shifts, between your foot and the actual hardwood.  Otherwise, the great price point and glowing reviews should get you excited about this option!
---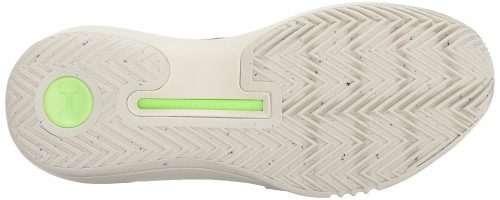 Here's a surprising entry into our top 10 best ball shoes for wide feet – at least for me!  These Under Armour shoes have some really strong features which made it impossible to leave them out!  Firstly, the traction is stellar.  So many shoes are criticized for mediocre to poor traction given a shallow tread depth.  Not so with the Drive 4s.  A deeper tread on the forefoot allows for grippy traction which will always outperform most other shoes (worn by your opponents) on the same surface.  Depending on your foot size/shape, you may experience an uncomfortable break-in period, but that's no unlike many shoes costing double!  It runs true to size and has a more-than-adequate ankle support feature.  One of our reviewers mentioned this is a great shoe for flat-footers too given the arch support!  It features a die-cut EVA sock liner midsole which provides better than average cushioning and support, while the exposed Micro G heel unit gives even more firm cushioning.  At this price point, I'd be more than tempted to give them a try if I had wide feet.  ALAS, I have really NARROW FEET!!!! (hey I'm not rubbing it in – in fact it's just as hard to find a good fit for me as it is for you, now get off my case!) 🙂
Honorable Mention
The Formula 23s have great feedback from users online and from our website visitors.