Looking for an easy way to bring your weights to the ground without a sound? Bumper plates are a solution to this issue, for they provide a quiet method of impact when you drop your weights.
They can also come in varieties that are heavy enough to be included in heavy lifting routines.
While they have a home in CrossFit training, for the most part, they have their uses everywhere.
In fact, we'd say that bumper plates can be useful in about every weightlifting scenario, from complex exercises like the "Clean and Jerk", to classic compound lifts like the deadlift.
They'll take the attention away from you in the gym if you're that one guy/girl who always makes an incredible amount of noise when you drop your weights.
If you're a gym owner or manager, you might want to consider adding these barbell add-ons to your gym's weight arsenal. A little peace of mind is always nice when you're lifting weights; why not get it through a reduction in noise!
A bumper plate is a simple concept. You put one on the barbell you're lifting until you have your desired weight.
Once it's on, it will both diminish the noise from when your weights hitting the floor and it will prevent the other weights you have on your barbell from clanking together noisily, when you lift them up and down.
Bumper plates are the earplugs of workout routines, but they're not so easy to find. That's why we've created an extensive list of important features, features that you'll want to keep your eyes peeled for on a bumper plate you're considering purchasing.
Let's take a look!
---
Buyer's Guide: Important Features 
---
Set or Single Bumper Plate?
Are you looking for a pair of bumper plates or an entire set? Many bumper plates come in either or, and knowing which one you're interested in before you purchase is crucial. 
More often than not, bumper plate sets can save you a little money, but the gaps between the weights of each plate can be large. You might want to consider what you need, as a lifter, before you decide to purchase an entire bumper plate set.
Color
This certainly isn't an imperative feature of bumper plate sets, but a little color can spruce up your gym or your home.
Not many bumper plates can be bought in color, however; make sure you're keeping an eye out for those sets that have different color options if you want colored bumper plates! 
Weight
The weight isn't as obvious a trait as you'd think. The weight can sometimes contribute to a drastic increase in price, so keep your eyes out for bumper plates that have lower-priced weights, that weigh less.
Buying a few of the lighter weights might save you some money. 
Another thing to consider, with respect to the weight of your bumper plates, is that the thickness of the plates can often increase the weight. This can negatively impact the total amount of weight you're able to place on your barbell.
Finally, you'll want to consider the type of workouts you plan on doing, as well as the type of training you wish to partake in.
Do you need bumper plates as a noise reducer, or do you plan on using them for a significant part of the weight you keep on your barbell for your exercises! Everyone's needs are different.
Price Per Pound
The price per pound of a bumper plate refers to the dollar value of each pound of weight that's included in the bumper plate or plates. While most barbell weights are simply one dollar per pound, you'll find that most bumper plate prices are slightly more expensive. 
While some bumper plates certainly sell for a dollar per pound, you'll find that most are available in the range of $1.50-$2 per pound of weight. We'd recommend looking for a value of $1-$1.50 per pound of weight!
Barbell Fit Size
While most bumper plates are designed to fit plates with 2-inch holes, some plates may be designed for smaller bars.
There is a wide range of bars to load weights on, making it crucial to pay attention to the accommodations of both your bar and the bumper plates you're considering purchasing.
The most common size fit is a 2-inch hole, which is the size of the Olympic barbell, the type of barbell most commonly used in both CrossFit and strength training.
Core Material
For the most part, bumper plates are primarily composed of an impact-reducing material that surrounds a material in its center.
The most durable and common material is steel. We'd recommend shying away from any other forms of core material; the durability and longevity of the bumper plates may be questionable!
Bumper Material
The bumper plate material refers to the external, protective material that reduces the impact and noise of the weights you're lifting, as they come crashing down.
The bumper material is commonly made of rubber, but can sometimes be composed of a hollow plastic material.
Thickness
We touched on this in an earlier part of the section, but we have to stress the importance of this feature. Making sure your bumper plates are as thin as possible is important for your weight accommodations and loading abilities. 
A plate that's too thick will prevent you from putting a lot of weight on your bar unless you plan on using the bumper plate as part of your exercise weight.
Oftentimes, the thickness of bumper plates increases with the weight of the plate. For example, it might be difficult to find a 45-pound bumper plate that's thin.
Snug Fit
Barbell clips are convenient, but can sometimes be expensive, which is why bumper plates need to fit snugly on the bar you plan on using.
Many bumper plates, for example, come with internal locking features that don't necessarily lock the plates in place but prevent their excessive movement. 
This type of feature won't hold up well with a substantial amount of weight, but it will perform well with moderately heavy workout routines!
Warranty
Even though the materials used to make bumper plates may seem like they're durable, you never know what could happen to your plates. It's wise to look for bumper plates with some form of warranty.
We hope that we haven't bored you with the flood of information about smart bumper plate purchasing. In any case, it's time to get to the product reviews.
We'll rate and discuss the eight best bumper plates of this season, starting with the top-rated weights. Each product is lower-rated further we get down the list, but that certainly doesn't detract from each product's individual prowess.
We'll start with a description of the item then we'll briefly state the pros and cons of the plates!
---
Best Rubber Bumper Plate Reviews
---
These bumper plates perform as well as they look, and they aren't that pricey! Available in a wide range of weights suitable for both beginner and advanced lifters, they'll fit the demands of any workout you need to do.
Their durability shouldn't be in question given their 4.8 out of 5-star rating on Amazon (from verified buyers). In fact, they're made of 100% high-density natural rubber which can withstand a whole lot of drops.
Expect them to last you for many years! They don't bounce much when they hit the ground either. We really don't think you'll need to worry about replacing these bumper plates. We love the wide variety of weights offered by AMGYM including these six;
10lb, 15lb, 25lb, 35lb, 45lb, and 55lb.  Everything comes with a 3-year warranty!
PROS
Durable
Wide range of weight available for purchase
Warranty is decent
Little bounce present
CONS
Not a big name in the industry
---

The Hulkfit line of bumper plates is likely the best-looking set of plates you can buy.  Each weight comes in a separate bright primary color.  Each plate has a 2″ metal ring made of solid stainless steel.  The total diameter of all plates is 17.75 inches.
The plates themselves are made of high-density rubber as are many others on the market.  We like rubber for the sake of floor protection.  Rubber-coated steel is okay, but does not have the flexibility and "give" that a full rubber plate offers.
However, it's not all roses and unicorns with full rubber plates.  In the case of Hulk, all the plates are the exact same outer diameter for the sake of both looks and maximizing the support and rigidity of the entire plate collection on each side of the bar.
But, since all plates have the same outer diameter, the Hulk 10lb plate is very thin and CANNOT be used on its own (thankfully, most users need more than 10lbs per side for a meaningful workout or lift session, so it's no problem).
Both pounds and kilograms are listed on the side of each plate.
PROS
Great price per pound
Durable rubber/steel construction
Quiet
Best-looking set we've seen
CONS
Because of the rubber construction and consistent diameter across all plates, the 10lb weight is not rigid and supportive enough to be used on its own
---
Rep Fitness takes an interesting concept and makes it available to public buyers. Even though you'll pay a few more dollars, you'll get a complete set of bumper plates, with a range of customizable minimum and maximum weights.
If you have your own at-home gym, or if you're looking to supply a gym you work at with a high-quality bumper plate set, this is the right buy.
The thinness of plates is universally retained throughout the different sizes, meaning you'll be able to stuff more weight on your bars, without running out of space.
You'll be able to fit the entire set onto the bar, totaling a combined weight of 210 pounds! We'll point out a couple of issues we've found with this mostly-great bumper plate set.
The set of weights includes 2 of each of the following plates: 25lb, 35lb, 45lb.  Of course, as expected, they all fit 2-inch sleeves.  We also appreciate the low-odor qualities of this bumper plate set. 
They're made of virgin rubber for a true "dead-bounce" so you'll have no surprises with dangerous bounces that can cause personal injury and damage to your floor, walls, and surrounding items.
While these plates are designed to withstand 15000 drops from a height of 8 ft, the suggestion is to NOT combine these plates with other brands due to a difference in bounce characteristics and diameters which will compromise proper performance – especially on the drop!
Never use these with metal plates either.
There's a great warranty as well and you can check out those details on Amazon by clicking the green "AMAZON'S DEAL" button below.
PROS
Universally thin bumper set
The convenience of having an entire set rather than individual purchases being necessary
Low-odor qualities
Low-bounce qualities
CONS
Expensive to acquire a whole set
---
X marks the spot is how the saying goes, and these XMark Bumper Plates will surely hit that spot! If you're looking for a versatile range of weight, tough construction, and material durability, these bumper plates are the plates for you!
First and foremost, we have to pay our respects to these bumper plates because of their ability to comply with EPA standards by including 60% recycled material in their rubber sections.
Take comfort in knowing you're being environmentally responsible if you decide to purchase these plates. Next, we'll talk about their snug fit. They're designed with a stainless steel insert that optimizes the total grip on the barbell that they're placed on.
While it's always suggested to keep your weights clipped while you work out, you could comfortably use these weights without a clip, if you're in the comfort of your home (Gyms won't allow you to lift without clips).
We could only find one issue with these exceptional plates: they're pricey! At almost $2 per pound, they're guaranteed to put a dent in your wallet, unless you can afford this type of rate.
PROS
Built from recycled material
Stainless steel inserts for maximum bar grip
CONS
---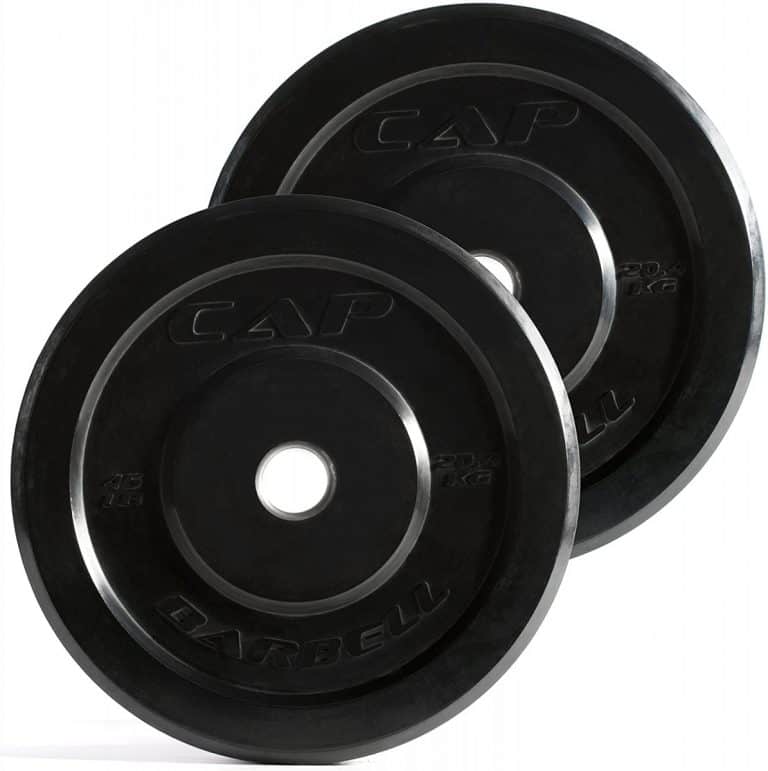 Made from recycled rubber, built with a steel insert to prevent sliding, and odor/residue-free, the CAP bumper plates are an excellent choice for lifters who want to lift without complications.
They're produced from recycled material. They're also constructed with a stainless steel insert that grounds them in place if you're worried about them sliding slightly.
This is complemented by a rubber exterior surface that welcomes impact, reduces noise, and prevents weights from clanking around. We noticed two things wrong with the CAP Barbell Bumper Plates.
First and foremost, the core is constructed from iron, even though it has stainless steel inserts. We'd recommend steel as the material you'll want on the inside of your bumper plates.
Secondly, the price is quite high, especially for bumper plates that have cast iron as their primary material.
PROS
Built from recycled material
Steel insert to prevent plates from sliding
CONS
---
If you're looking for a single bumper plate to purchase for your weights or for your personal use at the gym, look no further than the CAP 2-inch bumper plates!
First and foremost, they're available in four different colors, all of which will add a bright and vibrant touch to any lifting you plan on doing.
They're built for barbells that are 2-inches and diameter, with holes that contain steel inserts for a slide-free experience. In addition to the variety of colors that you're able to choose from, you're also able to pick from a wide range of weights.
While there are certainly some positive features of these weights, we've found a few issues that need to be pointed out. First, you'll only be able to purchase a single plate. You're not allowed to purchase more than one, at the same time.
Next, we found that they're a lot thicker than conventional bumper plates. Finally, the price of the plates is quite high, almost two times higher than the rates you'll pay per pound if you purchase other bumper plates.
PROS
An assortment of color choices
An assortment of weight choices
Steel insert for optimal barbell grip
CONS
Pricey
Can only buy one plate per purchase
Thicker than normal bumper plates
---
We've reached the end of our product reviews. We hope you got all the information you could want from the information above.
Final Thoughts & Conclusion
While there certainly are a variety of things to keep your eyes out for when you're considering purchasing a bumper plate set, knowing these things can make finding the right plates easier for you.
Things such as the thickness of the plates, the price per pound, and the material of both the exterior and interior of the bumper plates are all crucial elements of knowledge to consider before you get yourself set on a bumper plate.
Out of all the above bumper plates, we'd recommend one to purchase. The Titan Fitness 45 lb Olympic Bumper Plate, while not the highest-rated bumper plate on our list, is the perfect balance of durability and affordability.
At just $1 per pound, you'll pay the same price you'd pay for typical barbell weights, a rare occurrence in the bumper plate market. It's coated with a high-quality rubber that's sure to mute any noise from clanking and dropping of your barbell.
The interior of the weights is steel, a must-have material if you're worried about keeping your bumper plates for a long time.
That was our recommendation. The final choice is up to you; be aware of the fact that every set of or single bumper plate on our list is worth purchasing.
---