Ever see a world-class goalkeeper make an amazing save without gloves? Yeah, me neither! 
There are many variables to consider when purchasing goalkeeper gloves as they are very subjective and what works best for one person may not be the best for everyone. Similar to soccer cleats, goalkeeper gloves are an essential part to any player aspiring to play goalkeeper.
They provide a goalkeeper with many important things, some noticeable and some not. Goalkeeper gloves are very personable and mean different things to different people, and are thus a psychological tool that can be used.
Without them, I literally cannot play goalkeeper. It simply is not possible for me. I, and many people that I have witnessed play the position, simply have to gloves on to play goalie.
There is a certain aura and a mystique that comes with them that says "I'm unstoppable," and you are not going to score on me.
Without that, your whole confidence is broken. So to say that goalkeeper gloves are important is a massive understatement. They are without a doubt one of the most important tools used on the field.  
There have been large strides in the evolution of goalkeeper glove technology and modern gloves offer confidence, protection, comfort, and grip for the person wearing them.
There are many factors that have to be considered when buying goalkeeper gloves.
Style, materials, age (and how long they have played), the way that an individual plays the position, the type of soccer being played, and the quality of materials are all very important.
Many of these factors overlap to help determine what the best goalie glove is for each individual.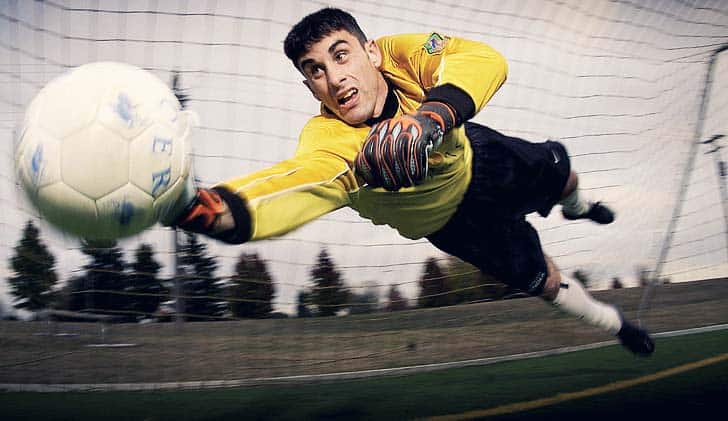 ---
Goalkeeper Glove Cuts
The reason I'm talking about this first is that it is almost always the very first thing that someone sees when they see your gloves. And honestly, us goalkeepers almost always look there first to see if it is something that we'd be interested in.
We all have preferences, so oftentimes, we can eliminate contenders before we even try them on or look at them.
Flat Cut
The most popular type of cut is the "flat" cut, which is your traditional, run-of-the-mill cut. This cut just means that the palm contains one piece of flat foam.
These are very popular with younger players who are just beginning their career and oftentimes are the go-to glove for higher-level players as well.
Gunn Cut
 This type is also called a "rolled" cut because the seams on the back of the finger cause them to roll forward. This gives the goalkeeper a snug fit in addition to a larger contact area so that you can more effectively catch the soccer ball.
Gunn Cut gloves can also include goalkeeper gloves that meet the above parameters but have no enclosed protection of the top half of the fingers. Many people call this "gunn" cut, so that can sometimes lead to confusion if you are not familiar with soccer terms.
Negative Cut
 Negative cuts have seams on the inside of the glove, are made with a piece of latex, and have gussets- something sewed to make something else stronger, like a collar would provide for a shirt- between the backhand and the palm.
These gloves have a huge contact area, are the most snug, and because of this are great for players with slim hands.  Because of this, negative cut gloves are usually the best goalkeeper gloves for women and youth.
Hybrid Cut
 Hybrid cut is exactly what it sounds like. It is a mixture of the above cuts all in the same glove. They are almost always a combination of the Gunn Cut with the negative or the flat cut.
Parts of a Goalie Glove 
Materials are also very important to talk about because they are going to ultimately determine whether or not your gloves last a long time or not.
There are three main parts of the goalie glove. These are the backhand, the palm, and the closure. Each of these three play a vital role in securing the glove and giving optimum performance.
The Backhand
The backhand of the glove is the very back of it. The "body" of the glove, which is essentially the gussets connect the palm to the backhand.
The major purpose of the backhand is to provide protection when punching. How this is done is different for different gloves, but there is always a backing to protect the lower part of the hand. Cost and quality are determined by what the backhand is most out of.
The less expensive gloves that you can buy at Wal-Mart and K-Mart quick and easy are made out of a single layer of foam while the more expensive ones are made out of latex.
The Palm 
The palm is the lower part of the glove that protects your palm. This is the part of the glove that is the most important because it can help you catch the ball or watch it slip through your fingertips.
There are different types of palms used: smooth, textured, and dimpled. Smooth gloves are of the highest quality and are typically for use in matches. Both textured and dimpled gloves are more durable, however, so they are better for use in practice.
The thicker the palm, the more high quality and the more expensive the pair of gloves become.
The Closure
 This is a fancy word for how the glove fits to your hand and closes. How do you secure your glove? This is a very important question because some gloves start to lose their security over time.
This is very troubling to a goalkeeper. The kind of fit that a goalkeeper wants is very personal. Some want a looser, more comfortable fit.
The most popular is the "hook and loop," which is just an adjustable flap that can be pulled as far as the individual wants it to be pulled.
These are elastic. V-notch closures have a vent in them to help keep hands cool and dry, although it is much easier said than done. I've yet to see a good-smelling goalkeeper glove.
The last time of closure is the bandage closure, which closes like medical bandages and features elastic as well. However, this type is very supportive, making it restrictive to many.
So, if you know someone that is fidgety or doesn't like being confined, this isn't going to be their cup of tea.
Fingersaves (Spines) 
To fingersave or not to fingersave? That is the ultimate question that quite a few goalkeepers, coaches, and parents alike have. Should I buy a pair that has them or should I go without?
Before going any further, I will make it clear now that the overall quality of the glove has nothing to do with fingersaves. Fingersaves are plastic 'spines' that go into the backhand the glove. There are two types- stiff and bendable.
Stiff spines will only bend forward; they will not bend backward, which prevents hyperextension. These are the most popular. The bendable type bend both ways, allowing for more flexibility (where were these when I needed them!?)
Fingersaves are something that comes extra and can be used to great effect with the right person. However, they are not right for everyone. I have gone through periods where I did not want them simply because they restricted my movement way too much.
They have become very commonplace in the market today, but please do not assume that you are buying a good pair simply because they have them or don't have them.
While they can help mitigate the risk of broken fingers, they still cannot save you from breaks resulting from kicks or stabs.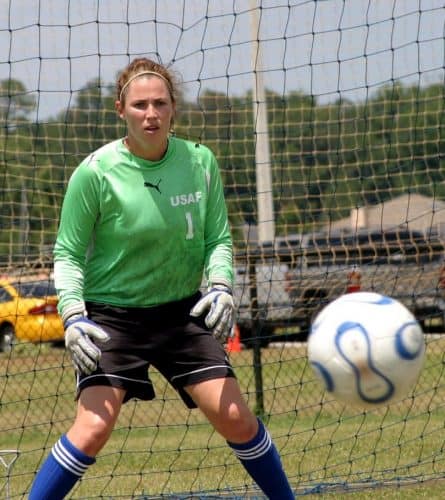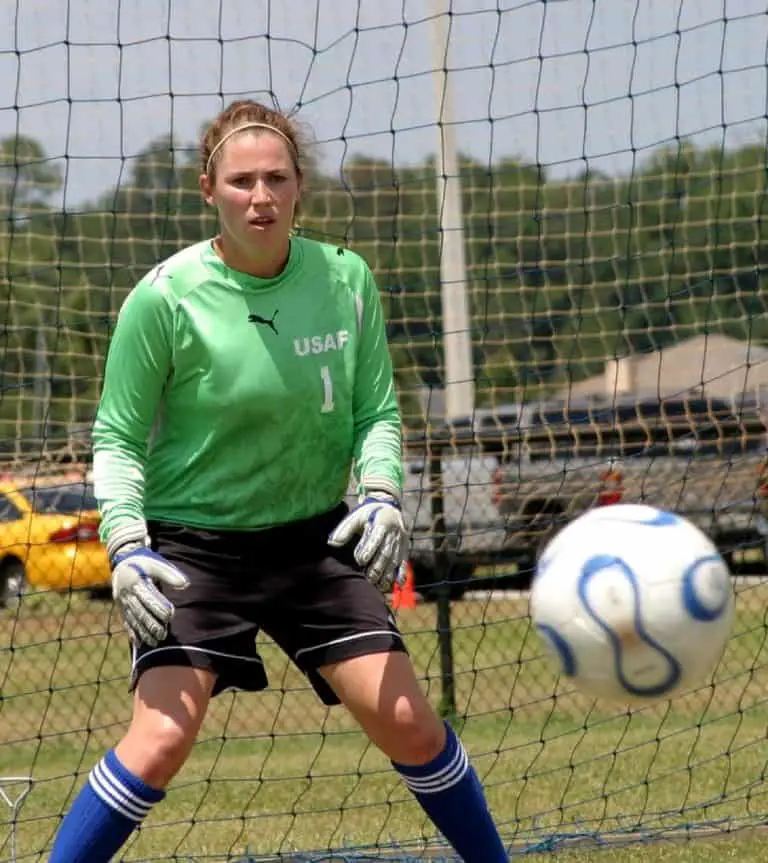 Age, Style of Play, Type of Soccer, and Quality of Gloves 
Goalkeeper Gloves for Youth and Women
The factors listed above are all very important in determining what kind of gloves you need to buy. There is some overlap here, so please bear with me as I go into detail about how you should approach making this decision.
The age of the player is very important because you don't want to purchase something that will be too much for the person or too little for them.
I recommend that just about any youth goalkeeper under the age of 10 should be given a pair of gloves that are simply just meant to protect the fingers.
Nothing fancy is needed at this age, and the simplicity will actually help them learn how to use technique instead of the features of the gloves. They just need something to help them catch the ball and something that will not hurt them as much.
However, after this age, I firmly believe that goalkeepers need to step up in terms of equipment, even if the quality of play is low. As players get older, the shots that will are taken will be harder.
If they are wearing gloves that do not have enough support, then they will likely end up breaking a finger or maybe even a hand or even a wrist. None of these outcomes are good, and we must try to keep away from that.
That's why I recommend a mid-level pair of gloves for anyone over 10 that is not playing in a very competitive league. This includes adults and those that simply don't want to pay top dollar.
The extra money is well worth the money because one broken finger and an after-hours visit will end up costing you as much (if not more) than the pair of gloves cost.
Finding the Perfect Glove for Your Style of Play
Style of play is also something to think about. As a rule, I do not allow my goalkeepers to ever touch the ground with their palms. This is terrible form as it can cause you to get stepped on and it can cause you to do horrendous damage to the wrist, hand, and joints.
I also teach this because landing on the palms will cause the gloves to wear out much quicker, making it more and more difficult to catch the ball over time.
If you are buying for someone that is younger and/or a little less skilled, you need to buy something that is more durable than the high-quality gloves. You don't want to pay Ferrari prices when you'll be hauling lumber around. Please keep this in mind as you make your purchase decision.
Goalkeeper Gloves for Outdoor and Indoor Soccer
The type of soccer is also very important to know and consider when buying. Indoor soccer, especially the variety in which walls are used, is pure torture on goalkeeper gloves and indoor soccer shoes.
This is assuming that you have the most perfect form. For all others, it is even worse on goalkeeper gloves because the number of shots taken is outrageous in indoor soccer.
This is due to the fact that there is a much smaller field with fewer defenders and constant rebounds. Add to this the very high probability that the glove is going to hit the ground with its palm, and you have a recipe for disaster.
A much more durable glove is very much a necessity for indoor soccer use. Outdoor soccer, however, doesn't require quite as durable a glove.
I do, however, encourage a goalkeeper to have two pairs of gloves- one for practice and one for matches. A tip I give people is to simply buy a pair for games the first season.
Keep them instead of throwing them away for the next season, and when you buy a new pair, use those for your new game gloves while keeping the old ones for practice.
This way, you save a ton of money instead of buying two new pairs every year!  Two more tips before we begin: before a match starts take clean water and pour it onto the gloves lightly. Maybe use 3-4 ounces making sure to cover the entire glove.
This will help the grip tremendously and make you look like a hero! The second tip can also make you look like a hero.
Whenever I see the adult or youth size chart and/or try a pair of gloves on, I always make sure to buy a pair that is about half a size too big for me.
The reason is that it is still comfortable, it fits well, and it gives you just a little bit of extra range to help you reach the ball on your dives. And at the end of the day, you are going to be the one wearing them so it's important to choose the glove that fits you best.
---
10 Best Goalkeeper Glove Reviews  
---
1.   NIKE GOALKEEPER SPYNE PRO GLOVE

Great looking gloves at a very reasonable price, it is easy to see why these are so popular. These are the perfect glove for the mid-range player that is also on a budget.
They provide a lot of protection with fingersaves (Spynes) in the backhand as well and a pre-curved fingers as discussed earlier. The palm is made out of latex, which means they are very good for handling and grip.
They have the typical wraparound wristbands that allow the goalkeeper to adjust them however they see fit. This is a great glove for the money and it also comes with a couple of cool-looking designs!
---
2.   
ADIDAS ACE ZONES FINGERTIP GOALIE GLOVES
If you want stylish options that provide you a premium experience then this is your answer!  The bandage is close-fitting, meaning it is a better fit for the individual wrist without the pesky Velcro.
They fit perfectly "tight" around your wrist thanks to InEVOtive hinge technology.  Their Evo Zone Tech areas not only give you excellent grip and ball control, but they also have specific areas of the glove that improve your control and trapping.
The Fingertip and rolled finger offer the best fit on all your fingers, offering more contact surface. The padding is very thick, making the price a steal!
---
3.  

ADIDAS ADULT CLASSIC PRO GOALKEEPER GLOVES



These gloves are very similar to the above pair, but they have some key differences that will make you take notice.
These look simple and great with a fun paint splatter design and they are all business from the very beginning with 4mm cushion that covers the 3.5mm latex to help cushion the blow from shots and control the ball better.
These are a negative cut that fit like a custom glove because of the stretchy wrist strap. Like the previous pair, they do not have fingersave protection.
However, this pair has excellent grip in all weather conditions, making it a great choice for a very serious-level player. And at the price of $80, this is a great buy!
---
4.  

NIKE MATCH GOALKEEPER GLOVES



These gloves are very low priced, so your wallet will be very happy with you. They also have a very cool orange and black design! These gloves, as their cost reflect, do not have finger support of any kind and are a basic learning glove in every way.
But that doesn't mean they are bad at all! They just have to be used properly. These gloves fit very well and have an excellent grip. However, they will not hold up forever, so you shouldn't expect them to last more than a season.
For the right person, these will do exactly what they need to and more!
---
5.   
PUMA EVOPOWER GRIP 2.3 GOALKEEPER GLOVES
Puma comes out with a bang here! One of the gloves appears to be vibrant pink while the other is a shiny yellow, allowing you to be seen from a mile away.
These come with 4mm of grip on the palm, which is downright excellent, especially for the very attractive price. This glove is a great example of how goalie glove technology has really made great progress in the last five years.
The strap is part latex and bandage, so you get a lot more freedom with it than a typical glove as well as all of the protection. These gloves do not have fingersave technology, but they have excellent grip and are well worth a look for mid-range players!
---
6.   
REUSCH SOCCER PRISMA PRIME G3 FINGER SUPPORT GOALKEEPER GLOVES
You may have never heard of Reusch before, but they are an exceptionally great brand in soccer cleats and especially goalkeeping. They make some of the most sturdy gloves for some of the most well-known players in the world.
This pair is definitely priced in the upper range, but it is something that must be considered for the player that is looking to reach the top of the goalkeeping trade.
Their new Ergonomic support system allows the fingers to not be restricted to being beside one another which allows you to have a better handle on the ball at all times. This is a pull-loop system that closes the glove, so it is very typical.
These have fingersaves, so if that is what you want this may well be your pair! It is quite a lot of money for these gloves, but these offer so much protection and performance that they have to be considered.
---
7.   
UHLSPORT ELIMINATOR SOFT GRAPHIT SF SOCCER GOALIE GLOVES
Uhlsport is a name I trust (I used them when I played varsity soccer in Dubuque, Iowa a couple of decades ago!).  So it's not a stretch for me to promote these! 
This glove is named after the soft graphit latex that it's made from, and specifically, graphit latex is a foam that has a higher density than most, and it contains graphite additives. 
It also contains the same material all around (not just the palm), so protection is complete. 
It comes with a classic cut and a super comfortable Polyurethane (PU) closure.  There's an integrated "SupportFrame" element that is used to improve catching properties because of extra finger stabilization compliments of the Soft Graphit latex.
The fit is not too tight or too wide which is a real accomplishment in the industry. The Graphit latex itself is 3mm thick and each finger has a hinge-like style of construction.  By the way, even Uhlsport's entry-level models feature SupportFrame technology.
---
8.   
DIADORA SOCCER STILE II JUNIOR KEEPER GLOVES
 
These gloves are another great mid-level price choice for the training or youth player, and they come from a brand that is absolutely great at making goalkeeping products.
A surprising fact about these is that they come with fingersave support at a very reasonable price. So these would make an outstanding pair to practice with because you will have full protection!
---
9.   
REUSCH RECEPTOR PRO A2 ORTH-TEC GOALKEEPER GLOVES
Reusch comes back to the list with another odd-named pair of gloves. But don't let that fool you. This time they get their inspiration from the free-floating Ortho-Tec stay system for which Reusch is known.
The backhand is made with latex and has a bandage strap to enclose you. It has a negative cut style for the snuggest fit!
They are very well-priced and great goalkeeper gloves for women soccer players and intermediate or youth players (see my comment about negative cut gloves at the start of this post). 
One of the main unique drawing points for this glove is that they actually work better, with increased grip when they're WET!
---
10.   SPORTOUT YOUTH & ADULT GOALKEEPER GLOVES

After much research and consideration, we made the choice of adding these gloves to our best lineup for two reasons!  The first is that the price point was such that it does not keep good, young players from participating in the sport! 
We like to offer the "best" options at various price points, and these gloves are tops for the lower price range.  Also, they made it to Amazon's Choice which is not a bad designation to have. 
We were a bit surprised to see a decent finger save system in a glove at this price point, and they have a double wrist safeguard (which really means added wrist sprain protection). 
The list of features is long and surprising for a sub-$100 pair of gloves.  They are a great value for sure!
---