One of the absolute greatest tools for any soccer player to have is a rebounder.  Rebounders allow the user to do things that they otherwise would not be able to practice.  For many people, playing and/or practicing soccer without a companion is very tough. 
It can be very tedious, it can be boring, and most frustratingly, it can be fruitless.  The reasons are pretty simple. 
If you are pushing yourself every day to break through your personal barriers, then you aren't improving. 
This means doing the same thing every time for practice won't necessarily make you better (there are some instances here, though, where that can be a good thing).  So in those cases, a soccer rebounder is a powerful tool to help a player train. 
Friends and family all tired or incapable/unwilling to play?  Simply go to the rebounder and get your practice in!  Depending on the type of rebounder you have, a number of drills and skills can be practiced. 
Shooting, of course, is the one that is the most popular.  But shooting alone isn't going to take you to the top of your class, let alone to MLS.  In addition to shooting, you can perfect your passing game, which is a vital part of any player's repertoire. 
Without being an accurate passer, you put your teams strategy and safety at risk.  This is why a rebounder is such an important weapon in any soccer player's arsenal. 
With it, you have the capability to practice so much more than the player next to you by doing just a little extra work.  By combining this type of training with a dribbling regimen and fitness, you can quickly become one of the more skilled players on any team.
---
Soccer Rebounder Purpose
What a rebounder does is very fundamental.  It rebounds.  This is something that we have all seen with various sports.  Many rebounders claim to be all-purpose rebounders intended for use with any sport. 
Typically, these types of rebounders are much cheaper than sport-specific ones.  This is due to the fact that companies put extra time, money, and effort into prototyping, researching, developing, and perfecting these systems for players to use for one specific purpose.
Average Price
Prices are all over the place but for a decent rebounder, you can expect to pay an average of around $130.
Touch/Control Practice
The ultimate use of a soccer rebounder, in my opinion, is for a player to develop his or her 'touch.'  'Touch' refers to a soft control of the ball, allowing that person to keep the ball near to them at all times.  This is a requirement for every level of soccer. 
The players that control the ball typically win, or at least control, the tempo of the game.  Many players come and go that can run fast and kick the ball very hard.  But many of them fall to the wayside because of a lack of technique. 
A soccer rebounder can allow you to learn the techniques that are necessary by giving the user a consistent bounce every time.  What this does is allow the player to learn how to trap, or control, the ball at each angle and each height. 
Doing this repetitively allows a player to create an understanding that will soon be natural, allowing them to begin to do and think about other things while they do this. 
This is what is required to truly master the game of soccer and to move forward to a level higher than recreational or school soccer. 
Learning how to consistently do these things is what it is most important, and it is this that should be one of the key factors that you look for in a soccer rebounder.  If you aren't going to get a consistent bounce every time, then you should seriously look elsewhere. 
This is not a game where you try and trick yourself with random bounces. 
Those random bounces happen regardless of being well-trained, and it is almost always the most well-trained players that end up making the most out of them because they are able to think on a level that is beyond that of someone that is simply trying to control the ball.
Shooting Practice
Of course, ball handling is also very important and is a massive factor for your choice of a rebounder.  If the rebounder and its net (more to be said later) will not hold up to shots, then it will just not be of much use for you. 
Another great thing about a rebounder, as opposed to a regulation goal, is that a rebounder will allow you to go outside and shoot without having to worry about retrieving the ball after a goal. 
What this does is allow you to cut down on the number of soccer balls you need, and allows you to play by yourself, and you can do more in a shorter period.  This is, of course, assuming you don't kick it over or wide of the rebounder! 
Keep in mind that now all rebounders are most for the purpose of taking shots on them. 
While just about any of them will withstand shots, many are much smaller than a regulation goal, and that means it wouldn't be a good option unless you are extremely accurate. 
Some are not contoured to be shot at in fact!  A rebounder would be a great option for someone that is very serious about playing, can work hard by themselves, and doesn't have someone that can help them very often.
Price and Quality
Like with most other products on the market, you get what you pay for.  This is true in regards to soccer rebounders. 
There are a lot of people on the web that like to make absolute statements about dollar amounts, but I am not one of those people. 
I just simply want to point out that you are going to get higher-quality goods when they are more expensive.  Some uses are perfectly suited for the lower-end priced products. 
If you have are a beginner or have young kids, these would be an excellent option for you to look at because they don't need to withstand as much.  The higher-quality, well-made goods, however, are going to last you longer. 
So while I don't get caught up in the "if it doesn't cost $100 or more, then it's bad" or the "you have to pay over $200 or you are wasting your money" hype, I do believe and know for a fact that usually there is a reason for it being a higher price. 
So if you are shopping on a smaller budget, just know what to expect.  If you get a lifetime of use from it, then look back and say "I told you so!"
Soccer Rebounder Types
There are several different types of rebounders.  Typically these are distinguished by their uses. 
In terms of this review, the types are multi-purpose (with soccer taking the highest and almost all consideration), passing/control (i.e. touch), shooting, goalkeeping, and the combination. 
I will go over each of these types to tell you what they are used for and what they typically look like.  Knowing what they look like will be very important for you as you shop for them. 
If you know something doesn't look the way it should for the purpose you have in mind, then you should probably go ahead and look elsewhere regardless of price and/or quality. 
It will do you no good whatsoever to buy the best quality product when it doesn't meet the criteria you are looking for.
Multi-Purpose Rebounders
The name of these is the purpose.  Multi-purpose rebounders allow you to play a variety of sports on them. 
While you could use any of these rebounders for any number of random applications, a good chunk of them are specifically designed for only soccer, and as a result, would not function well with other sports. 
Some of the net designs wouldn't fit a baseball or a golf ball, just to give you an example.  Most of the multi-purpose rebounders will allow you to go from soccer to baseball (the most popular two sports that use rebounders) to football and even basketball. 
These multi-purpose rebounders typically are found at just about any store and typically are much cheaper because they have no one specific purpose for them. 
This allows a company to use cheaper materials.  A bonus to this type is that they are usually able to be used in a number of settings, including indoor and outdoor use.
Passing/Control Rebounders
A huge factor in soccer is passing, as we have talked about before, and we must look at rebounders that are built with this primary focus in mind.  A good passing rebounder can have pretty much any look to it. 
This means that you can find them in many places and that there a lot of options for you to choose from.  Some are better than others, obviously.  If passing is a primary concern for you when buying, there are a couple of things that you can look for. 
If you have a beginner, whether they are very young or older, I would suggest a wider and taller rebounder.  This would allow the user to have a large target to hit as they come up to speed with the game of soccer. 
It can be difficult to accurately hit your desired target, so a bigger one would help tremendously. 
For the more advanced player, a smaller rebounder and/or a shorter one would be excellent for use because it takes up less room and will require you to be more accurate with your passes and your touches will have to be more accurately done within a tight area, which is reminiscent of a real-game situation! 
The most important thing to look for in a passing rebounder is whether or not you can kick the ball along the ground and have it returned to you straight back. 
Some rebounders will have a little bar on the bottom of it that will make it practically impossible to receive the ball back.  On others, they will simply be a net that returns the ball and won't really be meant to pass back-and-forth with.  Please keep this in mind!
Shooting Rebounders
A shooting rebounder is going to be much larger than any other type of rebounder because you are practicing a skill that has a high level of variance to it.  You are also practicing a skill that requires kicking the ball relatively hard.  
As such, you need a good-sized area to hit.  If shooting is your main concern, you wouldn't want a smaller rebounder because the chances of missing the target will go up exponentially, causing you to have to chase the ball. 
That negates the whole purpose of the rebounder to begin with!  Something to look for when choosing your shooting rebounder is how it returns your ball.  Are you looking for something that will have it bounce back to you very hard? 
If so, you need something with a lot of recoil.  Do you just want something that will hit it back at you at a decent pace?  If so, you can look at a rebounder that fits into already-existing goals!
Goalkeeping Rebounder
Goalkeeping rebounders are usually very small in comparison to the other types of rebounders.  They are also usually much more expensive, depending on their quality, because they are specifically made for the sole purpose of training a goalkeeper. 
This means that they are either engineered to give you a predictable bounce every time or an unpredictable one.  It varies between brands and makes.  Another thing that makes goalkeeper rebounders stick out is the design. 
The angle at which it points is not like most that stand up like a normal portable goal.  These sometimes have two back legs that sit on the ground up high and then two lower legs that are in front, giving you a much different look than what you customarily see. 
This allows you to use practice diving.  The reason these rebounders are smaller than the others is that a goalkeeper is likely to be practicing his or her reflexes on this, which means that they can't be running across the 24-foot goal all of the time. 
It also allows you to get a lot of work done in a small area and helps prevent injuries as a result!
Combination Rebounder
Combination rebounders allow you to do just about all of the above uses.  You can pass, shoot, and even learn how to play goalkeeper at the same time with them. 
These are usually bigger as they are allowing you to be able to shoot on them, but they are not always that large.  The newer models that we are starting to see out on the market sometimes have two or three small rebounders put together to create one large rebounder. 
This allows you to do a lot of different drills on one piece of equipment.  As a result, these are typically a little heavier and probably a little more expensive
Tips:
Before we get to the review, there are a few tips to go over.  The first thing is the net.  A rebounder's net is just as important as the actual rebounder itself.  Much like a printer and its ink cartridge, it can be very expensive to replace. 
Sometimes the best bet is to buy the more expensive rebounder with a better net to prevent you from having to buy what can prove to be very expensive nets. 
This a warning because nets do wear out in the elements and not all of them are created equal!  Stakes are another concern. 
If you look at a rebounder and it requires stakes, just know that it is probably not going to withstand hard shots from high-school-aged players!  Lastly, bungees, zip ties, and Velcro all deteriorate in the elements. 
The rate at which they do so can vary based on the company, but they can get very expensive to replace.  Keep this in mind when selecting a rebounder!
---
 

Best Soccer Rebounder Reviews
---
The SKLZ brand is iconic in this niche of soccer training aids and especially rebounders.  The Quickster is just another product that stands head and shoulders above most of its peers as we might expect from the SKLZ brand. 
This rebounder offers two sides for returns.  One is for volleys and half volleys while the other simulates an aggressive pass in a game-like situation.  To have those options in one product is worth its weight in … well, not actual gold, but you get the picture! 
Maybe its weight in soccer balls?
It sets up quickly and easily and it measures 6 feet by 4 feet on the larger side, and 6 feet by 20 inches on the small side.  It's our number one choice for a reason (or two).  It offers excellent versatility and variety while barely breaking the $100 price point.
---
A little more substantial in construction quality than Franklin's other offerings makes this a decent buy.  We're a little discouraged that Franklin continues to use bungee cords instead of solid rubber straps to attach the net to the frame. 
It works well from both sides, so that's a bonus, though it's not something unique to Franklin. 
This unit works well for children but I'd suggest storing it away from the weather (for the sake of the bungees) and if you're really serious about the game, I'd look at another brand like the TEKK.
---
This rebounder covers quite a bit of area with its close resemblance to an actual goal, allowing you to potentially use it on both sides at once.  You can practice passing, shooting, ball control, and even goalkeeper diving on this goal. 
I am concerned with it tipping over as well as longevity, however because of the makeup of the net, but it is still worth a look!
---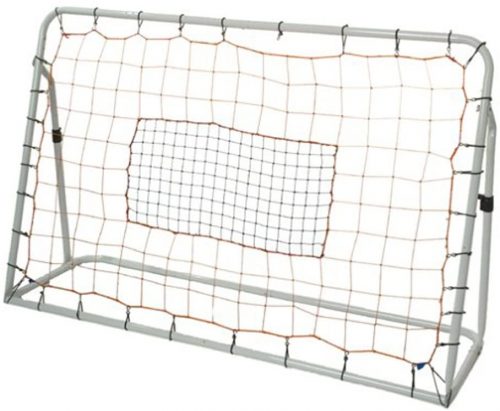 The big draw here is the "oh-so-attractive" price. 
It's so affordable that you wouldn't be faulted for overlooking some of the design flaws like bungee straps (that can deteriorate quickly) instead of rubber straps and the ease with which it can be pulled up from the ground with a few hard kicks. 
It seems best suited to 5 to10 year-olds.  Having said this, there are plenty of happy owners, so it's not the worst purchase you could make.
Our third option is a very interesting option.  Coming in at 15 pounds, it is not the typical rebounder because it is meant to be used with an already-standing goal.  This means that you can bring it with you when you know no one else will be around.  
This is something that many older people will like, but it will likely not be as great an option for youngsters.  It does cover nearly the full goal, so it would be an option for shooting!
---
This rebounder is virtually without peers!  It's built like a tank and is rated for not only soccer (big boy kicks as well as "yung uns") but for lacrosse, baseball and BASKETBALL – crazy stuff! 
It sets up in minutes (as opposed to cheaper brands which take 30-60 minutes) and it's the strongest and largest portable rebounder on the market. 
The numerous angles makes this a "must buy" for anyone who considers themselves to be very serious about their game (did I mention lacrosse, basketball and baseball?) – yes I did!
We like this rebounder given that it's designed for all levels of play.  What makes this rebounder unique compared to competitors, is that it is designed by players and athletes rather than just designers copying other styles.
The company is based in the U.K. and not in China!  Hey, we have nothing against any ethnic group, but since 95% of our recommended products are made in China, we like to spread the wealth!
---
I really should move this rebounder higher on my list, but I have only 1 beef with it.  Otherwise I LOVE this trainer.  Here's why:  This contraption looks pretty complicated if you see it from the side and we appreciate the engineering. 
It features a rebounder, but it also offers a return ramp for a soccer ball.  This is a two-for-one deal.  The construction is VERY durable compared to others, and because of its 2-for-1 design, it can accommodate two players at the same time.
They can both use the rebounder at the same time from opposite sides.
Amazon users have given this a VERY high ranking.  However, the portability of this unit is not good and you'll need a mini-van or a pickup truck.  The sturdiness comes with a tradeoff which is portability.
---