The 7 Best Tactical Flashlights: Beams, Batteries, and Brightness
While tactical flashlights started out as something policemen or soldiers would use to make sure they were aiming their weapons properly in the dark, it soon became evident that there were a lot of different applications for one.
Any outdoorsman, security guard, fisherman, or hunter would greatly benefit from using a tactical flashlight.
If you're looking for the best tactical flashlight, look no further. Our buyer's guide will help you figure out what to look for when buying your own. After that, we'll review the 7 best tactical flashlights for this year.
---
Buyer's Guide
---
There are a lot of things to consider when figuring out which is the perfect tactical flashlight for you. Here are a few things to keep in mind:
Budget
As far as tactical flashlights go, the price range is pretty wide. You can get some for under $20 or you can pay hundreds of dollars. Much like anything else, the more it costs, the high quality you're going to get.
That said, there is a line. Do you really need a flashlight that costs over $100 if you're only going to be using it when you go camping with your kids? Probably not.
If you're a police officer, do you want to get a cheap flashlight and risk it not performing when the moment really counts? Definitely not.
Assess your situation and budget and figure out how to balance what you need with what you can afford but make sure you're getting a tactical flashlight that does what you need it to do. 
Remember, there are not only a great option variety of lights in this guide, but there are lots of excellent alternatives that give you everything that these lights give you, but even more options (like waterproof to the extreme) for only a few extra dollars!
Power Source
There are a few power options for this kind of flashlight with pros and cons to each.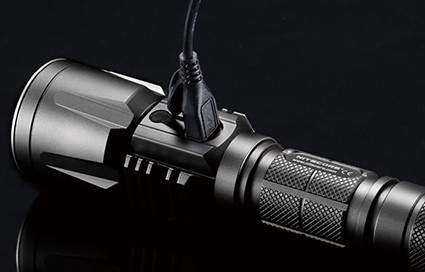 Alkaline Batteries – The best thing about a flashlight that runs on standard batteries is how readily available they are.You can get them nearly anywhere. They're quite expensive, though, and cannot be reused once their life has run out. If you only use your tactical flashlight a few times a month when you're camping, you could probably get away with using alkaline batteries. If you use your tactical flashlight frequently, the cost of replacing these batteries would very quickly become a little too much to spare a few times a week.
Lithium-Ion Batteries – There are both disposable and reusable lithium-ion batteries available. They last a lot longer than alkaline batteries so you'll either need to replace them or charge them less frequently. Rechargeable lithium-ion batteries will end up being more cost-effective in the long run.
Battery Packs – Some tactical flashlights come with battery packs that are built right into the design. When the pack runs out, you have to charge it. The pack usually isn't removable so the flashlight needs to be plugged into an outlet and the batteries will charge. On one hand, this is simple because everything you need is integrated into the flashlight. On the other hand, you won't be able to use your tactical flashlight while it's charging which can be a little annoying.
Brightness of the Beam
There are a few factors that contribute to the power of the beam emanating from your flashlight:
Strength of the Beam – This is measured in lumens; the more lumens, the brighter the light. Tactical flashlights have bright beams and therefore their beams have higher lumens. You wouldn't need the same number of lumens to light up your campsite as you would your basement. When looking for a tactical flashlight, consider where you'll be using it and what for and plan accordingly.
Light Color – This refers to the light of the actual beam of light before it's distorted by the lens. It's measured in Kelvins. Low numbers provide warmer, yellow light with the color getting whiter as the Kelvins increase. Tactical flashlights tend to have a light color temperature on the cool side – white with a more than 5000 Kelvins. This kind of beam travels a little farther and allows you to see more in the dark.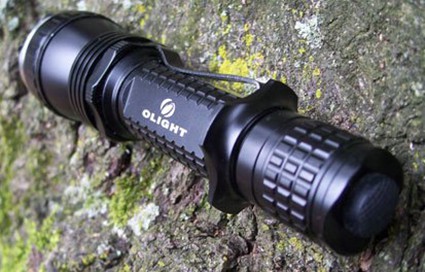 Versatility
What flashlight you'll end up buying will depend on what you need it for, but there are some pretty interesting options available with these tactical flashlights that you may not even know about.
The ability to change the beam on a flashlight can come in really handy. In the example we used earlier, you wouldn't need the same strength beam to light up your basement and your campsite. But it is possible to use the same flashlight for both places while still giving off the appropriate level of light. There are a few different kinds of modes available on most tactical flashlights:
Eco mode – This is a power saving mode that allows the flashlight to emit a low lumen light that lasts a long time.
Burst Mode – This is extended use of the beam at its highest power. It drains the batteries pretty quickly. Sometimes, they might only last a few minutes in burst mode.
Strobe Mode – Obviously, strobe mode is meant to be a warning. If you need help or if you're trying to draw attention to yourself, it's the ideal setting.
You'll usually be able to easily toggle between the low light of eco mode, a middle ground, and the bright light of burst mode. More modes mean you'll be able to use it in more situations which will justify paying a higher price for one that has a lot of versatility.
Make sure you get a tactical flashlight that's going to be able to handle some rough use, especially if you plan to use it outdoors. If you buy an expensive flashlight, you're going to want it to last as long as it can.
Now that you have some idea of what you're looking for, here are the 7 best tactical flashlights we've found:
---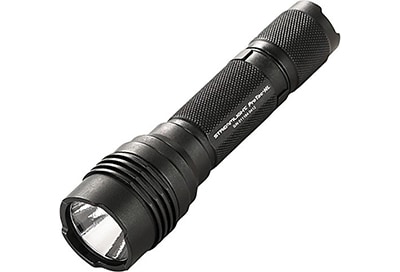 The Streamlight 88040 ProTac is a moderately priced flashlight that goes up to 600 lumens. It's somewhat versatile in that it comes with three different beam settings: high, low, and strobe.
It's a durable, solid light that comes with a belt clip and a holster so you have some variety in how you wear it around. You can also choose between a few colors with this one: black, pink, or blue.
You have your choice of three different kinds of illumination with this flashlight.
Wide beam, which spreads out and covers a wide area with moderate light; long distance illumination, which is a narrower beam that can travel a lot farther, and a combination of the two.
This helps you see in almost any condition, whether you want to illuminate a large area or look at a specific spot.
This is a durable little flashlight, made from machined aircraft aluminum and a tempered glass O-ring seal. It's waterproof for up to one meter for about 30 minutes and stands up well against wear and tear.
Pros:
Durable
Three different beam options
Comes with holster and slip
Cons:
---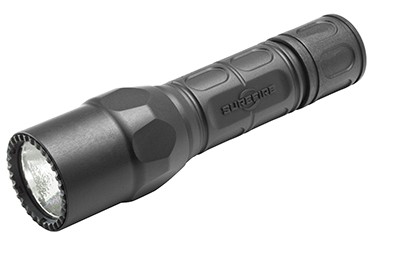 For something with only 320 lumens, this little flashlight still packs a punch. The tough polymer body is rigid and corrosion-proof and will stand up well to a lot of wear and tear.
The aluminum head won't get too hot and is powder-coated to match the body and stay durable.
The exterior of the body and tail-cap are made entirely of Nitrolon, a very rigid, non-conductive, corrosion-proof polymer designed specifically for SureFire flashlights.
The G2X head is made of aluminum for improved heat dissipation and is anodized or powder coated to match the body color.
The body is only 1 inch in diameter and compatible with most mounts though it's compact enough to easily stuff in your pocket.
The beam itself has a bright center that illuminates to about 200 feet but with a peripheral view about 30 yards. Quite impressive for a funky little flashlight.
Pros:
Rugged exterior
Small diameter makes it compatible with most accessories
Bright center beam with wide peripheral views
Cons:
Have to cycle through all settings to get to the one you want.
---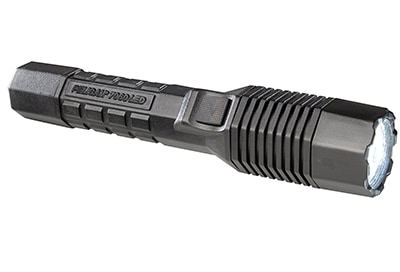 The Pelican 7060 Rechargeable Flashlight was developed by Pelican in cooperation with the LAPD and its primary purpose it to be a flashlight for police officers.
This shows you that it's a dependable light that's able to perform in difficult circumstances and a great choice for a truly reliable light. What's even better is that it comes with a lifetime warranty, making it a really good buy.
It's powered by an integrated lithium-ion battery pack and comes with a recharging dock and an adapter so you can use your car's cigarette lighter to charge it. This flashlight will alert you when the battery is getting low.
The head is shaped like an octagon so it won't roll away when placed on an incline and the handle has a grenade-like pattern that makes it extra grippy.
This is a lightweight, simple flashlight in that it only has one mode. It produces a tightly focused beam of 160 lumens and it has a 2 hour total running time with a fully charged battery.
It comes with a fabric holster though leather ones are available if you want to order something that's a little more durable.
Pros:  
Lightweight
Lifetime warranty
Designed by and for the LAPD 
Cons: 
Only one setting
Hardware to mount charging dock isn't included.
---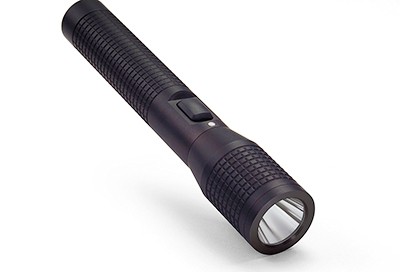 The Inova T4RQMDB-HB T4R is powered by a rechargeable lithium-ion battery and comes with everything you need to get started – including the battery, charger, AC adapter, and even a car adapter so you can charge the battery on the go if you need to.
It's made from solid aluminum and has a checkered pattern to help you get a firm grip on it. It's also protected against wear and tear by the hard finish so it should last you a really long time.
It cycles through a few different modes, from full to medium to low power covering a range of 303 to 17 lumens. It even has a strobe mode that can be activated by rapidly clicking the on switch twice.
The beam has a tight bright spot and is really quite effective.
This isn't a particularly fancy light but it's solid and performs well. The body is designed to be a little longer than some of the others out there, making it easy to hold or even tuck under your arm or between your chin and shoulder if you need both hands.
Pros:
Several modes
Durable and well put together
Comes with everything you need
 Cons:
Pricey for something that's a little basic
---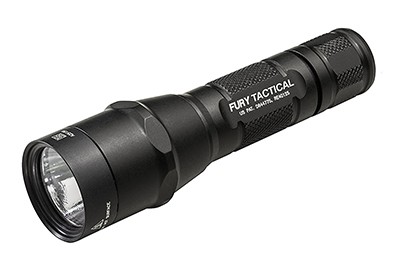 This is a powerful little flashlight that proves to be much more than meets the eye. It has a high-efficiency LED that gives off a precise beam of light. It's made of aerospace strength aluminum that meets military specs.
The knurled grip design and narrow 1-inch handle make it easy to hold and control no matter what the weather.
There are a few versions of this flashlight available. The tactical-single output which only delivers the high output beam. Dual-Output allows high and low options.
And finally, the IntelliBeam model features auto adjusting variable levels of low to high intensity. All have a micro-textured reflector that produces a smooth, powerful beam.
All this comes wrapped in a small, lightweight package that is durable, long-lasting, and can fit right in your pocket.
You get a lot of power out of this little flashlight. It's been called "a spotlight in your pocket" which is an accurate description of how effective this little flashlight can be.
Pros:
Powerful beam
Compact, lightweight size
Multiple versions to choose from
 Cons:
Expensive
Can eat up battery power pretty quickly
---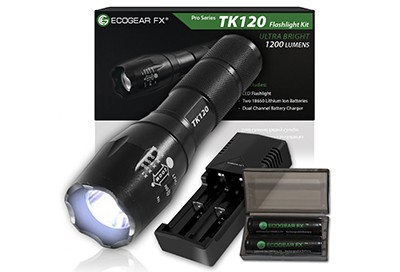 This is a very powerful flashlight that on its own had an output of 900 lumens, or 1200 when using the zoom feature. This is a compact but durable flashlight that extends from about 5 inches to 6 inches when the beam is focused with the twisting action control.
It's composed of aluminum alloy that is lightweight but very sturdy. It shouldn't show scratches or superficial damage if it's dropped.
This flashlight is water-resistant but not waterproof. In other words, it'll be okay in the rain but you should not submerge it.
The power button is on the end of the handle and has 5 standard settings: high, medium, low, strobe, and a special SOS mode to attract maximum attention in times of trouble.
It's sometimes difficult to switch from one mode to another but it will get easier with practice.
The EcoGear FX Tactical Flashlight comes with a nice little collection of accessories. You get two rechargeable batteries and a charger but you can also use 3 AAA batteries in conjunction with the included battery adapter.
You also get an attached and spare lanyard, an extra O-ring, and a keychain flashlight.
Pros:
Price
Powerful beam
Comes with rechargeable batteries, charger, and battery adapter
Cons:
Difficult to change between modes
Battery charger can be unreliable
---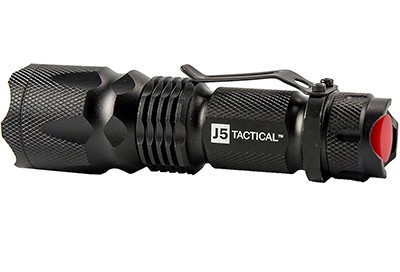 For an exceptional bargain, check out the J5 Tactical V1-PRO 300 Lumen Ultra Bright Flashlight. It's a small but effective pocket flashlight that literally fits in the palm of your hand.
It's made of military-grade aluminum and is pretty durable when you take the price into consideration.
The 300-lumen beam shines up to 600 feet. It even has 3 different settings: high, low, and strobe modes. Believe it or not, all you need to power this one AA battery and you'll get hours of use out of it.
The beam is a little more powerful if you use a lithium-ion battery but you'll still get a good amount of power out of an alkaline battery.
It comes with a belt clip that stands up to a lot of heavy-duty use and you'll barely feel it on you because it only weighs 65 grams. The focus can be adjusted by tweaking the head while the while the power button is on the tail end.
It's easy to change from one mode to another and will last as long as the battery allows it to.
We haven't tested this light over time, so my spidey sense is tingling when I see a tactical light for this low price.  I'm always cautious about "you get what you pay for" but at first glance, this looks like a pretty decent deal for the price.  I
n a worst-case scenario, you won't lose a lot of cash if things go south on this deal!
Pros:
Inexpensive
Fits into the palm of your hand
Durable
 Cons:
Doesn't last too long before battery needs to be replaced
Have to toggle through all modes to get the one that you want
Not as bright as competitors
---
Let's Wrap it Up!
That concludes our list of the 7 best tactical flashlights for this year. As you can see, there is a wide range to choose from.  You can see even more options like Diving Lights which are nearly the same as tactical flashlights but with extreme durability.
The Streamlight 88040 ProTac is a bright light with three different settings. It comes in a few different colors and is 600 lumens at its brightest.
You also have control over the intensity of the beam and can choose from three different options, allowing you to see in almost any condition. It's waterproof up to one meter for about 30 minutes and stands up to a lot of wear and tear.
For a little light that packs a punch, try the SureFire G2X Series LED Flashlight. The body is built to be exceptionally durable and, although it only has a maximum power of 320 lumens, it can cover up to about 200 feet with a 30-yard peripheral view.
For a flashlight designed for use by the LAPD, try the Pelican 7060 Rechargeable Flashlight. It's dependable and can perform in a variety of circumstances.
The integrated lithium-ion battery pack can be charged with either an included dock or car adapter so you'll always be prepared, even when you're on the go. It's a simple light that gives off a tightly focused 160-lumen beam. It also comes with a lifetime warranty.
For a tactical flashlight that comes well equipped with accessories, there's the Inova T4RQMDB-HB T4R Rechargeable Lithium Powered LED Flashlight. You get rechargeable batteries, a charger, and car adapter.
The hard finish protects it against wear and tear and has several modes that cycle from 303 to 17 lumens. It's a little longer than a lot of the other options so it's great for people with large hands.
For a military-grade, powerful compact flashlight there's the SureFire P2X Fury. It's easy to hold thanks to its small diameter and is available in several versions:
Tactical-single output for one high output beam, Dual-Output for high and low options, and IntelliBeam with auto-adjusting intensity levels. You get a lot of power and options from this "spotlight in your pocket."
For a tactical flashlight with a lot of power, look into the EcoGear FX Tactical Flashlight. When you use its special zoom feature you can get power up to 1200 lumens.
It's durable and won't show superficial damage. There are 5 standard settings, including strobe and an SOS mode to attract maximum attention when you need it.
It comes with batteries, a charger, and adapter so you can use AAA batteries if you wish, and a handy lanyard.
If you're on a tight budget, consider the J5 Tactical V1-PRO 300 Lumen Ultra Bright Flashlight. It's a palm-sized 300-lumen flashlight that's exceptionally durable while weighing only 65 grams.
The beam works best with a lithium-ion battery but you'll get good light from a standard alkaline battery as well.
A tactical flashlight is a great thing for anyone to have. They come in particularly handy if you're an outdoorsman who likes to hunt, camp, or fish.
We gave you some really great options that fulfill a variety of needs.
By using the information we provided you in our buyer's guide, you'll be able to determine what features you need in order to choose the most effective tactical flashlight for your outdoor, safety, adventure, and even "sneaky-ness" needs!
---