The 10 Best Ab Straps : The "Easy" Way to Get a Six-Pack!
Looking for an easy way to give your core a great workout, without the tediousness of sit-ups and the cost of an ab wheel? Look no further than the ab strap!  Well, let's be honest here – nothing to do with building a solid, rock-hard body is "EASY", but you know what I mean right?  When I say easy, I mean that ab straps are an inexpensive and uncomplicated way to build a solid core.  Believe me (I know) you can get machines and setups that are not "easy" like ab straps (which require about $25 and a horizontal hanging bar or 2×6 beams in your basement.  I own an ab machine similar to THIS ONE, and it's not only expensive, but it takes up valuable square footage in my weight room.
Ab straps are simple devices, devices that attach to a pull-up bar and allow you to hang from them. Once you're hanging from the ab straps, you can contort your body in a number of ways which makes for an excellent core workout.
Ab straps are easy to use, versatile, and capable of giving more than just your abdomen a workout. There are, however, quite a number of good products on the market to choose from.  We'll do our best to unravel some of the confusion over the issue of whether or not there is any significant difference between various straps and which one would be the "best deal".  There are plenty of things that separate great ab straps from mediocre ab straps. We're here to inform you of those qualities, as well as inform you of the ten best ab straps you'll be able to get your hands on. We'll start with a comprehensive product guide, then we'll move on to the ten greatest ab straps. Trust us – you'll want to get your hands on one of these.  I've personally owned a set of these for years, and if used correctly, I can confirm that they are not only effective, but they can be used quite safely.
---
The Standout Qualities: An Ab Strap Buyer's Guide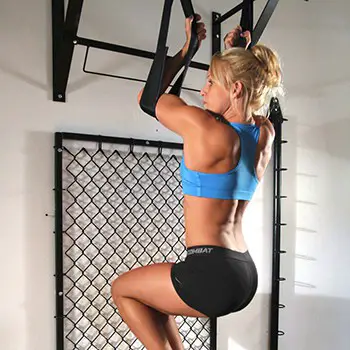 Comfort – One of the primary concerns of many forms of workout equipment is how comfortable it is to the user while they're performing their exercises. You don't want to feel like your hands are about to peel off while you're working out, after all. 
With ab straps, in particular, you'll want to look for a padded foam cushion that's present on whatever surfaces come in contact with your body. Ideally, this cushion should be moisture resistant to wick away sweat, but we'll talk about that next.
Durability – The durability of your ab straps is a really important quality that is directly related to your safety, as well as the straps' longevity. From the attachments to the handles, you'll need as sturdy of a build as possible. On the grips, look for stainless steel carabiner attachments. Also look for moisture-resistant foam padding on any surface that might touch your bare skin. Another key thing to look for in an ab strap that could affect the device's durability would be the addition of rip-resistant fabric.
Max Load – The max load refers to the total amount of weight that the ab straps can support. We'd suggest looking for an ab strap set that supports no less than 100 kgs.
Attachment – The attachment of the ab straps is probably one of the most important things to consider when looking for a set of straps. The quality of the attachment can impact your safety, mobility, and efficiency while you're hanging from a pull-up.  Consider a carabineer method of attachment; it's simply a piece of fabric that wraps around the top of the pull-up bar, which then connects to another piece of fabric by the means of a carabineer. We'd consider looking for a carabiner that's composed of stainless steel.
Supplemental Materials – Are you looking for a set of ab straps that only features ab straps? Or, do you want more than just the exercise tools? Many ab straps come with supplemental parts, guides, or workout videos. You'll want to do your research and figure out what you want.
Now, let's get to the product reviews. We'll look at ten of the best ab straps from a comprehensive point of view. We'll start off with a description of the product than we'll progress into a list of pros and cons. While the first product on the list is the best and the last isn't, that doesn't mean that the poorest-rated product isn't worth checking out!
10 Best Ab Straps
Out of all the ab straps on this list, the RDX Ab Straps might be the most unique; they're constructed out of a leather material that helps immensely with its durability, moisture-resistance, and comfort. On top of its material, the straps are extra wide for optimal comfort and less skin-pinching. These straps are also equipped with big carabineers, optimal for the largest of pull-up bars. The only thing we'd have to point out would be the lack of adjustability of the straps; you won't be able to accommodate larger or smaller people on the straps if they're having trouble getting used to them.
PROS
Leather construction
Comfortable
Large Carabineers
CONS
---

If you are an ab strap manufacturing company trying to promote your brand, a great place to start is to offer a 100% lifetime guarantee!  Does Armageddon offer that?  Check!  That's a great start.  But wait, there's more!  Aside from the scary name, Armageddon offers a great product for the money.
 These straps are so heavy duty that they're guaranteed forever!  If anything happens that suggests a deficiency in manufacturing, you'll get a refund – no questions asked.
They can hold weights up to 396 pounds with ease, but what about comfort?  I'm glad you asked!  With full elbow padding, you won't be complaining about chaffing or discomfort on your skin.  We like these straps because of their no questions, unconditional lifetime guarantee.  It doesn't get better than that for any product or company in the world.  That's pretty significant!
PROS
Among the most durable of all products in its class
Lifetime guarantee
Best padding in its class
CONS
Not the cheapest priced straps on the market
---
The DMoose Ab Straps have officially made it to the status of "Amazon's Choice" and it's for good reason!  With heavy-duty rip-resistant nylon and adjustable straps, it offers much for a relatively low cost.  It features thick, padded arm sleeves, and its tough arm cradles are sweat and odor-resistant.  The straps are designed to hold 400 lbs.  It can do that in part by offering double-stitching in the integrated elbow sleeves.  With 3 very cool color combinations (not the least of which is this stars and stripes option), you can stand out in a crowd while at the same time, using straps that are close to the highest-quality straps you can buy!
PROS
Comes with adjustable straps
Durable materials
Extra large hooks
Very cool color options
CONS
Hooks might be too large for some pull-up bars
---
These ab straps are loaded with everything you'll want from ab straps. They feature excellent durability, excellent construction, comfortable lining, and easy setup. You won't get much better than the Valeo ab straps if you want a quick and easy way to step into the world of ab-crunching workouts. They're equipped with metal carabineers and grommets, for optimal safety while you're hanging from the pull-up bar. While they're reasonably durable, you'll find that some threads might start coming loose after moderate use. Also, their length isn't adjustable since the carabiners only hang, rather than connect through the fabric.
PROS
Durable
Comfortable
Safe
Built with high-quality materials
CONS
Threads come loose after moderate use
Non-adjustable length
---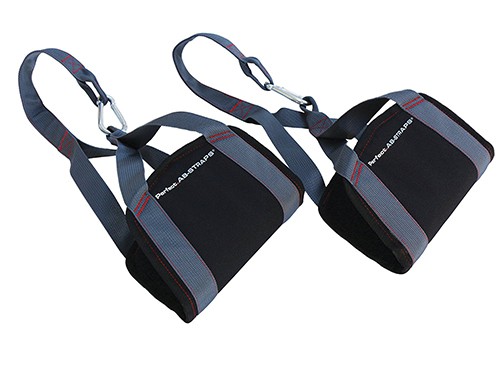 With sturdy carabineers, durable construction, and supplemental workout tools, the Perfect Fitness Ab Straps are a great addition to anyone's workout regimen. The included carabineers are extremely large for safe and secure attachment. The construction of the straps is excellent, with rip-resistant and moisture-wicking fabric. Finally, the Perfect Fitness Ab Straps come with an included key for online workouts and much more. One flaw we noticed with these straps is that they don't hold that much weight. We wouldn't recommend using them if you weigh more than 200 pounds.
PROS
Supplemental workout materials
Sturdy carabiner construction
CONS
Doesn't hold very much weight
---
The Perfect Fitness Pro Ab Straps make a formidable addition to anyone's at-home gym or workout combination. The reason is that they are manufactured more durably than any others we've seen.  They feature thick, cotton padding, and it can easily work with up to 300 pounds.  This set of ab straps features removable neoprene grips along with heavy-duty carabiners.  The design is meant to be compatible with all home gym pull-up bars so you won't have to worry about where to install them.  
Add to these features the excellent customer satisfaction factor (as evidenced by confirmed Amazon purchasers), and you have an unbelievably durable, long-lasting and very capable pair of straps meant for even the biggest of athletes.
PROS
Removable and washable neoprene handles
Large, easy-to-use heavy-duty carabineers
CONS
---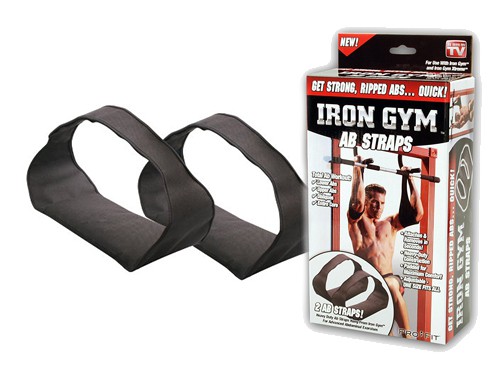 While they're best used with the Iron Gym at home gym system, the Iron Gym Ab Straps can provide anyone with a beneficial core workout; you can hang them on any pull-up bar. It can hold a massive amount of weight, 300 pounds, but isn't large enough to get in your or anyone's way. They're a great addition to your workout routine. While they allow you to do a decent amount of core and lower back exercises, they don't allow for lateral leg movements, which may limit your workout routines.
PROS
You can hang them anywhere
Massive weight support, despite their small length
CONS
Design limits lateral exercises
---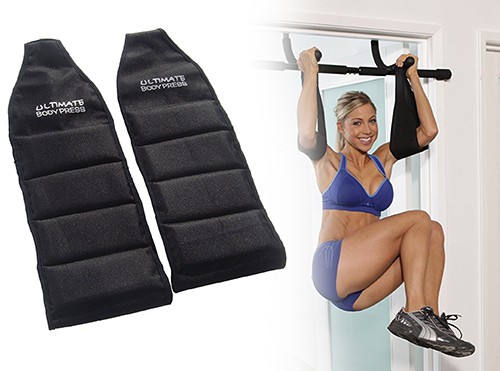 The Ultimate Body Press Ab Straps are a great set of ab straps to have at your disposal – they're comfy, easy to use and provide access to a versatile mix of workouts. The armholes are extra wide, which makes them able to accommodate a variety of body types. This can also make it difficult for those with smaller arms to use them, however. There isn't any existing carabiner, either; this makes the whole apparatus feel relatively insecure.  They do nest into each other for easy storage.
PROS
Wide straps and armholes
Great for larger users
Comfortable
CONS
Sketchy securing mechanism (Velcro)
---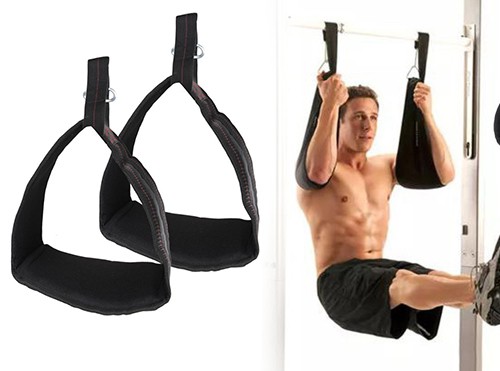 Easily attaching to most chin-up bars with a maximum weight capacity of up to 100 kilograms, there's a lot to love about the Pellor Gym Hanging Ab Straps. The straps are easy to set up and make doing crunches and other types of exercises a breeze. They're wide, as well; anyone can use them with little to no discomfort. The construction of the straps is sturdy, as is the stitching. The only downside is that they're quite short; this can hinder your ability to flexibly move while suspended from your pull-up bar.
PROS
Sturdy construction
Versatile
Easy to setup
CONS
---
VikingStrength is another "no-name" brand, but that's irrelevant since they do offer a very adequate set of straps.  In all of VikingStrength's promo material, there is an emphasis on what ab straps can do like full core targeting with leg raises.  We already know that, so what makes this set of straps better than others?  Well, honestly, not that much.  They are solidly in the pack of "good ab straps".  They offer adjustable straps, double stitching and relatively comfortable slings or pockets.  They do offer a free e-book (not a physical book) and they are conveniently packed in their own storage bag for keeping them organized and separated from other junk in your gym bag.  
VikingStrength offers a "100% moneyback guarantee" and only through testing that guarantee will you really see how easy it is.  They're priced pretty well so I don't think you'll be disappointed with a restrictive price point.
PROS
Wide straps
Economically priced
CONS
Suspect Stitching
Care must be taken when setting up to get them both the same length AND to keep the carabiner from scratching the bar to which they are attached
---
We've reached the end of the product reviews. Without a doubt, most of the aforementioned ab straps are excellent pieces to include in your workout regimen, delivering a superior core and lower back workout to anyone who dares use them.
It is, however, worthy to note that ab straps can put some unnatural strain on your shoulder joints which is not unlike many other resistance exercises.  We would strongly suggest you use your best judgment when using ab straps, and if your shoulder begins to hurt, please consider another method of working out your abs and other core muscles.
Summing it All Up With Our Recommendation
The best ab straps don't show themselves easily. Rather, it takes patience and knowledge of the important features to truly find the best set of straps for your routine or at-home gym. From the carabineer hooks to the stitching, no features should be overlooked. Otherwise, you're burning a hole in your wallet with wasted funds!
We'd recommend trying the RDX Straps. While they're certainly the highest-rated straps on the list, they're made of leather. This isn't something that's normally integrated into workout equipment but holds up well in the face of moisture and use. They're also extremely wide and equipped with large carabineers that make your workout safe and effective.
Using the above product guide as well as the list of ten ab straps, you should be able to easily pick out an ab strap that suits your needs. All it takes is patience, diligence, and product knowledge.
ALTERNATIVES?
If, after reading this post, you're curious about a potential alternative to ab straps, then I've got a fun, but very effective alternative, and it won't potentially hurt your lower back (which ab straps do to me).  It's an ab squat machine that really works.  The downside is that it costs more than ab straps and takes up some space.  Nevertheless, it's a better alternative for a whole lot of people!