IMPORTANT ANNOUNCEMENT:
Because of Covid-19, there has been a buying frenzy in the area of home fitness equipment so that only a few of our recommended kettlebells are in stock.  We trust this situation will resolve soon and we thank you for considering our top 9 adjustable kettlebells!
If you've been on the hunt for a kettlebell to include in your workout routine, you've come to the right place! Kettlebells make complex workouts easy. They can add a different type of strength training to your normal workout routine and can even give you some of the same cardiovascular benefits as running.
You might be searching for a kettlebell to add to an existing workout regimen or you could be looking for a routine that includes solely kettlebells. If the latter of the two choices is close to what you're thinking of doing, an adjustable bell will suit you well as they can provide a variety of workouts.
Adjustable kettlebells, quite simply, are kettlebells that have been modified in a way that allows the overall weight to change, based on addition or subtraction of weight. If you've been to a gym before then you've probably seen adjustable dumbbells. Odds are that you might not be familiar with adjustable kettlebells, since they are a relatively new piece of equipment.
Don't sweat it – we've pulled together some information that's designed to help you understand the world of adjustable and ultimately, find the right option within your budget. The world of adjustable kettlebells is surprisingly large, so be sure to pay close attention to everything mentioned below. We'll start out with a beginner's guide to understanding the process of figuring out which kettlebell to consider, then we'll look at seven adjustable kettlebells that are each outstanding, in their own way.
Top Adjustable Kettlebells Comparison Chart
4 Step Buying Guide
When it comes to shopping for fitness equipment, you're truly getting what you pay for! An adjustable kettlebell system may be a simple device, but there are a lot of things that go into choosing the best one for your use! Before we get to the top ten adjustable kettlebell systems, we'll take a look at a step by step process that details exactly how to find the best kettlebell system for your needs.
Step One: Familiarize Yourself With Your Weight Needs.
One of the first things you need to do, in order to successfully chose the best adjustable kettlebell system, is to determine the needs of your body. One way to do this is to determine your level of fitness. What is your weight lifting experience? Are you in appropriate shape? What workout routine have you just come from? Are you entirely new to the world of fitness?
If the final section of that statement applies to you, you'll want to purchase a kettlebell system with a low range of weight. Typically, the lower weight adjustable kettlebells go up to around 20 pounds. The highest weight you'll find on an adjustable kettlebell system is usually 60 pounds, but you can always add your own weight if you so desire!
If you're a seasoned lifter or if you're in relatively good shape and looking to dive into the world of kettlebell exercises for the first time, we'd recommend starting with a kettlebell that's adjustable to a high weight but allows you to start at a lower weight, in case your muscles aren't used to the movements.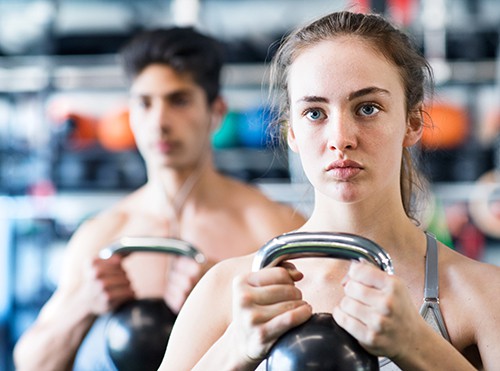 Step Two: Understand the Weight Switching Systems
There are many types of weight switching systems in adjustable kettlebells. Primarily, they come in the form of disks, which slide on and off a central pole, which is connected to the main part of the kettlebell. These disks are each a certain weight and can be left on or off, depending on the weight you plan on using.
Another system that's featured on many adjustable kettlebells is a removable center. Simply put, the kettlebell has a hole through its center, with one of the openings covered. The cover acts as a pallet for various weights to fit into when they're inserted into the kettlebell's hole.
There are many other systems as well – the type of system can largely depend on the manufacturer of the kettlebell system. Some are more complex than others. The more weight replacements you have on the kettlebell, the easier it will be to adjust the kettlebell's weight to your exact needs. We'll get into that, below!
Step Three: Figure Out the Increments Your Workout Demands
Kettlebells with adjustable weights feature various increments of weight, in the form of removable weights. The amount of weights and the weight itself is largely dependent on the weight range of the entire set.
When you're figuring out what increment of weight you'll need, think about the position you are in your workouts, or the position you want to be in. If you purchase a kettlebell with a low weight range with only two removable weight pieces, you won't be able to increase the weight very much, as you get used to the weight level which you're currently working out on. If you purchase an adjustable kettlebell system that has five different weight pieces, however, you'll have the ability to slowly progress through varying levels of workouts, even if you're a beginning kettlebell user.
Long story short: Getting a kettlebell with several increments of weight may help your ability to get through workouts, without having to buy expensive new equipment!
Step Four: Figure Out the Extra Parts and Features You'll Need
Durability
While many kettlebells may be touted as "long-lasting", we've found that one material primarily accounts for this longevity – steel. While it's common, especially for those who've lifted weights before, to think cast iron is the best material for weights, steel simply holds up better over time. We'd suggest looking for an adjustable kettlebell system that features steel as the material it's primarily composed of.
Grip
The primary feature of a kettlebell set is its handle, which is responsible for its wide range of movement and workout options. You'll be gripping the handle of your adjustable kettlebell set quite often, so it's important to make sure that the handle of the set you're considering buying is comfortable.
Steel in itself isn't comfortable to hold for long periods of time – you'll want a powder-coated handle, which both adds grip and reduces the stress that solid metals put on your palms and fingers over time. If you've ever clutched a barbell, you know what I mean!
Price
Figure out the price range you're working. The weight range of the kettlebell system you're looking at is usually indicative of the adjustable kettlebell's price. For instance, an adjustable kettlebell with a maximum weight of 30 pounds is going to cost less than an adjustable kettlebell that has a maximum weight of 60 pounds.
Extras
From magazines to training DVDs, adjustable kettlebells often come with extra features that can help or enhance your training. While these extra features don't necessarily mean one kettlebell is better than the other, they can help you decide between two that are similar!
The following four steps will help you get the most for your money, especially when workout equipment such as kettlebells can be quite pricey. Once you've sorted through all of these steps and figured out what parameters are right for you, it's time to find the best adjustable kettlebell!
We won't force you to buy one, but we can certainly point you in the right direction with all of the great kettlebells we've listed below. We'll start with the best and finish with the ones that do their job well but aren't the best.
Best Adjustable Kettlebell Reviews
This Bowflex adjustable Kettlebell receives a near-perfect 5-star rating on Amazon from over SIX THOUSAND people who have purchased it!  Can you imagine those who bought it but didn't bother reviewing it?  It's insanely popular beyond all others!  
With this set of bells you just dial to automatically change weights from 8 pounds to 40 pounds.  This unit replaces at least 6 kettlebells so it's super-efficient as far as space-saving is concerned.  The increments are smaller than most so you can increase your resistance level at a more gradual rate which can serve to decrease potential injuries.  The weight settings are 8, 12, 20, 25, 35 and 40 pounds.  It features an ergonomic handle with a durable housing.
You can even access 24 trainer-led exercises that will give you foundational techniques to offer you more knowledge on how to use them efficiently.  Knowledge is power I say!
PROS
Portable
Easy weight attachment and removal
Feels great in your hands
6 weights in one unit
CONS
Doesn't go beyond 40 pounds of total weight
Doesn't come with a carrying bag of any type
---
Who says a kettlebell has to be shaped like a ball with a handle on top?  This idea seems so simple that it's hard to believe it's not the standard in kettlebell production and design.  Be that as it may, we like it for one VERY BIG and obvious reason;  it can hold any weight plate with a 1″ hole.  Of course, you don't want plates that have a big diameter which will get in the way of your movement (smacking your legs or shoulders as you exercise).
The smooth 35mm thick handle is made of high-quality stainless steel and will absolutely last a lifetime.  The weight changes are quick and easy so no worries about wasted time changing plates.  As much as we like this, we have TWO big beefs.  One is that it doesn't even include weight plates.
They're easy to buy, but still, for the price, they should include some to get you going!  The other thing we don't like is the price point which is pretty high considering there are no plates.  If it wasn't such a great idea to be able to use normal weights instead of specially designed (non-expandable) kettlebell weights (which are also specific to not only the brand, but the exact model of kettlebell) we'd take this kettlebell (handle) right off our list!
PROS
Looks and feels like a traditional kettlebell
Great range of weight since you add your own using any 1″ plate
Don't need to rely on limited included weights which is how most kettlebells are designed
CONS
Weight plates not included!
VERY pricey considering no weight plates are included in the price!
---
Okay, so once again (much like our #2 pick), this isn't your standard kettlebell.  In order to make this contraption work like a kettlebell (and give you the ergonomic benefits of using a kettlebell), you have to own a set of dumbbells.  Yes, that's the rub!  However, assuming many of you own a few fixed weight dumbbells (if not, it may not be the worst idea for you to get some – or you can make them adjustable dumbbells) this small, inexpensive piece of hardware can open up a whole new world of workouts that would be a LOT more expensive if you did not own a set of dumbbells already!
How it works is that you simply open the handle and place the dumbbell's handle in the cradle, then close it, lock it and it will be secure enough for you to do all your kettlebell exercises. The cradle where your dumbbells rest is filled with a high quality urethane foam that will prevent the weight from slipping. The Kettle Gryp will fit around any dumbbell handle 1.5 inches in diameter or less (and that is most). And it's rated for any weight up to 55 pounds.
It is just under one pound so the addition it adds to your weights is almost negligible, but you will want to take it into consideration if you're just starting out and every pound matters. The grip itself is made of a high impact ABS plastic and the pin that hinges the grip is made of stainless steel. And should anything happen, the Kettle Gryp is backed with a lifetime warranty.
If you already have a set of dumbbells and are just curious as to whether adding kettlebells into your routine may get the kind of results you're looking for, this is an inexpensive way to find out. This is a perfect little addition to your already established weight room and it will expand your fitness world and relieve any boredom you may be suffering in your exercise routine. And not having to add all new equipment to your home gym will really help you save space. In fact, because of how portable it is, you can even pack it up and use it while traveling.  It's worth a note that most gyms have dumbbells, but fewer have kettlebells.
The other thing we love about this handle is that while it's very inexpensive considering the alternative, it's a fully American-owned company and it's actually manufactured right here in the USA (San Diego)!  Wi-Hoo!
PROS
Can be used anywhere and anytime (convenient to carry in your gym bag)
VERY light
Made in USA
Very affordable
 CONS
Does not include any weights
---
Dazone made our list near the top because of price and (what we believe is) overall value.  It's a no-nonsense and no-frills bell at a great price!  It's ergonomically designed for a good fit in an average hand (traditional u-bar design) and a dial at the top controls the weight.  The weight increments are in 2.5 lb plates which range from 2.5 lbs to 25 lbs. 
The cast-iron plates are powder-coated and the handles themselves are 1.2 inches wide.  The kettlebell comes with a flat base for easy storage and offers probably the vest "value" of any kettlebell on our list.  You can easily do over 30 exercises and take it anywhere with you.
PROS
Can be used anywhere – quite versatile
Easy to understand weight attachment system
Made of durable steel
 CONS
---
The Rep Fitness Adjustable Kettlebell is a great bell to start with if you're new to the world of fitness or new to the world of kettlebell workouts. It's an excellent way to start off on the right track, and it's easy to use. The Rep kettlebell (according to REP) adjusts faster than any other kettlebell on the market. You just push down on the top and twist to select whatever weight you like.  Each kettlebell has 5 different weight settings which of course replaces 5 different kettlebells!  You'll be able to move different sized weights off the bell without any issues. The handle is easy to grip, as well! The downside to this adjustable system is that it doesn't contain much flexibility when it comes to adding weight. Unless you can find additional weights that fit this model precisely, you'll be stuck with low weight.
This kettlebell retains its shape no matter how many weights are on it, so it does not look weird or misshapen with only 1 weight, or lots more!  It also features a rubber bottom so it's easy on your floors.  The matte powder-coated finish is far more conducive to gripping efficiently than many others which are glossy finished.  
It's available in 3 sizes:  16kg: 8, 10, 12, 14, 16 kg settings,  24kg: 16, 18, 20, 22, 24 kg settings and 40lb: 20, 25, 30, 35, 40 lb settings
PROS
Superior grip with powder-coated finish
Perfect for beginners
Portable
 CONS
Weight can't be added beyond the low weights it comes with
Not super cheap (not budget-oriented)
---
The PowerBlock Kettle Block is an adjustable kettlebell system that might be a little pricey for its low weight capacity, but with the price comes plenty of beneficial qualities. The maximum weight is a moderate 35 pounds, which is perfect for intense bouts of high-repetition kettlebell exercise. The weight is also excellent for those looking to begin kettlebell workouts for the first time. The bell features slotted weights that are adjustable in increments starting from 18 pounds, then 22 pounds, then 26 pounds before it jumps up to 35 pounds. 
Powerblock designed this kettlebell to feel like a solid iron bell but with the advantage of adjustability.  Good show!  It features a steel selection pin which is secured in place with a magnetic lock. 
The overall shape of the kettlebell is a little different, with its block-like shape, holding true to its name. Overall, the bell is well built, noiseless when you set it down and change weights, and feels good when you work out with it.
PROS
Adjustable weights that go up to 35 pounds
Easy to use
Comfortable grip
CONS
Weight change system can take some time to get used to
Odd shape
---
The Titan Fitness Adjustable Kettlebell is pretty good kettlebell system with no glaring flaws. Overall, it features a weight changing system that's simple and easy to get used to. The weights are cylinders that slip on and off of the kettlebell. The cylinders come together to form the spherical shape of the kettlebell, meaning the lowest weight capacity will have you lifting a handle and half of a sphere. It has a range of weight that can be used for beginners and advanced lifters alike. The range of weight is 10-40 pounds. The material that the Titan Fitness is composed of isn't the best material as far as durability is concerned, but its powder-coated cast iron handle is quite comfortable to pick up. The plates themselves are also composed of cast iron. You're going to want to wear closed-toed shoes when using this kettlebell – you don't want the weights dropping on your toes!
PROS
Weights are easily removed
Durable
Decent range of weight
CONS
Not composed of steel
If not secured, iron plates can be dangerous
---
It's no small thing to make it as "Amazon's Choice" of product in a specific category, and that's exactly what Apex has done with their Heavy-Duty exercise kettlebell weight set.  Featuring a 15 lb weighted handle and 4 removable spacer disks and a 5 lb bottom plate.  It's a cast-iron creation with a powder-coated exterior and it allows you to vary your weights from 20 lbs to 50 lbs.   The spacer disks can be replaced with 2.5 lb, 5 lb or 10 lb weights if you want to push the maximum weight abilities of the kettlebell.
You can see that it's not for those on the smaller/weaker end of the spectrum as the starting weight is much higher than many others on our list.  The idea with this Apex is that it's meant for advanced training, and it's able to take a lot more abuse than most other adjustable kettlebells.  It's a good option for a commercial gym or any hardcore workout enthusiast!
PROS
Higher weight range
Durable construction (more so than most)
Many weight increments
CONS
The weights can't be easily adjusted
Does not allow for lower weights in the 5 or 10 lb range
---
The Stamina X Adjustable Kettlebell uses a unique weight-adjustment system to provide its users with true versatility and workout weight range. With a total of five incremental weights, starting at 16 pounds and ending at 36 pounds, the Stamina X is a great choice for beginner to seasoned lifters to try out. The weights are changed out in a way that's slightly different than other options. A pocket exists in the center of the kettlebell structure that houses each increment of weight. Each increment of weight can be secured in, depending on the weight you're trying to lift. The system is perfect for beginners who don't want to lift that much weight for their first time. For lifters who are looking to quickly adjust the kettle's weight, however, complications could arise. The weights are easily adjustable, at least while you're working out. The bell itself is made from cast iron, a material that's substantially less durable than steel. With all of this being said, the Stamina X is still a great kettlebell for working out. It features a wide range of weight that's adjustable in five different increments, a beautiful paint job, and a straightforward weight switching system.
PROS
Looks and feels like a traditional kettlebell
Great range of weight
Weight adding/subtracting system is quite straightforward 
CONS
Made of cast iron rather than stainless steel
Weights can't easily be taken out or added in the middle of a workout
---
Final Thoughts & Conclusion
We each have our own reasons for partaking in personal fitness. We also have our own reasons to partake in specifics types of workouts, such as specific exercise routines. There are plenty of reasons to partake in kettlebell exercises. They're quick and easy, which might suit those of us who work long hours out of each day. They're functional, meaning they help us build muscles that we use to perform tough tasks with, on a daily basis. They're also an easy way to get a great cardiovascular and strength workout.
We've reached the end, but if you absorbed the information you just read, you're likely at the beginning. Not back at the beginning of the article, but at the beginning of your very own journey towards getting fit with a kettlebell.
One way to cut the cost, vary your workout routines, and save space in your home is by purchasing an adjustable kettlebell. The seven kettlebells that we just mentioned are all great choices but with some serious digging, you might be able to find some more on your own!
Getting back to the subject, finding an adjustable kettlebell that suits your needs and your budget might not be an easy task. It can be broken down into simple steps, however, which will make your buying process twice as easy. First, you'll want to familiarize yourself with your weight needs as well as your workout's weight needs. Secondly, you'll want to understand which weight switching system is right for you. Thirdly, you'll want to check out what increments of weight that the weights are adjusted by. Finally, you'll want to check for functional features such as the material, the grip, and the overall price.
Once you've pieced together a plan, you're on the right track. Finding an adjustable kettlebell isn't very difficult if you do it right!
---