When you are looking for golf discs, it can be rather difficult to figure out which disc is going to fly the furthest and which disk is going to fly the most accurately towards your target when you throw it. 
Preferably you want to find yourself a disk that is capable of both accuracy as well as distance so that you can use it on a longer hole.
If you cannot find such a disk you can buy a variety of disks that are meant to be used at a variety of distances in order to get the accuracy and performance that you crave.
---
Luckily there are a ton of options out in the marketplace and we have narrowed down some of the best options for you as well as made a general guide to what sorts of things you should look for when you are buying yourself some golf discs.
Disc Golf Disc Buying Guide
---
Price
To start off the first thing that you are really going to notice about golf discs is that they have a fairly large variation when it comes to the price of the units themselves.
A golf disc can come as a singular disk and you can also find them in variety packs. Since almost all golf disks are made up of plastic you are not going to find that golf discs are super expensive.
Remember that price doesn't always have an impact on overall quality, but it is a good starting point to give you a general idea.
Warranty
This is something you should most definitely have a look at when you are buying a golf disc.
If you buy yourself a disc without doing much research on the manufacturer you may end up with something that is of low quality and have the product end up breaking on you in a matter of days.
It would really suck if after the product broke on you, you then realized that there was no warranty or guarantee on the product which in turn means you have now lost all of the money that you spent on the disc.
At least with a warranty, the manufacturer has some trust in the overall build of their product and is willing to pay for potential defects.
Disc Packs or Singular Discs
When you are buying golf discs they not only come as singular discs. You can buy golf disc packs that contain a variety of different discs that allow you to throw at different speeds and have the disk go a much shorter distance.
Much like golf, you will find putter discs that only go a short distance when thrown, irons or medium length discs and woods or long-distance discs.
It is always a good idea to have a couple of discs to choose from in case one of your discs somehow breaks when you are out on the course.
Brand
Another very important thing to keep your eye on is what company you are buying from.
The nice thing about buying online is that you can do a little bit of research on the company that you are buying from and find out things like how long they have been around for, what previous customers thought of their products as well as what other kinds of products they sell.
Just doing a little bit of research can really help to give you a good idea about what kind of a company you are dealing with and whether they are a legitimate company and one that you actually want to deal with.
Flight Ratings
On each and every golf disc you are going to notice that the disk has a flight rating on the front of it; this series of numbers has a very important meaning and should definitely influence your buying decision.
The first number refers to the speed that the disc is capable of traveling; this number can range anywhere from 1-14.
Generally speaking, a driver disc will have a high number and be less accurate than a disc with a low-speed number. The next number in the sequence is how well the disc can glide; this number ranges from 1-7.
Generally speaking a disc with a lot of glide doesn't have a lot of accuracy; in windy conditions, you may want to use a disc that has a lower glide number in order to be more accurate with your throws.
The next number refers to the amount that a disc is going to turn on you when throwing. The number for disc turn range from one to negative five and a negative five rating is for a disc that has the most turn.
If you want a disc to roll then look for a disc with a lower turn number. The last number in the sequence refers to the fade of the disc. This is the overall tendency of the disc to have a turn/ hook right before landing.
The ratings on the discs range from zero to five. A five rating on a disc is going to have the hardest hook on it while a disc with a low rating such as zero is going to land the straightest.
Design
Due to the fact different discs are designed to travel only a certain length, it is important to have an idea what kind of a length you are looking for in a disc and how you can kind of tell a bad quality disc from something that is a much higher quality.
The first thing you are going to want to look for on a golf disc is the stability rating of the disc. Normally this is either located on the disc itself or it is located on the packaging.
A stability rating of three means that the disc is overstable and it can be difficult to throw the discs straight. A minus three eating on a disc does the opposite of this and it means that it is under stable and much easier to control.
It is generally recommended that a beginner player get a disc that has a rating of anything under one so that they can practice until they get better control of throwing the discs.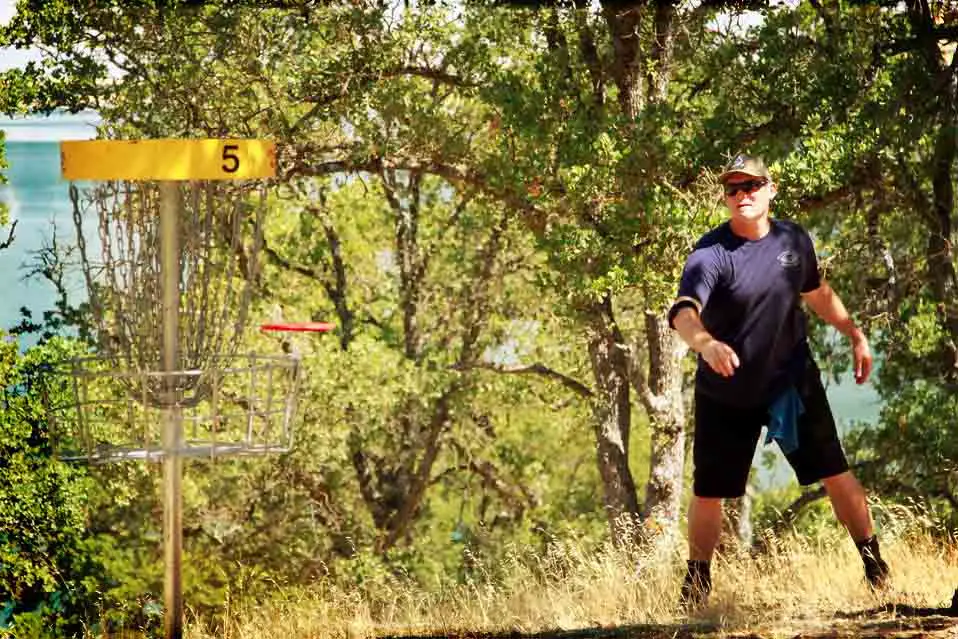 The other major thing that you should look at when you are buying yourself a disc is how heavy the disc is. A heavier disc is going to be overstable when throwing while a lighter disc will be under stable.
It is generally recommended that a new player begin with a lightweight disc because they can go a far distance and it can take a fair bit of practice before you get good at a heavy disc;
it is much easier to start with a lighter disc and then transfer over to heavier discs after you get some experience.
The final thing that may influence your decision is what kind of art the manufacturer put on the top of the disc for the user's satisfaction.
Sometimes a manufacturer will only put a brand name on the top of a disc and sometimes this can even be enough to influence a golf disc player to buy that disc.
Just remember to try your best not to buy a disc solely based off of the design because otherwise, you could end up with a poor quality disc that you may have to replace.
If it isn't going to be capable of the performance that you need, try your best to stay away from it and find something else.
Discs do come in all sorts of designs and colors and it is important to look around and find something that you like; there is a vast market for golf discs out there and it shouldn't be too hard to find something that suits you as well as your golfing style.
Markers
This is one very important aspect of disc golf especially because the discs are so large. When you are putting it is just like golf in the way that you don't want to get in the way of your opponents.
Using a marker to mark where your disc is on the green is important to do so that your disc doesn't get in the way of your opponent's throw.
Grip
In order to throw a disc properly, you are going to need a disc that has a good quality ridge on it so that you can get a proper grip and be able to throw the disc to the location that you desire.
It is important to make sure that the disc doesn't have things like bad creases in the plastic or a bend in the plastic or it may not fly straight.
Something that has a rubber edge is going to be a cheaper quality golf disc and likely isn't going to work as well as a pure plastic disc would.
Carrying Case
Although not every set of discs will come with a carrying case; this is something that you may want to consider investing in especially if you are going to be playing some disc golf long term.
Over a length of time if a disc is left out and in poor conditions, it can lose some of its flying ability.
A case is one of the best ways that you can protect your discs from damage and it is a good idea to keep an eye out for these when you are looking to buy a set of golf discs so that you can do your best to protect the discs from damage and long-term wear and tear.
---
Best Disc Golf Discs Reviews
---
This is a very high-quality single disc that is red in color and comes in a variety of weight sizes. The disc is a driver disc and is capable of going a very far distance.
The affordable price combined with weight options makes this disc a great disc for beginner and professional players alike.
Buying yourself a box set of drivers; although the most convenient way to purchase discs, is not going to give you quite the quality of buying them individually most of the time.
Pros:
Red color appeals to a broad audience
The flight ratings are given and they are 12, 6, -2 and 2.
Flight reading means that this disc is capable of traveling far, gliding for a long-distance has a medium amount of turn and it is on the lower to average end for the hook of the disc once it gets close to landing
Available in 165-170 gram size as well as a 170-175 gram size
This disc is known to have very good roll making it travel for a very long distance at times
Available for a good price for a disc of this rating
Cons:
You don't have a variety of discs to choose from if this is the only one you buy
Some users may want a bit lighter disc if they are a complete beginner
---
This disc set is available for a very good price and is a really nice set for a beginner. The set contains three different discs which include a driver disc, a middle range distance disc as well as a putting disc.
The colors of the disc do vary and the driver may not be the longest distance driver on the market; but, overall if you are looking for a nice, easy to use set of discs so that you can learn the game, this could very well be a good set for you.
Pros:
Wide variety of different discs to choose from so that you can get used to a variety of discs that are meant for different distances
Each disc is labeled with its flight range
Very affordable price tag considering you get three discs with the set
Variety of colors to choose from makes this a good set for kids
Discs are very lightweight and great for beginners to throw
Cons:
Due to their light weight, these discs are quite susceptible to high wind conditions
The driver in this package could be a little bit better as it doesn't do the best at super long-distance throwing
---
This disc set it a unique set that can be used in the daytime as well as at night.
There aren't too many discs you can use on the market that are glow in the dark and yet this brand has a package deal where you can get a driver, a putter as well as a middle of the range disc so that you can have a variety of discs to choose from in the dark.
These discs are also great to use in low lighting conditions and they really stand out in the grass, even from long distances away.
Pros:
The entire golf disc glows in the dark creating a disc that is extremely easy to spot
The disc itself is made from a water-resistant material and will float on the water if it lands in it
A collection of three different discs allow you to choose which disc to use according to the distance you need to land at
These discs all weigh from 169 grams to 175 grams meaning that they hold up pretty good in higher wind conditions.
Cons:
These discs are fairly heavy in weight and can be a little difficult for beginner players at first
Led discs won't really glow in the daylight nearly as well as they will at night time
Playing at night time can be dangerous and some courses will not allow this
---
This disc is a very affordable disc that offers a combination of distance and a good amount of gliding. Made by one of the biggest names in discs, the Valkyrie holds the world record for the longest distance at 820 feet.
This design is a lighter weight but offers the same kind of quality for a very affordable price that you might not expect to find from such a quality brand.
Pros:
Brand name is renowned for its long distance and high-quality discs
Available in a total of four different sizes including 145-150 grams, 165-169 grams, 170-172 grams, 173-175 grams
Driver will give you a long distance and is quite good at rolling in order to extend your distance even further
Simple looking design appeals to a wide audience
Astounding price for such a quality brand
Cons:
Has a fair amount of turn
You may buy the wrong size if you don't know what you want or need
The light size is quite light and easy to get caught up in the wind
Heavy size is much more difficult for beginner players
---
If you are looking for something to give you a bit of range as to which discs you can use and for a very affordable price tag, then this 5-disc set could definitely be something that interests you.
The great thing about this set is that it is highly customizable and is available at a variety of prices depending on the features that you are looking to get.
If you are willing to pay a bit of a higher price tag you can add things like more discs and even a carrying bag to transport your disks around.
Pros:
Available in numerous size and price options so that you get to choose the right package deal for your own situation
Contains a Keystone Putter, the versatile Fuse Midrange, the controllable Saint Fairway Driver, the fast Ballista Maximum Distance Driver, and the beginner-friendly River Fairway Driver.
Weights and colors of the discs vary depending on the set that you buy; meaning you have a wide variety of options available to you
Great set for a beginner golfer to try out a few discs and start to uncover what types of flight ratings they prefer to use
The carrying case is available with some purchases
Cons:
You are stuck with certain colors which vary by each individual set
Can be difficult to determine which set is the best for your own situation
Price can get up fairly high if you want to get yourself a really large set with a lot of discs in it
---
This set is available for an extremely low price tag considering that you get three different discs as part of the set. The set includes a driver, a middle-of-the-range disc as well as a putter to suit your unique needs.
Although you don't get to choose the colors or size of this set, the price tag helps to make up for this factor and the discs come in three distinct colors so that you will easily be able to tell them apart from one another.
This set will work for beginner players as well as experienced players; beginner players will have a little bit harder of a time with this disk set largely thanks to all of the discs being a little bit on the heavy side of things.
Pros:
You will get a putter, a driver and a middle of the range disc golf set for a very good price
Heavier disc golf set is ideal if you have some experience behind you
Comes in a variety of colors
Low price tag means you don't have to worry as much about potential breaks, replacement cost is low
 Cons:
You don't get to choose the colors that you want to be included in the set
Maybe a little heavy for beginner players to learn with
The driver in this set doesn't travel an extremely long distance like in some other sets on the market
---
This is a pretty nice disc set that offers an average price tag. The set itself contains a total of four different discs which allow you to have a bit more variety than many of the other disc golf sets on the market.
This set comes with two different drivers, a middle range disc and a putter for your convenience. This set can be used by any golfer no matter if they have a lot of experience or if they are brand new to disc golf.
The colors within this set do vary which will help you when determining which club to use in each unique situation that you come across.
Pros:
A total of four different clubs are included in this set to offer you some variety
Fairly good models for an average price tag
A range of colors makes it easier to determine which disc to use
Having two different drivers available helps you to get a feel for what kind of driver you prefer to use for different shots
Cons:
Higher price tag than some beginner sets
Flying specs are not shared for each disc
You do not get to choose the colors of each individual disc
---
This is one of the more expensive disc golf sets available and includes some high-quality brand name discs which help to add value as well as durability to the set.
These disks incorporate a very cool see-through design that will stand out amongst most other disc sets. The set itself contains a putter, a middle-of-the-range disc as well as a driver for long-distance throws.
This is a very nice set that allows you to experience some good quality discs at not too bad of a price.
Pros:
See through discs add eye appeal and a look that you won't find highly available in the marketplace
Three different discs will give you a wide range of throwing options to use on the course
Colors vary for each disc to help you remember to grab and throw the right disc every time
Although this set is a higher price than most, it does offer a quality brand that makes a quality product
Cons:
Specs for each disc are not included
Fairly heavy discs could prove to be difficult to throw for newer players
Fairly high price range may not be something in the range of a new player who just wants to learn the game
---
This disc set is unlike many of the other disc sets on the market in that you get a total of nine discs included with the set so that you can buy one set of discs and play with up to three people at a time.
If you have never played disc golf before this is an awesome starter set that you and your family and friends can use to get used to the sport and see what it is all about.
The set includes three drivers, three middle-of-the-range discs as well as three putters so that each player will not have to share discs.
Another great thing about this set is that is available for an average to just below-average price tag and it comes in its own carrying case allowing you to take these discs with you wherever you want to go.
Pros:
Comes in its own carrying case which allows for easy transportation
Nine different discs allow you to play a three-person game
Awesome pack to learn how to play
Disks are color coordinated so that you know which one to use in every situation
Cons:
Definitely not top of the line discs made by a well-known brand
No specs are included on the discs
If you have tried a good quality disc out before using these discs you will notice a quality difference between them
---
This is a very nice disc that comes in a huge variety of design options. The disc is quite heavy in weight but does offer a good quality and accurate throw.
The designs are quite extravagant and are a huge selling point of this disc. This disc is quite good at gliding and it is more than capable of taking on a bit of wind while still maintaining speed and direction of travel.
Pros:
Heavier disc allows for it to hold up better during strong windy conditions
Very good gliding disc for its weight
Available in 10 different designs that are extremely artistic and can really appeal to some personality types
Available for a fairly reasonable price tag considering how nice the disc is
A disc of 175 grams appeals to people with some experience but is not quite impossible for beginners to learn on
Cons:
Can be a little difficult to use for beginners and may take more time to learn with than a lighter disc
Designs may be a little bit too fancy for some people and maybe a little over the top
---
Conclusion & Recommendations
---
Buying a golf disc is not an easy task. Disc golf has become a pretty popular sport in recent years and as a result of this, there are a ton of different golfing discs available on the market.
Narrowing down these options can be extremely difficult to do and the perfect disc for you can be a lot different if you are new to disc golf compared to if you have a lot of experience in the game.
Remember that it is important to maintain your discs.
Organize and store them securely because over time discs do tend to wear out a bit over long-term use and don't fly quite as well. Luckily golf discs aren't super expensive to replace and there are a ton of options to choose from.
If you are brand new to the game and aren't sure if you like it just take that into account in your budget and maybe don't buy the most expensive disc golf discs on the market on your first go.
Hopefully, some of these discs appealed to you and/ or gave you some idea as to what you should be looking for in a golf disc. Best of luck in your golf games.
---