The 6 Best Vertical Jump Trainers : Belts, Bands, and Resistance
Vertical jumping is an important skill to have if you want to excel in basketball, football, track and field, or volleyball. Having a higher vertical jump than the competition means better performance, more chances at getting the ball, a better chance at scoring, or all of the above!
In addition to being a needed skill in sports, vertical jumping is also a great way to burn calories and fat and tone the legs and butt. The best part is that you don't need a lot of gym equipment to do the right workouts. All you need is a vertical jump trainer.
If you've never heard of a vertical jump trainer before or if you're not sure what qualities to look for in one, we've put together a buyer's guide to help you determine what kind of vertical jump trainer you need and the different things to look for to make sure you're getting one that will perform well. We also reviewed the 6 best vertical jump trainers of 2017 in order to give you a better idea of what's out there.
Buyer's Guide
A vertical jump trainer is a great way to isolate the muscles you need to improve not only your vertical jump, but your endurance, speed, and overall strength. But before you buy one, there are some things to consider. What style will work best for you? How many resistance bands do you need? How much instruction will you need? To answer these questions and more, here's what you need to know before buying a vertical jump trainer.
Types of Trainers
For our reviews, we looked at 3 different kinds of vertical jump trainers. While they are slightly different from one another, they all focus on working the muscle groups that will improve the height you'll get from your vertical jumps. Some are only used to vertical jump training, some can be adapted to full lower body workouts.
The basic difference between them is how they attach to your body and how the resistance bands and cords attach to them. Each kind has a belt (or 2 or 3) that attaches to your body and a cord or band that provides resistance. It is working against this resistance that is going to bring you the results you're looking for.
Belted Resistance Trainer
This type of system can be used for vertical jump training and can also enhance any other kind of workout. A belt goes around your waist that is attached to a long resistance band. The resistance band is secured either to a sturdy, stationary object or by a workout partner holding onto it.
When you work out, simply push against the resistance created by the band to get a more effective workout. In the case of vertical jump training, secure the band close to the ground and jump as you would during your game. The band provides counter pressure that will cause you to have to use your leg muscles more to get yourself off the ground, thereby working just the right area to improve your jump game.
Above the Knee Banded Trainer
Some of these systems have adjustable straps that are attached right above the knee. Resistance bands are attached between the straps so that they go from leg to leg. This setup adds additional resistance to almost anything you do – it will even increase the workout you get from casually walking.
These kind of trainers aren't vertical jump specific. They work by increasing the muscle mass in the legs as a whole, making them stronger which will, therefore, improve your vertical jump.
This is the style of trainer that most people probably picture when it comes to vertical jump training. These systems include a waistband and 2 ankle bands. Resistance cords of varying strengths are attached to the bands that keep you in a crouched position. When you jump, it adds resistance to the exact muscles you need to strengthen.
Bands
There are some things you need to consider about the resistance bands when choosing a vertical jump trainer as well.
You can see from the different types of trainers that the bands all connect in different ways. Consider mind the following:
Can the bands be repositioned at all?
Some trainers will have systems where you can shift the bands to various positions on the waist/ankle belts in order to better target certain muscles. This isn't necessary to get an effective workout but it is a nice option to have.
Does the system come with more than one resistance level?
Again, this isn't necessary but it will definitely come in handy as you improve. You'll start your workouts with lower resistance and will need to keep increasing them if you continue to keep building more muscle. Most systems come with at least two sets of bands that provide you with two different levels of resistance so you can advance to something a little more difficult when you're ready.
Other systems will only come with one set of bands but will sell additional sets of bands so you can continue to use the same waist and ankle belts. This isn't ideal, but it does give you some options.
There are also some rare systems that only come with one level of resistance and they don't allow you to buy the bands separately. This means that when you're ready to upgrade, you'll have to buy a whole new system.
None of these trainers are prohibitively expensive so it's not a huge deal if they need replacing. But the cost can add up if you need to keep adding on bands or buying whole new equipment. At the bare minimum, it's a bit of an inconvenience.
---
Our Recommended Training Bands
---
Instructional Booklets/Videos
Some of these systems are that intuitive to use, meaning that it's not always easy to look at it fresh out of the box and instantly know how to put it on and how to move in it to get results.
Look for a system that provides some kind of instruction. A lot of them will come with cards, booklets, or posters that will demonstrate how to wear the trainer and the exercises you should do to benefit the most from it.
A lot of brands will also provide access to online books or videos with purchase. Some give workouts for specific sports, fitness levels, or even ones that are specially designed for men and women.
This isn't something that is essential and it doesn't improve the equipment itself, but it will make sure that you know what you're doing. This improves your chances of success with the product and will also help you avoid injuries from using the trainer incorrectly.
Now that you know a little bit more about what to look for, let's take an in-depth look at the 6 best vertical jump trainers of 2017.
The SKLZ Dynamic Resistance Assistant Trainer not only helps with vertical jump training, it will also help maximize speed, strength, and power. Take not only your jump but your entire performance up a notch by using this system.
The Recoil 360 cord is extremely flexible and provides resistance from 15 – 50 pounds. It stretches up to an astounding 22 feet. This system allows you to train in any direction, getting maximum use and allowing you to work the muscles you used while playing your sport of choice. You also have the option of using this with a training partner by having them hold the end of the rope firmly as you maneuver and pull against the tension.
This trainer works by attaching the resistance band to the waistband and working your body against it. The other end either needs to be held securely by your partner or tethered to a fence or other strong stationary object. Then just do your sport-specific activities while using the cord for resistance. For example, if you want to use it for vertical jump training, simply do a vertical jump while jumping so your body is extending the cord.
This is a simple piece of equipment that adds extra resistance to the drills and exercises you're already doing for your sport. There's nothing else to learn and nothing complicated to attach or size. Just strap The SKLZ Dynamic Resistance Assistant Trainer around your waist, secure it, and go.
Pros:
Easy to use
Workout in any directions
Very versatile
Cons:
While you can use it alone, it's easier to use with a partner
---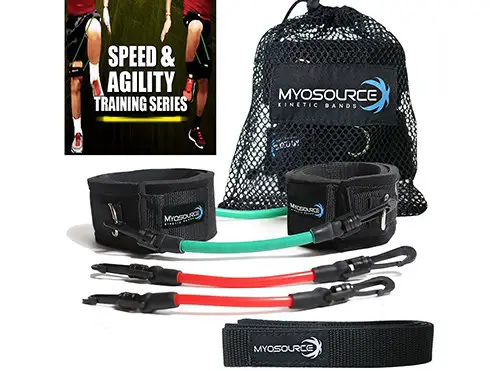 These Kinetic Bands from Myosource are a key component to this premium jump training system. This system is truly designed for legs. The bands fit just above the knee to provide added resistance when you're doing your regular exercise routine or even just walking around. Specifically, your legs, hip flexors, and core muscles will get a thorough workout. It'll help you run faster, improve your stamina, and, yes, jump higher.
This set comes with 2 adjustable neoprene leg straps, 2 sets of bands for varied resistance, a mesh bag for storage and travel, and a special band to help with stretching after your workout. You'll also get access to a speed and agility training series and an athletic training series for a total of 12 free workouts plus sports-specific videos. With all of these resources, you'll have all the help you need to make sure your workouts are giving you exactly the results you want.
They're recommended for ages 7 and up and come in 2 sizes in order to customize fit so youth athletes and those with smaller frames are able to take advantage of all of the benefits. You will probably need to cut the leg straps in order to get a proper fit for younger athletes. Each pair of bands has a long one that goes in the front and a short one that goes in the back in order to keep your glutes and quads working equally.
If you've used these bands and are ready to advance to something more powerful or if you want something with different tension, the company offers various band sets to try, ranging from power bands for maximum resistance to a beginner set.
Pros:
Adjustable for athletes of different sizes
Leg specific
Various bands available if you need a more intense workout
Cons:
Straps are difficult to keep in place on bare skin once you start to sweat
---
The Ueasy Bounce Vertical Jumping Trainer is specifically made to help improve vertical jumping. Resistance ropes attach from your waist to your ankles so you're working the same muscle groups you use to do a vertical jump.
This set comes with an adjustable elastic waistband, 2 adjustable ankle straps, and 2 elastic ropes. The ropes are available in blue (40 pounds of resistance), purple (50 pounds of resistance), yellow (70 pounds of resistance), red (80 pounds of resistance), and orange (100 pounds of resistance). Unfortunately, you don't get more than one pair in a set so if you want to move up a level, you'll have to order a new set of bands.
This set is a good price but will require the purchase of additional bands if you want to change the tension of your workout. It also comes with a nice bag for storage. You might find that it's difficult to get the right fit with the waistband. Some users have a hard time finding the right balance between the belt being too tight and moving around too much.
Pros:
Jump specific
Wide range of resistance levels available
Cons:
WIll need to buy new set if you want to change band resistance
Difficult to get the right fit
---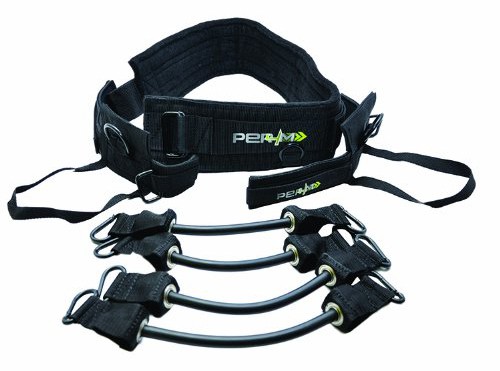 For another jump specific option, the PER4M Jump Trainer is an ideal way to work your calves, quads, and hamstrings. The muscle groups you use for leaping and jumping are targeted by the adjustable belt and ankle cuffs. Power tubes easily connect and disconnect so you can do your leg working and then use them for other lower body exercises.
This set comes with a set of cards showing you 10 different ways to use this jump trainer to get maximum results. You'll also get access to online training videos so you can be sure to get the most out of your workout. You get 2 different sets of bands so you'll have 2 different levels of resistance to choose from.
It's not always easy to get the right fit with the ankle straps and waistband, and you might experience some discomfort until you figure out the fit that works for you. There's some trial and error involved which is a little inconvenient, but once you find the right fit, you'll be glad you stuck it out. These bands really will give you results.
Pros:
Leg specific
Comes with 2 sets of bands
Instructional cards and access to video workouts
Cons:
Difficult to get the fit right
---
This kit includes two sets of cables providing you with two different levels of resistance and the bands can be adjusted for users up to 7 feet tall. It's primarily meant to be used for vertical jumping as it keeps your legs in a crouch stance and gives steady resistance as you jump against it. You can also use it for other lower body exercises, too, simply by moving the cables around.
The SKLZ HOPZ system is specially designed so you can do this quickly, letting you swap out cables to increase resistance with a single click. Simply move them to different positions to work specific muscle groups – work glutes by attaching them to the back, sides to work your quads. You can really isolate the muscles you want to work on and work on horizontal and vertical jumps or a combination of both.
The belt and ankles straps are padded and adjustable to help you get a better fit. The optional ankle straps even have built-in shoe harnesses to help keep them in place if you need extra hold.
Pros:
Adjustable to work different muscle groups
Provides steady resistance to improve leg strength
Adjustable, padded straps for a comfortable fit
Cons:
Straps can be uncomfortable on uncovered skin
---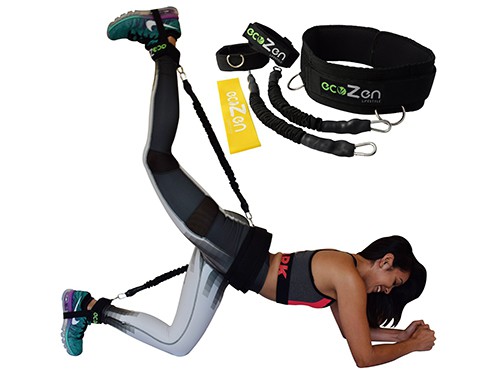 The EcoZenLifestyle Vertical Jump Trainer has a neoprene waist belt that's not only soft, thick, and comfortable but also durable and sweat resistant. It adjusts to fit waists from 30 to 36 inches. The bands are made of high-quality natural latex, strong boxed stitched connection points, and specially forged D ring connections to they are able to withstand a lot of abuse.
You'll also get an e-book with the latest exercises for men and women of all ages and fitness levels. In addition to the neoprene waistband, this system also includes 2 adjustable ankle straps with foot loops, 2 resistance tubes, and a medium resistance loop band.
You can use this system to ramp up your calorie burn, tighten your glutes, abs, and legs, plus work on your vertical jump. Another reason this is a great buy? This system comes with a money-back guarantee.
Pros:
Soft, comfortable waistband
Strong durable resistance bands
Money-back guarantee
Cons:
Ankle straps can be uncomfortable on bare skin
---
There you have the best 6 vertical jump trainers.
The SKLZ Recoil 360 Dynamic Resistance and Assistance Trainer not only helps with jumping but can also help maximize speed, strength, and power. By providing constant resistance to work against ranging from 15 – 50 pounds, this trainer lets you work the muscles groups you need for your sport of choice, from vertical jumps to agility maneuvers.
Myosource Kinetic Bands fit just above the knee and add extra resistance to everything you do, even if you're just walking around the house. Work your glutes and quads a little bit harder using the workouts you get access to with this system. Perform better, increase agility, and get a high vertical jump.
The Ueasy Bounce Vertical Jumping Trainer consists of resistance hoops that attach from your waist to your ankles, working the exact muscle group you need to in order to improve vertical jumps. When you order, you can choose from various resistance levels so you can get the workout that's suited to you.
Another system that targets the exact muscles you need for vertical jumping is the PER4M Jump Trainer. You get access to a lot of videos to help you with your workouts. The resistance tubes easy connect and disconnect so you can easily use them for other exercises, too.
The SKLZ HOPZ Vertical Jump Trainer gives you two different sets of bands so you have different levels of resistance to work with. It keeps your legs in a crouched position so you have constant resistance to work against. The bands can be repositioned so you can isolate different muscle groups so you can work on both vertical and horizontal jumping.
For a really comfortable choice, try the EcoZenLifestyle Vertical Jump Trainer has a neoprene waist belt that's soft, thick, and durable. The bands and connection points are strong and you get a money-back guarantee. You get two different resistance tubes and a medium resistance loop so you can change it up a bit.
Vertical jump trainers are a great way to isolate the muscles you need to improve your jump height for basketball, volleyball, or any other sport. They're also a great way to get an effective full-body workout that requires only minimal equipment. Use the information in our buying guide to figure out what you need in a trainer then take a look at our picks for 6 best vertical jump trainers to get an idea of what's out there.
---