When it comes to the game of baseball, there are different fielding mitts that are specialized for different positions.
A few examples are catcher's mitts, first baseman mitts, infielder gloves, and outfield gloves.
Out of all positions, the outfielder glove will be the 3rd largest in size behind the catcher's and first baseman mitt.  
Outfielders are frequently required to catch fly balls or any type of hit headed their way on the run which is why you must find the best outfield glove for you to play your best.
Wearing a long mitt is more convenient for the outfielder because they now have more surface area to work with.
In other words: by having a longer glove, you are extending your reach, which increases the likelihood of catching a ball on the fly.
You will also notice that the webbing of an outfield glove tends to be a lot bigger compared to that of an infielder or pitcher.
Some of the better outfielders make it a regular practice to dive in order to make tough plays.
Having extra webbing will give them room to grab whatever comes their way.
---
What to Look For When Choosing an Outfielder's Glove
---
If you're looking for a baseball mitt specific to the position of outfielder, there are different features you are going to need to evaluate prior to making a purchase. This is what to look for:
Glove Length/Size for Adults
Compared to an infielder's glove, the outfielder's glove will be substantially longer.
This will give the player a better chance of catching those difficult fly balls, or other hits that come their way.
The average outfielder's glove is anywhere from 12 inches to well over 13 inches.
Having reach as an outfielder is a part of the job. You're going to be on the run a lot of the time with very little time to think.
Playing a position that expects quick thinking, you want to be wearing a glove that will help you react at your absolute best.
What Sized Glove Should I Use For Children?
For anyone around 11, 12 or 13 years old, I might suggest a glove that measures around 11 inches.  It's good to have a deeper pocket for easier handling of incoming balls.
Easy To Open and Close
Having a glove made of soft, quality leather is a luxury that shouldn't be taken for granted. Having a soft outfielder's glove saves you time when breaking the glove in.
Upon breaking in your glove, there should be no resistance when opening and closing it. When there is a demand for a quick reaction, you're going to need a glove that will keep up with that demand.
Having a lightweight, easy to open glove will ensure that you are always prepared on the baseball field.
Pocket Depth
Outfielders need a glove with deep pockets in order to catch baseballs with depth. Often, outfielders will encounter fly balls that are hit high up.
Having a deep pocket will help absorb the impact that comes with catching a baseball from such heights. The pocket is typically held together with cowhide leather laces that are tight and able to provide stability to your glove.
This deep pocket will give you enough room to reach over your head and make the tough catches.
If your potential glove doesn't have any of these characteristics, then it may not be useful for the full-time outfielder.
Average Price
Prices vary greatly, but overall, you can expect to pay an average of around $185 when you factor in some of the very high-end gloves at $500. 
There are lots of good options that hover closer to the $130 price point.
---
Best Outfield Glove Reviews
---
The Barnett Outfielder glove is the cheap alternative you need when looking for an outfielder's glove on a budget. You could tell just by the length that this glove is made for an outfielder.
Measured at 12.5", this glove will put you in reach of some of the hardest fly balls possible. The deep, closed pocket is deep enough to absorb the impact that comes with catching elevated fly balls.
Quite frankly, the polyurethane material looks thin and inexpensive, but when it comes to investing in most things, you get what you put in.
The Barnett outfielder glove is a reasonable short-term glove or for someone who doesn't play baseball frequently. If you want a starter glove, this is also an item that should be considered.
If you think about it, you won't have to pay much, can have an outfield-specific glove that has the features necessary for those in the outfield, and is long enough to dive for a couple of baseballs here and there.
Pros:
Low price
Deep pockets increase chances of catching fly balls
Cons:
Material doesn't look high quality
Not durable
---
The All-Star System Seven glove is your typical outfielder's glove. The 12.5-inch pattern offers a deep pocket and conventional open back for airflow. The deep pocket for this glove will be very useful in the outfield and is necessary for all outfielders' gloves.
Having a pocket like this is the standard for most outfielder gloves, so it checks this list for sure.
The back of the glove has hard Japanese leather on top of the fingers to protect the hand just in case a stray ball hits them. The opening in the hand will increase the airflow that will help your hand stay cool and dry.
This glove is useful because unlike a lot of outfielder gloves, these have a thin layer of padding on the palm area so you can avoid the sting feeling you get when you catch a hardball.
Pros:
Extra thin pad layer helps with comfort and protection
Deep pocket
Cons:
---
Easton's outfielder glove has a unique look to it that sets it apart from the crowd. The pocket of this glove is slim and held together on two sides by cowhide leather.
This feature will definitely give the user more flexibility once the ball is caught. The palm lining is made of hog hide, which helps with the durability of the glove, as it is sure to be tested over the length of a baseball season.
This soft glove will likely be easy to break in thanks to the cowhide material it is made with, so luckily it won't take long for buyers to have an efficient outfielder's glove.
The lightweight Easton outfielder's glove is very comfortable as the finger lining is made of soft sponge-tricot. Having a comfortable is also important because it could determine whether or not you catch that fast line drive or difficult fly ball.
Pros:
Soft sponge tricot fingers lining ensures a comfortable fit
Hog hide material will help your glove last long no matter how many baseballs you encounter
Cowhide enforces an easy break-in
Cons:
runs small for outfielders
Break-in isn't as easy as described according to buyers
---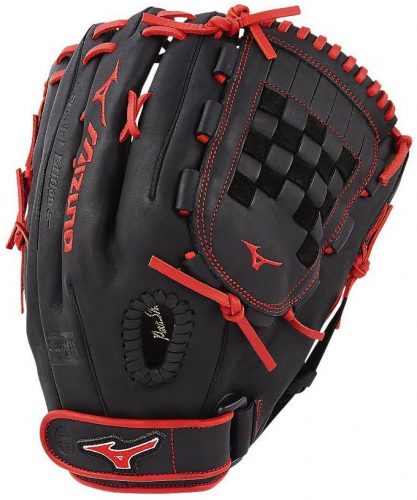 Soft leather, soft palm liner, and durable laces. This is what you get when you buy the Mizuno MVP outfielder glove. For the price of the glove, you get great quality.
The glove is 12.75" long and will give you enough room to make plays in the outfield. The soft palm liner will prevent your hand from hurting due to the shock people tend to get after catching a high-velocity baseball.
The pocket of the Mizuno MVP glove is similar to the Easton Mako glove as two sides of durable leather lacing hold it together.
With the Mizuno logo embroidered on the wrist and printed on the fingers, your teammates and opponents will know what brand you're rocking with over in the outfield.
Buying this glove wouldn't put a dent in the bank and would give you a fair chance at playing the outfield.
Pros:
The glove is long enough for the demands of the outfield
Soft material makes it easy to break in and use
Cons:
Buyers claim the glove doesn't fit as snug as it should
Getting up there in price
---
Here's a great all-around glove made of Premium Japanese Kip leather and lace.  It features finger-back linings made of soft chaffe-free material.  It's also individually handcrafted so no machines or robots used here!
It features thin heel padding for better feel and break-in and double lace reinforcement in web for added durability.
It's an excellent glove for outfielders and it's specifically recommended for middle fielders. 
The price won't break the bank given what you're getting but the price is also high enough that you know you've got one heck of a quality glove that will last for years if not a generation or more!
Pros:
Affordable for quality level
Webbing is sturdy
Gorgeous materials
Excellent name brand
Cons:
None noted in all my research (other than not having a quick-release wrist strap – it's not quickly adjustable though it does offer customization if you re-string it to fit your hand).
---
Hanley Ramirez' signature outfielder glove gives you the feel of a lightweight glove made of high-quality leather. The 12.75-inch outfielder glove is made with Pro Stock leather, which makes it feel very light.
The top quality material applied to this glove will help it last longer than most baseball gloves out there. The wrist lining for this glove is made with a special material that helps keep your hand cool and dry instead of overheating during those hot games.
The ability to repel moisture within the glove is an appealing reason to consider this glove for your outfielding needs. The dual post web within the pocket of this glove will catch about anything that it comes its way!
The Wilson A2000 Hanley Ramirez glove is built to put you in the best position to win. Using this glove, you will have an item that will last long term and give you the tools needed to succeed in the outfield.
Pros:
Pro Stock leather is lightweight
DriLex material avoids your hand from overheating
Dual post web is enforced with strong leather
Cons:
---
This glove is another alternative outfielder glove from Wilson. One obvious feature of this glove that's different from the Handley Ramirez glove is the webbing inside the pocket.
The pocket of this glove is dually enforced with high-end leather for a durable and reliable experience. Your glove is bound to be broken in quicker than most gloves because of the special rolled dual welting that is applied to it.
A similarity to the Handley Ramirez glove is the pro-stock leather that both gloves are made with. This type of leather is more durable compared to other glove materials and could increase the value of this glove.
This glove is specifically altered to the likeness of pro baseball player Dustin Pedroia. Pedroia approves snug fit and long laces in particular. Having a tight-fit glove improves stability and ultimately helps with comfort.
If your glove was big or loose, you would either be constantly adjusting your glove or unable to catch basic fly balls because you have no control of your baseball glove.
Having longer laces encourages the concept of having a longer glove for better reach in the outfield when trying to grab those difficult hits.
Since Wilson didn't apply any padding to the base of the pocket, this glove is easier to open and close; offering a quicker reaction time.
This glove is another option from Wilson that will help you in the outfield.
Pros:
Durable
Longer laces gives player a better reach
Lack of padding makes it very easy to open and close the glove
Cons:
On the higher end of the price spectrum
Might be too small/tight for some people
---
High-end material is what summarizes this outfielder glove from Louisville Slugger. The palm and web of this glove are made with a mix of cowhide and full-grain leather.
The leather from this glove will be able to embrace impact and not break down easily. The cowhide put into the dynasty glove keeps the pocket sturdy throughout the games where the glove is used the most.
This glove is one of the more comfortable gloves for outfielders; sporting an extra-soft palm lining. The obnoxious feeling of being uncomfortable while out on the field is a thing of the past with the Louisville Slugger outfielder glove.
A big plus about the Louisville Slugger Dynasty Outfielder glove is the one-year manufacturer's warranty that comes with its purchase.
This basically guarantees you that your glove will be durable for at least a year, if not more.
If your glove becomes damaged, or defective, there is a high chance that Louisville Sluggers will compensate you as the customer with either a refund or brand new outfielder glove.
This 12.75-inch glove will help you catch fly balls and even some ground balls in the outfield. The length of this glove is crucial to the position, so buying a glove of this size is recommended.
Pros:
Full-grain leather and cowhide material increase durability and comfort
Manufacturer's warranty enforces a great playing experience
Soft palm lining proves this glove to be one of the more comfortable gloves in the market
Cons:
One buyer claimed that their laces broke
Reviews state that the leather is "too light"
---
The most notable part of the Rawlings Gold Glove gamer series Outfielder glove is the sticker shock (at least for me).  At around $500 you KNOW this is one heck of a quality mitt.  The Kip leather is super durable but also light!  Great combo! 
The calfskin palm wicks moisture and it features durable Tennessee tanning laces.
The soft leather put into this glove makes it a lot more durable and easier to control. Since the leather is softer than the norm, it is easier to break in compared to the norm.
Something to point out is the way the finger linings are made with full-grain material. This material increases comfort and helps the glove last as long as possible.
This Rawlings glove also offers an adjustable wrist strap for a custom fit but it's not Velcro and won't be easily adjusted each inning.
This 12.75-inch outfielder glove is the most ideal compared to most outfielder gloves due to its deep pocket, soft leather, and full-grain finger linings.
Baseball essentially made Rawlings what it is. If you are uncertain about this item for whatever reason, it may be worth taking a shot at.
The Rawlings brand tends to release products that are high quality, especially in the baseball industry. If anything, this glove would be a safe bet.  Is it a Pro-level glove?  Well, ya ….. actually ….. it is.
Pros:
Pro-level features
Made with leathers that keep it strong and reliable (Kip leather and Calfskin)
Cons:
$$$$$
Loose lacing at the top of the fingers
Not easily adjustable palm strap
---
This glove features the same exact pocket web design that we have seen plenty of times in the outfielder's glove market. The strong lacing in the pocket and good leather keeps the glove durable and ready to use.
The Pro Flare glove comes in both cream and black colors, and is measured at 13-inches even opposed to the 12.75-inch models we have been seeing.
Being one of the larger gloves out there, the Louisville Slugger Pro Flare outfielder glove is the typical outfielder prototype glove.
Since this glove isn't overly padded on the front of the fingers, it is easier to open and close, which helps the outfielders that catch a ball and may need to strike a quick throw to an infielder or even the catcher.
A quick transfer from the glove to the throwing hand is essential for the outfielder, so being able to easily open and close your glove is on the checklist for a superior outfielder's mitt.
This large outfielder glove will give you the area you need to catch incoming baseballs, and has everything else you would desire, from ventilation to comfort.
Pros:
Very long glove at 13-inches
Easy to break in
Not as expensive as other outfielder's gloves
Cons:
---
The Roundup!
The Outfielder's glove is unique compared to the catcher, infielder, and first basemen. The outfielder needs a glove with a deep pocket, made with good quality, and the correct size to catch even the furthest of baseballs.
A majority of outfielder's mitts have webbing that looks odd compared to other positions, but that's why it meets the sometimes brutal demands of the position.
The glove of an outfielder may very well be the longest glove on the baseball diamond.
Just like the catcher's mitt is built with a lot of padding to protect the hand from constant contact, the outfielder's glove needs to the tools necessary to be at the top of their game.
If I had to choose the three gloves for different types of people I would choose like this: Nike Sha/Do Edge serious for the outfielder who wants the best quality for a low price.
This Japanese-inspired glove has a black and red color scheme that instantly attracts the eye. The pocket in this glove is deep and capable of catching any baseball.
For the experienced outfielder or the player who takes their position seriously, the best glove to go with overall is the Louisville Slugger Pro Flare outfielder glove.
This glove is significantly cheaper compared to many other options for outfielders. Besides saving money, this glove is good for its Gaucho leather, which is strong enough to keep your glove tight and durable.
Having a manufacturer's warranty in the back of your mind will keep your mind at ease, as you know that if your glove doesn't hold up the company will back you. At 13 inches even,
The third glove I would go with would be the Rawlings Gold Glove outfielder's glove. It is strong, durable, and comfortable.
The Trap-Eze web pattern has been seen throughout most outfielders' gloves on this list and offers the most efficiency for the outfielder.
Overall, the best outfielder glove will be long, have a deep pocket, and be durable enough to withstand a few seasons.
Any one of these ten outfielder gloves would be ideal for the average outfielder, but if you have a specific preference regarding material or length, there is enough information in this guide to take you where you need to go.
MORE BASEBALL
Please be sure to check out our links for the most extensive baseball reviews all packaged up in one neat website!
https://sportconsumer.com/best-baseball-sunglasses/
The 10 Best Youth Baseball Gloves for 2021 | A Buyer's Guide
The 10 Best Youth Baseball Bats of 2021 | Price, Power, and Speed
10 Best Batting Tees for 2021 : Baseball, Softball, & Tee-Ball
The 10 Best Batting Gloves 2021 | For Adults, Youth, & Blister Prevention